June 28
Treaties in 1836
General Mariano Vallejo signed a peace treaty with the Wappo and Patwin tribes. Indian warriors raided ranchos and fought Mexican soldiers for years. Wappo is an Americanization of the Spanish word "guapo," which means "brave." 
Crime in 1846
A U.S. military detachment near San Rafael was approached by three unarmed Mexicans, Jose de los Reyes Berryessa and brothers Francisco and Ramon de Haro. Kit Carson asked Captain John Fremont if he should take them prisoners. Fremont answered that he had no room for prisoners so Carson shot the men dead and left their bodies where they fell.
Railroads in 1861
The Central Pacific Railroad was incorporated. With the skill and determination of thousands of Chinese workers, it built the western section of the transcontinental railroad, completing it in 1869. Today the Central Pacific Railroad is part of the Union Pacific Railroad.
Business in 1929
William Fox unveiled his $5 million Fox Theater, "theater of dreams" in San Francisco. It closed in 1963.
Sports in 1969
The Los Angeles Dodgers shut out the San Diego Padres,19-0. It was Don Drysdale's only San Diego Stadium appearance, 
Government in 1978 
The U.S. Supreme Court ordered UC Berkeley medical school to admit Allan Bakke, a white man. He claimed his denial was based on racial quotas and sued on the basis of discrimination.
Environment in 1992
A 7.3 Richter Scale earthquake, lasting two to three minutes, rocked Southern California. Around Landers, the epicenter, roads buckled, buildings and chimneys collapsed. It was the largest earthquake in the contiguous U.S. in 40 years.
Environment in 1992 
A 6.5 Richter Scale earthquake shook Big Bear Valley three hours after the Landers Earthquake. The earthquakes, 22 miles apart, struck the southern San Andreas Fault.
Adler in 2001
Mortimer Adler, philosopher, teacher and popular author, died in San Mateo at age 98. His work included How to Read a Book (1940), How to Think About God (1980) and The Four Dimensions of Philosophy (1993).
Business in 2005
Google, in Mountain View, unveiled a free 3-D satellite mapping technology.
Government in 2006
San Jose City Council passed a nonbinding resolution asking Mayor Ron Gonzales to resign following his indictment on corruption charges.
Government in 2008
President George W. Bush declared a state of emergency in California and ordered federal aid to help authorities battle more than 1,000 wildfires.
Travalena in 2009
Fred Travalena, comedian, died in Encino at age 66. He headlined in Las Vegas showrooms and was a regular guest on late-night talk shows.
Government in 2012
Stockton city officials filed for Chapter 9 protection, making it the largest U.S. city to vote itself into bankruptcy. 
June 29
Exploration in 1769
Gaspar de Portolà reached San Diego. He and a small group from the second Spanish land expedition were searching for Monterey Bay to establish a colony. They overshot their goal and found San Francisco Bay.
Missions in 1776
Mission San Francisco de Asís was founded by Father Francisco Palóu and Lieutenant José Joaquin Moraga. The sixth of 21 missions in Alta California was known as Mission Dolores.
Environment in 1891
Temperature in San Francisco reached 100° F.
Environment in 1925
Santa Barbara was rocked by an earthquake. Thirteen people died in the 6.8 magnitude earthquake that destroyed the city's historic center.
Flight in 1927
Bird of Paradise, a U.S. Army Air Corps Fokker tri-motor, completed the first transpacific flight from Oakland to Hawaii. It was a major experiment using radio beacons to aid in navigation. Some consider it an accomplishment equally to Charles Lindbergh's transatlantic flight. 
Japanese American Internment in 1942
The Marysville Assembly Center closed. It was one of 15 temporary detention centers that securely moved approximately 110,000 Californians of Japanese ancestry to ten internment prisons during World War II.
Television in 1953
XETV TV, channel 6, in Tijuana-San Diego began broadcasting. It is owned by Grupo Televisa, a Mexican media company with production facilities on both sides of the border.
Radio in 1960
KYA-AM in San Francisco changed its call letters to KDBQ for two weeks. It's been known as KSFB 1260 AM since 2007.

Sports in 1961
The San Francisco Giants and Philadelphia Phillies set a record for the longest night game. They played for 5 hours and 11 minutes in a 15 inning 7-7 tie.
Flight in 1965
Captain Joseph Engle reached a speed over 3,400 miles per hour and an altitude above 53 miles in the X-15, a hypersonic rocket-powered aircraft stationed at Muroc Air Force Base.
Television in 1966
KBSC TV, now KVEA, channel 52 in Corona-Los Angeles began broadcasting. It was the third UHF station in Los Angeles and the second Spanish-language television station in the US.
Computers in 1975 
Steve Wozniak tested his prototype Apple I computer. It displayed a few letters and ran sample programs. That was the first time a home computer displayed characters on a television screen.
Sports in 1979
The San Diego Chicken, the team mascot, was reborn at Jack Murphy Stadium. 
Sports in 1990
California pitchers in both leagues threw no-hitters on the same day for the first time. Dave Stewart, Oakland A's, no-hit the Toronto Blue Jays. Fernando Valenzuela, Los Angeles Dodgers, no-hit the St. Louis Cardinals.
Environment in 1991 
The Sierra Madre 6.0 earthquake struck under the San Gabriel Mountains, killing two people.

Sports in 1992
Dennis Eckersley, Oakland A's, pitched a record 26 straight saves in a season.

Turner in 1995
Lana Turner, legendary film and television actress, died in Century City at age 74. She played a dangerously glamorous role in "The Postman Always Rings Twice" (1946) and starred in "The Bad and the Beautiful" (1952) and "Peyton Place" (1957).
Business in 1998
Mike Corbin began manufacturing the Sparrow, a 3-wheel vehicle, in Hollister. The single-seat 960 pound electric vehicle ran 60 miles on a single charge with a top speed of 60 miles per hour. It was priced at $12,900.
Clooney in 2002
Rosemary Clooney, singer and film actress, died  in Beverly Hills at age 74. She was one of Hollywood's biggest celebrities of the 1950's and aunt of actor George Clooney.
Government in 2006
Governor Arnold Schwarzenegger announced $35 million to help salmon fisherman affected by a federal near-closure of commercial fishing.
Business in 2006
Google Inc., in Mountain View, introduced an online payment service to rival PayPal.
Business in 2007
Apple Inc., in Cupertino, released the first iPhone. It sold 43.72 million iPhones in the second quarter of 2014.
Business in 2010
Google Inc., in Mountain View, stopped automatically rerouting users in China to an uncensored search page. That was to protect its operating license in an effort to save its Chinese business.
Business in 2010
Tesla Motors, in Fremont, began trading shares in an Initial Public Offering. The stock price opened at $17 and closed at $23.89.
Environment in 2013
Temperature in Palm Springs reached 122°, tied with  June 28, 1994. Death Valley reached 128° to tie the 128° record set on June 29, 1994.
June 30
Missions in 1770
Mission San Carlos Borroméo del río Carmelo, known as Carmel Mission, was founded by Father Junípero Serra. It was the headquarters of the California missions headed by Serra until his death in 1784.
Parks in 1864
Yosemite Valley and Mariposa Grove became the first California State Park. When President Abraham Lincoln signed the Yosemite Grant Act, it became the first protected wild land in the U.S..
Post offices in 1897
A U.S. post office opened in Bagby. It serves an unincorporated community in Mariposa County on the north bank of the Merced River near Hornitos.
Sports in 1932
Summer Olympics opened in Los Angeles. Because it was held during the Great Depression, many nations and athletes were unable to pay for the trip to Los Angeles, the only city that bid to host the games.
Crime in 1934
A group of men attacked the office of the Western Worker, a Communist Party newspaper, near San Francisco's Civic Center Plaza. They fled when men from the newspaper rushed out from a back room.
Television in 1955
"Johnny Carson Show," filmed in Fairfax, debuted on CBS-TV. That lead to "The Tonight Show Starring Johnny Carson" which ran until 1992.
Sports in 1962
Sandy Koufax, Los Angeles Dodgers, no-hit the New York Mets, 5-0. He was the first major league player to pitch four no-hitters, including the eighth perfect game in baseball history. 
Science in 1975
University of California astrophysicists reported galaxy 3C123 at 8 billion light years distance from the earth.
Sports in 1978
Willie McCovey, San Francisco Giants, became the 12th player to hit 500 home runs. Only 26 players have earned membership in the "500 home run club" and the Giants is the only team with four members.
Sports in 1984
The longest pro football game was played in Los Angeles. Los Angeles Express beat defending champion Michigan Panthers in the U.S. Football League playoffs, 27-21. The game lasted 93 minutes 33 seconds in exhausting heat. 
Sports in 1985
Pedro Guerrero, Los Angeles Dodgers, tied a major league record with 15 home runs in June and also tied the Los Angeles season record of 33.
Henderson in 2001
Joe Henderson, tenor saxophonist, died in San Francisco at age 64. In his 40-year career, he played with many leading musicians of his day and recorded some 27 albums and CDs.
Hackett in 2003
Buddy Hackett, comedian and film actor, died in Malibu at age 78. His films included "The Music Man" (1962), "The Love Bug" (1968) and "The Little Mermaid" (1989).
Accidents in 2005
Five illegal immigrants were killed and six others injured in El Cajon when their van collided with a pickup truck shortly after it sped around a border checkpoint.
Crime in 2009
August Provost, a 29-year-old black gay sailor, was burned and killed during an attack at Camp Pendleton.
Government in 2010
San Francisco parking meters generated $38 million for the fiscal year. Expired meter fines added almost $29 million. Meter rates increased in 1992, 2003, 2005 and 2009.
Government in 2011
Governor Jerry Brown signed a budget plan. He used his line-item veto to cut $23.8 million from the state's $86 billion general fund.
July 1
Exploration in 1769
Father Junípero Serra, traveling with Gaspar de Portolà, founded the first Spanish colony in Alta California at San Diego. The expedition continued north to Monterey Bay to establish a second colony. Serra stayed behind to found the Mission San Diego de Alcalá, the first Alta California mission.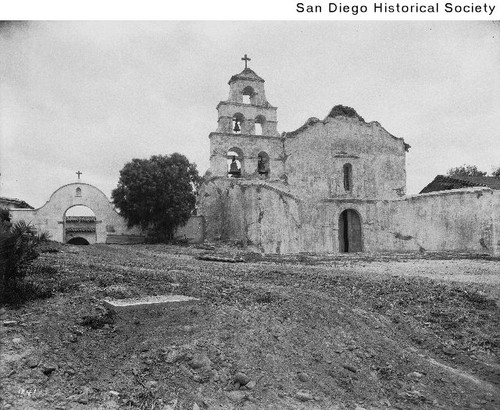 Sutter in 1839
John Sutter landed at Yerba Buena, today's San Francisco. Born in Germany and raised in Switzerland, he fled to America to avoid debtor's prison, had traveled the Oregon Trail and sailed to Hawaii before he came to Alta California.
War in 1846
John Frémont and his Republic of California militia captured Yerba Buena. They spiked the cannon at the Presidio to stop Mexican forces from firing them. 
Gold Rush in 1850
More than 626 ships were anchored in San Francisco Bay. Many were abandoned by sailors with gold fever.
Transportation in 1860
A single track of the San Francisco and Mission Railroad was completed. It ran three miles, from the foot of Market Street to Mission Dolores.
San Francisco in 1860
The U.S. census counted 56,802 people living in San Francisco.
Education in 1861
The first public schoolhouse opened in San Francisco. It was at Washington and Mason Streets, near today's Cable Car Museum. 
Transportation in 1862
President Lincoln signed the Pacific Railroad Act. It chartered the Central Pacific to build eastward from Sacramento. The Transcontinental Railroad opened on May 10, 1869, with the driving of the "Last Spike" at Promontory Summit in the Utah Territories. 
Clubs in 1893
The San Francisco Bay City Club opened. It built a bicycle race track made of wood and cement. It became a popular site for bicycle club competitions.
Parks in 1908
The Angeles and Cleveland National Forests were established. President Theodore Roosevelt ordered the San Gabriel and San Bernardino National Forests combined into the Angeles National Forest. The newly established San Jacinto National Forest became part of the Cleveland National Forest.
Flight in 1924
Regular transcontinental airmail service began between San Francisco and New York City. Pilots flew at night guided by lighted airways with rotating beacons and brightly lit emergency landing fields. The flight took 34 hours and 45 minutes.
Business in 1931
Central Ice and Cold Storage Company introduced ice vending machines in Los Angeles.
Libraries in 1961
The City of Commerce Public Library was founded. It moved to its Jillison Street location and opened on September 21, 1964.
Crime in 1981
Four people were murdered in the Laurel Hills section of Los Angeles. They lived in a known drug house on Wonderland Avenue. John Holmes, porn film actor, was arrested and tried but acquitted for involvement in the crime.
Movies in 1984
Hollywood established a PG-13 rating for films between "PG" for parental Guidance and "R" for restricted. "Red Dawn" (1984), which made the Guinness Book of Records for having the most acts of violence of any film up to that time, was the first PG-13 film.
Landon in 1991
Michael Landon, actor, writer, director and producer died in Malibu at age 54. He was known for roles in "Bonanza" (1959–73) and "Little House on the Prairie" (1974–83).
Government in 1992
California issued IOU's for the first time since the Great Depression. A budget stalemate left it cashless on the first day of the fiscal year.
Government in 1993
Richard Riordan was elected mayor of Los Angeles, the first Republican in 36 years.
Crime in 1993
Gian Luigi Ferri opened fire with a semiautomatic pistol in a 34th floor San Francisco law office. He killed eight people, wounded six, then committed suicide.
Mitchum in 1997
Robert Mitchum, film actor, author, composer and singer, died in Santa Barbara County at age 79. He was known for playing dangerous, dark anti-hero roles.
https://www.youtube.com/watch?v=e5AKK_om1VU
Matthau in 2000
Walter Matthau, actor, died in Santa Monica at age 79. He was best known for his roles in "The Odd Couple" (1968) and "The Bad News Bears" (1976).
Brando in 2004
Marlon Brando, legendary film actor, director and political activist, died in Westwood at age 80. He was recognized as one of the most influential actors of all time. Brando won a second Oscar for his role in "The Godfather" (1972).
Business in 2007
The price for a gallon of milk, set by California Department of Food and Agriculture, rose to $1.98, up from $1.06 in 2006.
Government in 2009
Governor Arnold Schwarzenegger declared a fiscal state of emergency when lawmakers failed to balance the state's main checkbook. State Controller John Chiang said his office prepared IOUs totaling $3.3 billion.
Malden in 2009
Karl Malden, stage, film and television actor, died in Los Angeles at age 97. He was best known for roles in "A Streetcar Named Desire" (1951) "On the Waterfront" (1954), "One-Eyed Jacks" (1961) and "The Streets of San Francisco" (1972 – 77).  Karl and Mona Malden were married for nearly 71 years.
Government in 2010
California began the fiscal year with no budget in place and a $19 billion deficit.
Government in 2010
Most San Francisco Bay Area bridge tolls rose by $1. Rates on the Bay Bridge varied depending on travel time.
Science in 2010
D.light, a solar powered lantern, won the Ashden award for sustainable energy. It  provided light for up to 12 hours after charging in sunlight for one day,  The lantern was designed by an Indian company in California.
Transportation in 2011
San Francisco cable car prices rose a dollar to $6 following a $19 million upgrade of the California Street cable car line.
Labor in 2013
San Francisco BART workers went on strike, leaving many commuters stranded.
July 2
Public Health in 1912
Mary's Help Hospital opened in San Francisco. It was funded by a bequest from Catherine Birdsall Johnson, who died in 1893. It became Seton Medical Center, a Daughters of Charity Health System Catholic hospital, now in Daly City.
Accidents in 1935
Michael E. Markey, a 31-year-old San Francisco Bay Bridge riveter, fell 290 feet to his death at Yerba Buena Island. Fellow bridge workers quit for the day, following custom.
Television in 1955
"Lawrence Welk Show" (1955–1982), first filmed at the Hollywood Palladium, debuted on ABC. The music show often opened with floating bubbles and the sound of a bottle of champagne opening. 
Sports in 1963 
Willie Mays, San Francisco Giants Hall of Fame outfielder, hit a home run in the 16th inning to defeat the Milwaukee Braves, 1-0. Warren Spahn and Juan Marichal, both Hall of Fame pitchers, each threw 15 scoreless innings until Mays ended the duel by homering off Spahn.
Crime in 1980
Bob Weir and Mickey Hart, Grateful Dead musicians, were arrested for suspicion of inciting a riot in San Diego after they interfered in a drug arrest following a concert.
Flight in 1982
Larry Walters flew 16,000 feet above Los Angeles with 42 helium balloons attached to a lawn chair. A surprised airline pilot radioed the control tower that he passed a guy in a lawn chair with a gun. The weapon was to shoot balloons and descend. Walters paid a $1,500 penalty for violating air traffic rules.
Crime in 1982
A bomb exploded in the hands of Professor Diogenes Angelakos in Berkeley. It was sent by Theodore Kaczynski, known as the Unabomber.
Remick in 1991
Lee Remick, film and television actress, died in Los Angeles at age 55. She was best known for roles in "Anatomy of a Murder" (1959), "Days of Wine and Roses" (1962) and "The Omen" (1976).
Stewart in 1997
Jimmy Stewart, legendary film and stage actor actor, died in Beverly Hills at age 89. He was nominated for five Academy Awards, won one, and received a Lifetime Achievement award. He is best known for his role in the Christmas classic, "It's a Wonderful Life" (1946).
Sports in 2008
Hans Florine, age 44, and Yuji Hirayama, age 39, broke a World Record for the fastest climb up the Nose of El Capitan in Yosemite National Park. On Oct 12 they broke the record again with a time of 2 hours, 37 minutes, 5 seconds. 
Government in 2010
A California appellate court sided with the Schwarzenegger administration's attempt to temporarily impose the $7.25 per hour federal minimum wage on tens of thousands of state workers.
Music in 2010
More than 180,000 people packed Los Angeles Memorial Coliseum over two days for a rave party. Scores were injured when people forced their way closer to the  five stages. A suspected overdose led to the death of a 15-year-old girl.
Government in 2012
Mammoth Lakes city council voted to file for bankruptcy, becoming the second California city to do so.
Business in 2012
Dell, in Rock Hound, Texas, agreed to buy Quest Software Inc., in Aliso Viejo, for $2.24 billion.
July 3
Sutter in 1839
John Sutter visited Monterey. He met with Governor Alvarado to discuss establishing himself in Alta California. On August 1,1839, he sailed three boats loaded with provisions up the Sacramento River to where he would build his fort. 
Lighthouses in 1856
A lighthouse was erected to guide ships passing through the Santa Barbara Channel. Battery Point Lighthouse, one of the first on the California coast, was built about two miles north of the city at the present site of Shoreline Park. 
Communication in 1861
A Pony Express rider reached San Francisco with letters from New York. Riders from the East and West delivered mail in ten days. The Pony Express ended on October 24, 1861 when the transcontinental telegraph was completed.
Theater in 1879
H.M.S. Pinafore debuted at Tivoli Theater in San Francisco. The Gilbert and Sullivan show sold out 1,000 seats for 63 consecutive nights. They sailed south and later played at Horton Hall in San Diego. 
Sports in 1957
The first triple dead heat finish happened at Hollywood Park in Los Angeles. A winner could not be identified in the three-way tie race by the horses named Joe's Pleasure, Challenger Tom and Leaful. They raced for a $5,000 purse.
Trigger in 1965
Trigger, Roy Rogers' 25-year-old golden palomino horse, died. It was displayed for years at the Roy Rogers and Dale Evans Museum in Apple Valley. 
Crime in 1979
Dan White, convicted in the shooting deaths of San Francisco Mayor George Moscone and Supervisor Harvey Milk, was sentenced to seven years and eight months in prison. 
Newspapers in 1980
The Berkeley Barb, a weekly underground newspaper, released its final issue. It debuted in 1965 and was one of the first and most influential counterculture newspapers of the late 1960's.
Sports in 1988 
Gene Nelson, Oakland A's, was the first American League pitcher to steal a base since 1973. He was pinch running for Don Baylor in a 16-inning win over the Toronto Blue Jays, 9-8. 
Backus in 1989
Jim Backus, radio, television, film, and voice actor, died in Los Angeles at age 76. He was the voice of nearsighted cartoon character Mr. Magoo.
Business in 1996
Union Pacific purchased Southern Pacific Rail Corp., in San Francisco, for $5.4 billion. The merger eliminated some 3,500 jobs.
Crime in 2007
A Los Angeles jury awarded $6.2 million to firefighter Brenda Lee. She was harassed by colleagues because for being black and lesbian. 
Harmon in 2008
Larry Harmon, better known as Bozo the Clown, died in Los Angeles at age 83. In 1956 he purchased the licensing rights to the Bozo character from Capitol Records and licensed local Bozo television shows worldwide. 
Crime in 2011
A San Francisco BART officer shot and killed a man at the Civic Center Station who had used a bottle as a weapon and drew a knife on an officer.
July 4
Missions in 1823
Father Jose Altamira dedicated Mission San Francisco Solano. It was the 21st and final mission in Alta California and only one established under Mexican rule. The mission in Sonoma was located to prevent Russians at Fort Ross, about 60 miles away, from expanding settlements inland.
Overland Trail in 1846
The Donner Party celebrated at Fort Laramie. Patty Reed's 12-year-old step-sister, Virginia, wrote about the it in a letter: "We celebrated the 4 of July on plat at Bever crick, serveral of the gentemen in Springfield gave paw a botel of liker and said it shouden be opend till the 4 day of July and paw was to look to the east and drink it and they was to look to the West and drink it at 12 o clock paw treted the company and we all had some lemminade,"
Gold Rush in 1848
John Bidwell discovered gold in the Feather River. By 1853, Bidwell Bar had 2,000 inhabitants, a post office and had become the Butte County county seat.
Newspapers 1849
The Daily Alta California was printed on a steam press, the first in the West. It had been printed on a hand press since January 4, 1849. The newspaper continued until June 2, 1891.
Theaters in 1850
The Dramatic Museum opened in San Francisco. Dr. D. G. "Yankee" Robinson's 200 seat theater was on California Street. He entertained the crowd by making fun of city leaders. 
Newspapers in 1850
The Sonora Herald was first published in Stockton. A few days later the newspaper's printing press was moved to Sonora. It was published weekly in English and Spanish.
Transportation in 1860
Market Street Railroad Co. opened a line in San Francisco. It ran on Market from Third to Valencia, with horse-drawn cars and steam trains. It was the first street railway on the Pacific Coast.
Inventions in 1871
Julie Desmarques Young, of San Francisco, patented an Improvement in toilet pastes. "Elixir de Beaumondaire, [is] to be used on the face and hands for the purpose of healing, rejuvenating, and beautifying the skin, and obliterating all wrinkles."
Power in 1876 
Electric lights were first publicly exhibited in San Francisco. Joseph Neri lit a nighttime parade down Market Street. He threw a lever, lighting it with arc lights and reflectors suspended by wires.
San Francisco in 1882
Telegraph Hill Observatory opened in San Francisco. The "party palace and observation post atop Telegraph Hill," where Coit Tower stands today, staged jousting contests in the mid-1880's. It failed because of Telegraph Hill's inaccessibility and the building materials were hauled away for firewood.
Goldberg in 1883
Rube Goldberg, cartoonist, was born in San Francisco. He was known for cartoons featuring absurdly complicated mechanical devices to accomplish absurdly simple tasks.
Fairs in 1894
Midwinter Fair at San Francisco's Golden Gate Park closed. The World's Fair opened on January 27. Some 2 million people attended.
Communication in 1903
President Theodore Roosevelt sent a telegraph message on the Pacific Cable. It connected San Francisco with Hawaii, Guam and the Philippines. His message, that took nine minutes, would have taken weeks to travel the same distance previously. 
Sports in 1907
Tommy Burns, heavyweight champion, knocked out Bill Squires of Australia in the first round in Colma. In 1908 Burns fought Jack Johnson, becoming the first boxer to fight an African American for the heavyweight championship. Johnson won. 
Rose in 1916
Iva Toguri D'Aquino, known as Tokyo Rose, was born in Los Angeles. She broadcast anti-US propaganda over the radio from Japan during World War II. Imprisoned after the war, she received presidential pardon in 1977. 
Parks in 1924
San Mateo opened its first county park. San Mateo County Memorial Park, a 450-acre Redwood grove near Pescadero, was dedicated to local soldiers who died in World War I.
Bridges in 1933
Work began on the Oakland Bay Bridge across San Francisco Bay.
War in 1942
Salinas Detention Camp closed. It was one of 15 temporary detention centers that securely moved approximately 110,000 Californians of Japanese ancestry to ten internment prisons during World War II.
Flight in 1944
Stanley Hiller Jr., 19 years old, flew his XH-44 helicopter free from its tether for the first time at U.C. Berkeley. 
Music in 1964
The Beach Boys' "I Get Around" reached #1on the Billboard charts. It was their first #1 hit song in the US. "Surfin' Safari" went to #1 in Sweden two years earlier.
Crime in 1969
The Zodiac Killer shot two teens sitting in their car at Vallejo's Blue Rock Springs just before midnight. They were his second known victims. The young man survived but his girlfriend died.
Radio in 1970
"American Top 40" debuted on Los Angeles radio, hosted by Casey Kasem. Today it is an internationally syndicated independent song countdown radio program. 
Television in 1973
The newly built Sutro Tower, a 977 foot tall, three-pronged antenna in San Francisco, sent its first television transmission. It has become a San Francisco iconic image. 
Flight in 1982
Space Shuttle Columbia landed at Edwards Air Force Base. Nearly a half-million people packed the  shoreline of Rogers Dry Lake and 45,000 more crowded into NASA's Dryden Flight Research Center as Space Shuttle Columbia landed to conclude its fourth orbital test flight.
Gabor in 1995
Eva Gabor, Hungarian-born socialite and actress, died in Los Angeles at age 78. She was best known for her role on "Green Acres" (1965-1971). Her sisters, Zsa Zsa and Magda, were also actresses and socialites. 
Science in 1996
Koko, born at the San Francisco Zoo and the first gorilla to use sign language, asked for a box of scary, rubber snakes and lizards on her 25th birthday. She knew some 1,000 signs of "Gorilla Sign Language."
Accidents in 2002
A Cessna 310 plane crashed at Frank Bonelli Regional County Park at San Dimas, killing three people.
White in 2003
Barry White, singer and songwriter, died in Los Angeles at age 58. His rich bass love songs drew a generation of fans with songs like, "Can't Get Enough of Your Love, Babe" (1974).
Fires in 2007
The Zaca Fire began near Buellton in Santa Barbara County. It burned over 240,207 acres, making it California's second largest fire after the Cedar Fire of 2003.
Fires in 2008
Twenty-seven major fires were burning in California. These included the Basin Complex Fire in Los Padres National Forest where over 68,700 acres were scorched and the Indians Fire in Monterey County with 81,300 acres consumed.
Keyes in 2008
Evelyn Keyes, film actress, died in Montecito at age 82. She married film directors John Huston and Charles Vidor and jazz musician Artie Shaw. Her nearly 50 films included "Gone With the Wind" (1939).
Levin in 2009
Drake Levin, lead guitarist for Paul Revere and the Raiders, died in San Francisco at age 62. He was known for playing on his knees, standing on his amplifier and playing his guitar behind his head. 
Contests in 2010
Joey Chestnut, age 26, of San Jose, ate 54 hot dogs to win his 4th straight Nathan's Famous Fourth of July International Hot Dog Eating Contest at Coney Island in New York.
Crime in 2010
Five San Francisco City electricians were charged with fraudulently moonlighting on city time for four years. 
Labor in 2013
Negotiators from BART and two unions agreed to a 30-day current contract extension. Transit workers agreed to return to work on July 5.
July 5
Exploration in 1595
Sebastian Rodriguez Cermeño and his 80-member crew sailed from Philippines for Alta California. He sought a safe harbor for the return trip from China to Mexico. His cargo included porcelain, silk and other luxury items. After four-months at sea, they anchored in a large, sheltered bay, later named Drakes Bay.
War in 1846
John Frémont returned to Sonoma from Yerba Buena  to organize the California Battalion. He intended to continue the bear flag revolt to free Alta California from Mexican rule.
Gold Rush in 1849
The Niantic anchored in Yerba Buena Cove. Because there were few buildings in San Francisco, her owners turned her into a storage and auction house for imported goods and built a hotel on her deck. Today her historic site is beside the Transamerica Pyramid.
Crime in 1851
Juanita was hanged at Downieville. She stabbed an Australian miner during a fight. Some say her hanging, the only one of a woman during the Gold Rush, was anti-Mexican violence.
Theater in 1853
Lola Montez performed her spider dance in Sacramento. The Sacramento Daily Union said, "Altogether so racy a night's entertainment has never been witnessed in Sacramento…" Montez temporarily settled in Grass Valley, where she kept a tame grizzly bear and taught dancing lessons to the child actress, Lotta Crabtree.
Post offices in 1861
A U.S. post office opened at New Almaden. The mercury mine there is the oldest and most productive in the US. Miners used some 26,000,000 pounds of mercury to process gold mining during the Gold Rush, causing an  environmental hazard still present today.
Taylor in 1923 
Edward Robeson Taylor, mayor of San Francisco, died. He also was dean of Hastings College of the Law, a poet and Book Club of California founder.
Labor in 1934 
Police shot at striking longshoremen in San Francisco on "Bloody Thursday,"  killing two and wounding 109 strikers. Violence broke out during a dock workers and longshoremen strike when strike breakers starting to move goods from the docks to warehouses.
Newspapers in 1938
Herb Caen's column debuted in the San Francisco Chronicle. It ran daily for nearly 60 years. He said, "One day if I go to heaven…..I'll look around and say 'It ain't bad, but it ain't San Francisco'."
Libraries in 1939
Palm Springs Public Library was founded. An informal library started in an adobe building in 1919. Today the library sees 225,000 visitors yearly in a city with 45,907 people (2012 census).
Radio in 1948
The pilot episode aired of Lucille Ball's "My Favorite Husband."  It was her first regular radio program on CBS and became the basis for "I Love Lucy."
Sports in 1987 
Mark McGwire, Oakland A's, was the first rookie to hit 30 home runs before the All Star break. 
Government in 2007
San Francisco faced a $4.9 billion unfunded liability to pay for health care for retired city employees. 
Wightman in 2007
Kingsley Wightman, science educator, died in Oakland at age 91. He amazed visitors to Chabot Space and Science Center in Oakland for 46 years with tricks using hydrogen, helium and lightening rods.
Bachar in 2009
John Bachar, 52-year-old free-style rock climber, fell to his death from an eastern Sierra wall near Mammoth Lakes. A fitness fanatic, he created the climbing training device known as the Bachar ladder.  
Government in 2011
A bill requiring public schools to teach the historical accomplishments of gay men and lesbians passed the California legislature. No Republican voted for it.
Crime in 2011
Manuel Ramos and Jay Cicinelli, Fullerton police officers, killed Manuel Ramos, a 37-year-old mentally ill homeless man. The confrontation took place at the Fullerton Transportation Center. The beating was captured on video.