January 8
Exploration in 1774
Juan Bautista de Anza began his first expedition from Mexico to explore Alta California. He traveled with 3 padres, 20 soldiers, 11 servants, 35 mules, 65 cattle and 140 horses.
Overland Journeys in 1847
Patrick Breen, traveling with the Donner Party, wrote in his diary: "Mrs. Reid & company came back this morning; could not find their way on the other side of the Mountain. They have nothing but hides to live on. Martha is to stay here. Milt. & Eliza going to Donners'. Mrs. Reid & the 2 boys going to their own shanty & Virginia. Prospects Dull. May God relieve us all from this difficulty if it is his Holy will. Amen."
War in 1847
The Battle of Rio San Gabriel was fought about ten miles from downtown Los Angeles. U.S. forces recaptured the town after a 90-minute battle.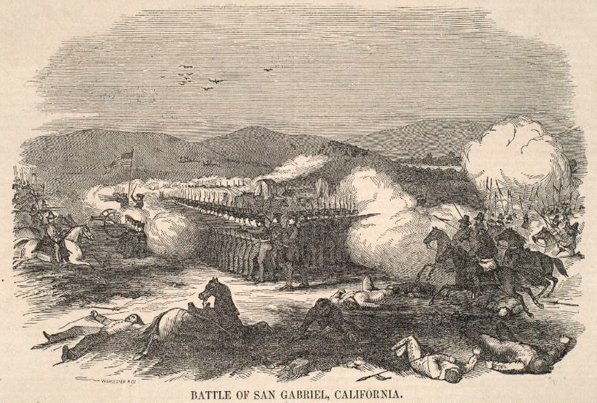 Business in 1849
A land auction at Sutter's Fort sold lots near the fort. Land near the Sacramento River was most valuable although it flooded, destroying most of what had been built.
Environment in 1849
Rain from January 8th to 18th flooded the American and Sacramento Rivers, damaged buildings and merchandize valued at hundreds of thousands of dollars.
Borax in 1856 
Dr. John A. Veatch discovered borax, which has many uses, in Tuscan Springs. It was popularized by the 20 Mule Team Borax trademark, named for the way it was hauled out of the California and Nevada deserts.
Education in 1858
Lowell High School in San Francisco, the oldest public high school west of the Mississippi River, began as Union Grammar School in 1856 before it became San Francisco High School in 1858. Girls were sent to another school in 1864 and the name changed to Boys' High.
Transportation in 1858
The Camel Corps reached Los Angeles. The U.S. Army purchased 14 camels to carry supplies across the desert. A special barn was built for them in Benicia. Today you can visit Benicia Historical Museum at the Camel Barns.
Transportation in 1863
The Central Pacific Railroad broke ground in Sacramento. That was the first step in the 1,907-mile long Transcontinental Railroad, completed on May 10, 1869.
Norton in 1880
Eccentric self-proclaimed, Norton I, Emperor of North America and Protector of Mexico, died in San Francisco at age 63. Some 20,000 people attended his funeral.
Flight in 2010 
SpaceX, headquarterd in Hawthorne, became the first private company to successfully launch, orbit and recover a spacecraft with SpaceX Dragon and SpaceX Falcon 9.
Protests in 1937 
Demonstrations protesting the bombing of Madrid took place in front of the German Consulate in San Francisco.
Music in 1966
The first Grateful Dead concert recorded by fans was a show at the Fillmore Auditorium in San Francisco. 
Environment in 1971 
Twenty-nine pilot whales beached themselves and died at San Clemente Island, off the California.
Patchen in 1972 
Kenneth Patchen, poet and visual artist, died in Palo Alto at age 61. He was best known for "Before the Brave" (1936) and incorporating painting, drawing and music into his works, influencing the Beatnicks.
Business in 2001 
Advanced Micro Devices, in Sunnyvale, announced a 850 MHz Duron chip.
Government in 2007 
Governor Arnold Schwarzenegger proposed extending medical insurance to all Californians, including illegal immigrants. He said the $12 billion cost would be spread among employers, individuals, insurers, government, and health care providers.
Fires in 2007 
A wildfire destroyed multimillion dollar homes in Malibu.
Takamoto in 2007 
Iwao Takamoto, creator of the Scooby-Doo cartoon character, died in Los Angeles at age 81.
Business in 2008 
Google, in Mountain View, unveiled a strategy for Google.org, its philanthropic arm. It's goal was to fight climate change, promote economic development and build an early warning system for pandemics and natural disasters.
Clokey in 2010 
Art Clokey, pioneer in clay animation best known as Gumby's co-creator, died in Los Osos at age 88. 
Protests in 2012 
Animal rights arsonists destroyed 14 cattle trucks at the Harris Ranch off I-5.
January 9
Exploration in 1769
Father Junipero Serra blessed the Spanish galleon, San Carlos, which was to sail from La Paz, Mexico for Monterey to help establish the first Spanish colony in Alta California. The 62 people aboard (friars, sailors, soldiers, a mapmaker, blacksmith and two boys) were to meet and resupply an overland group lead by Gaspar de Portolà. He overshot Monterey Bay, found San Francisco Bay and never saw the supply ship.
War in 1847
The Battle of La Mesa, in present-day Vernon, was the last armed resistance to the U.S. advance in California. American troops outgunned Californios, who fought on horseback with lances.
Overland Journeys in 1847
Around this date, the Forlorn Hope party trying to snowshoe over the mountain pass came upon Indian guides, Luis and Salvador, exhausted and near death. William Foster shot them and the others ate them.
Newspapers in 1847
The California Star, Yerba Buena's first newspaper delivered its first issue to subscribers.
Business in 1849
Henry Naglee opened the first bank in the city, San Francisco Exchange and Deposit Office, on Portsmouth Square.
Environment in 1857
The Tejon Pass Earthquake cracked open the earth for 20 miles and was felt as far away as San Francisco. It killed 2 people and destroyed the Teyon Army post.
Inventions in 1900
Adelia Osborne of Pomona patented a lunch box. "This invention … has for its object the general improvement in this class of devices, the special object of the invention being to provide a compartment lunch-box so constructed as to permit ventilation and the free circulation of air within airspaces surrounding the inner compartments containing the food."
Parks in 1908
President Theodore Roosevelt established Muir Woods National Monument as a unit of the National Park Service. It protects one of the few old growth Coast Redwood forests left in the San Francisco Bay Area.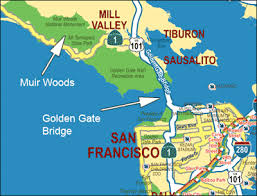 Nixon in 1913
Richard Nixon, President of the United States (1969 – 1974) was born in Yorba Linda. He became the only president to resign the office.
Crime in 1927 
A bomb exploded at SS. Peter and Paul's Church in San Francisco, the fourth in less than a year.
Literature in 1956 
The Dear Abbey advice column debuted in the San Francisco Chronicle. Today it is published in some 1,400 U.S. newspapers. 
Government in 1964 
The San Francisco Civil Service Commission voted unanimously to uphold firing James Forstner, Juvenile Probation Officer, who refused to shave his beard.
Stewart in 2006
Don Stewart, soap opera actor, died in Santa Barbara at age 70. He was best known for his role as attorney Mike Bauer on "Guiding Light" (1968 – 1984).
Business in 2007 
National Park Service announced a 60-year lease to commercially restore Fort Baker at the southern tip of Marin County. The hotel would be called "Cavallo Point, the Lodge at the Golden Gate."
Business in 2007 
Steve Jobs introduced the iPhone at Macworld Expo in San Francisco. The 4GB version sold for $499. Apple TV sold for $299. Apple dropped the word "Computer" from its name.
Parks in 2008 
Muir Woods in northern California was listed on the national Registry of Historic Places on its 100th anniversary as a national monument.
Government in 2009 
California officials announced state offices would close two Fridays a month as the state faced a $42 billion budget gap.
Business in 2010 
eSolar Inc., in Burbank, announced plans to build solar thermal power plants in China.
Government in 2011
George Gascón was sworn in as the first Latino District Attorney of San Francisco.
Business in 2013
Google, in Mountain View, announced it was putting $200 million into a Texas Panhandle wind farm.
January 10
Exploration in 1776
Padre Font named Batequitos In his diary. Traveling with Anza's second expedition, he noted "the place called Los Batequitos, a small watering place somewhat apart from the road on the side away from the sea, two leagues from the village of Indians and the place called Los Alexos." Batequito means "water hole" in the Cahita language of Sinaola.
War in 1847
After U.S. forces recaptured Los Angeles, the war in California was basically over. Commodore Stockton established headquarters on Wine Street in today's historic Olvera Street area.
Business in 1896
Crude oil was first shipped from Ventura. The Summerland Oil Field, off Santa Barbara's coast, was the world's first offshore oil drilling and site of a famous oil spill in 1969.
Flight in 1912 
The first flying-boat airplane debuted at San Diego. It was designed and flown by Glenn Curtiss, the first licensed U.S. pilot (1911). His Curtiss Model D featured an electric starter.
Rancherias in 1949
The Sulfur Bank Rancheria was established. The community of around 100 Pomo people, originally formed under the name Sulfur Bank Rancheria. They are trying to reclaim nearby Rattlesnake Island, their traditional ceremonial land.
Sports in 2004
Michelle Kwan, born in Torrance, won her seventh straight title and eighth overall at the U.S. Figure Skating Championships.
Environment in 2005
A mudslide at La Conchita in Ventura County crushed over 15 homes and killed 10 people.
Dryden in 2005
Spencer Dryden, drummer for the Jefferson Airplane, died in Petaluma at age 66.
Business in 2006 
Apple Computer CEO Steve Jobs unveiled an iMac computer based on Intel chips. It and the introductory MacBook Pro. were the first Apple products that also ran Windows.
Environment in 2007 
California State coastal regulators restricted the U.S. Navy's use of sonar, which was linked to harmful effects on whales and other marine mammals.
Government in 2008 
Governor Arnold Schwarzenegger proposed an austere state budget to close a projected $14.5 billion deficit.
Anderson in 2010 
Juliet Anderson, adult film star, producer, relationship counselor, and author, died at her home in Berkeley at age 71. 
Gores in 2011
Joe Gores, mystery writer, died in Greenbrae at age 80.  He was known best for short stories and novels set in San Francisco featuring the character Dan Kearney.
Government in 2013 
Governor Jerry Brown said the state budget deficit is gone after years of financial troubles. He proposed a state budget plan to increase spending on education and healthcare, boosting total expenditures by 5 percent with a surplus remaining.
Crime in 2013 
A 16-year-old student armed with a shotgun opened fire at Taft Union High School in Kern County. He critically wounded another student before staff members talked him into giving up his weapon and he was arrested.
January 11
Ranchos in 1842
Rancho Entre Napa, a 7,000-acre land grant including the modern city of Napa, was deeded.
War in 1847
Colonel Frémont received a message from General Kearny informing him of the capture of Los Angeles. That night Frémont's battalion camped at Mission San Fernando.
Movies in 1927 
Louis Mayer, head Metro-Goldwyn-Mayer movie studio, announced the creation of the Academy of Motion Picture Arts and Sciences. Members vote for the Academy Awards.
Flight in 1935  
Amelia Earhart, legendary early aviator, took off from Honolulu for California, becoming the first person to fly solo across the Pacific Ocean. She disappeared over the Pacific Ocean during an attempt to fly solo around the world in 1937.
Environment in 1949 
A record-setting snowstorm hit Los Angeles. Icy conditions forced the CHP to close Pacific Coast Highway. 
Business in 1963
Whiskey a Go Go opened on the Sunset Strip in Los Angeles. The Doors, Guns 'N Roses and Motley Crüe launched careers there.
January 12
London in 1876
Jack London was born in San Francisco. He grew up around the Bay, hung out at the public library and had many adventures before finishing high school. His Call of the Wild (1903) is among the great American novels.
Flight in 1910
Louis Paulhan made a record flight, reaching an altitude of 4,600 feet over Los Angeles in his Henry Farman biplane.
Parks in 1969
The San Jacinto Wildlife Area opened near Palm Springs. Its mountains rise to some 10,000-foot. John Muir climbed the summit in 1896 and called the view "one of the most sublime spectacles to be found anywhere on earth!"
Business in 2001 
Downtown Disney, a "shoppertainment center," opened as part of the Disneyland Resort in Anaheim.
January 13
War in 1847
The Treaty of Cahuenga, signed at a ranch house at Cahuenga Pass, ended the Mexican–American War in California. General Andres Pico, surrendered two cannon, including the "Old Woman's Gun" that won the battle of Dominguez Ranch. 
Gold Rush in 1849
The Edward Everett, sailed from Boston with 152 gold seekers going to San Francisco. Passengers ate cheese, pot pies, apple sauce and plum pudding. There were weekly talks on scientific subjects. Two ministers took turns preaching on Sundays and musicians played on special occasions. They arrived on July 6, 1849. 
Newspapers in 1877
The Pioneer newspaper in San Jose debuted and continued publishing through 1898.
Post Offices in 1914
A U.S. post office opened at Palm City, originally part of Rancho La Punta but today part of San Diego. John Montgomery designed and tested manned gliders, among the first of their kind, at nearby Ortay Mesa in the 1880s.

Accidents in 1916
The U.S.S. Milwaukee sailed to rescue a U.S. submarine that ran aground near Humboldt Bay. It rescued 421 sailors and 17 officers but stranded in the breakers while re-floating the submarine. The submarine was saved but the rescue ship was lost.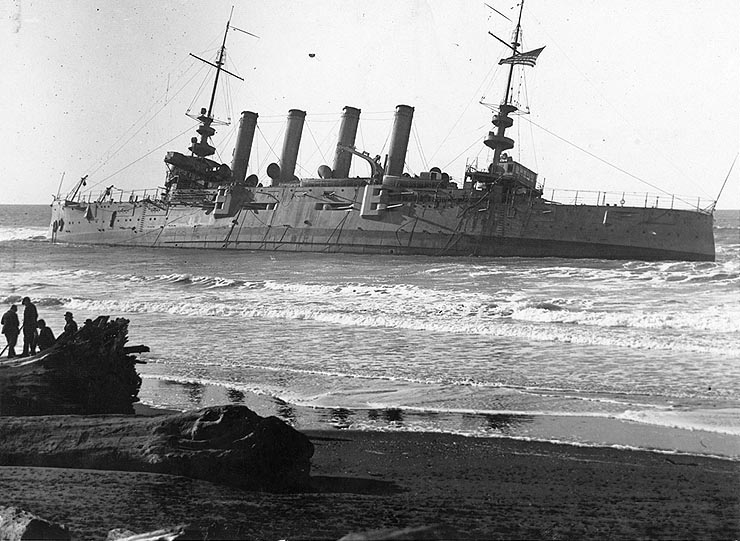 Business in 1957 
Wham-O Company, in Emeryville, produced the first Frisbee. Their other toys  include the Hula Hoop, Slip 'N Slide, Super Ball, Silly String and Hacky Sack.
Sports in 1962 
Wilt Chamberlain, San Francisco Warriors center, scored a then NBA-record 73 points against the Chicago Bulls. 
Music in 1968 
Johnny Cash performed two shows live for inmates at Folsom State Prison. The album, At Folsom Prison, was his 27th. 
Sports in 1993  
The Dallas Cowboys beat the Buffalo Bills in Super Bowl XXVII, played in Pasadena.
January 14
Exploration in 1793
Captain George Vancouver sailed from Monterey Bay for Hawaii. He was on a 4-year voyage to explore, map, collect plants and animals and promote British interests around the world. Vancouver spent the winter of 1792 in Monterey, the Spanish colonial capital of Alta California.
Literature in 1835
Richard Henry Dana reached Santa Barbara. He left college and sailed for Alta California to trade in cattle hides and tallow. In Two Years Before the Mast (1840), Dana wrote about the wedding of an American to the daughter of a California ranchero.
Japanese American internment in 1942
President Franklin Roosevelt issued Proclamation No. 2537. His response to Japan's attack on Pearl Harbor lead to more than 110,000 people of Japanese heritage who lived on the Pacific coast being forced from their homes and locked in internment camps through December 18, 1944.
Environment in 1952 
A snowstorm in the Sierra Nevada killed 26 people. Roughly 13 feet of snow fell from January 10 to 17. Some 65 feet of snow on fell on Donner Summit that winter.
Hippies in 1967 
The Human Be-In in San Francisco's Golden Gate Park marked the beginning of the Summer of Love. Some 20,000 people attended.
Sports in 1968 
Green Bay Packers beat the Oakland Raiders, 33-14 in Super Bowl II, played in Miami, Florida. 
Music in 1978 
Sex Pistols' played their final concert at Winterland in San Francisco. They fueled the English punk rock movement.
January 15
Alta California in 1816
The first U.S. citizen landed in Alta California. Thomas Doak was aboard an American schooner that anchored near Santa Barbara and began trading with a local rancho, which was against Spanish law. Doak deserted or was caught, stayed in Alta California, was baptized Felípe Santiago, married into a rancho family and decorated the Mission San Juan Bautista chapel.
Anaheim in 1858
Anaheim was named. It was originally a Mormon agricultural colony founded by Germans living in San Francisco; the home of Disneyland since 1955 and the Los Angeles Angels since 1966.
Mason in 1891
Biddy Mason died a wealthy woman in Los Angeles at age 72. She  was brought to California as a slave but fought for freedom in court. Auntie Mason, as she was known, was one of the first African American land owners in L.A., founded a traveler's aid center, an elementary school for black children and the city's first black church. Biddy Mason Day is celebrated on November 16.
Crime in 1947 
Elizabeth Short, known as the Black Dahlia, was found murdered and dismembered in Los Angeles' Leimert Park.
Sports in 1967  
The Green Bay Packers defeated the Kansas City Chiefs, 35–10, in Super Bowl I, played in Los Angeles. 
Amusement Parks in 1975 
Space Mountain, a space-themed indoor roller coaster, opened at Disneyland.
Sports in 1995 
The San Diego Chargers beat the Pittsburgh Steelers, 17-13, to win the AFC championship.
Sports in 1995 
The San Francisco 49ers beat the Dallas Cowboys, 38 – 28, to win the NFC championship.