Have you been to any of these?
R

eview them at our Facebook.
SEPTEMBER – OCTOBER
Empire MineMay 3 – Sept 30:
Saturday & Sunday:
Cottage Living History: Every 20 min., 12:00 noon – 1:00 PM & 2:00 PM – 3:00 PM
Mineyard Tour: 11:00AM & 1:00PM
Garden Highlights: Sundays at 11:00AM
Spring Open House ( See "Events" on main menu ): Sunday May 11th, 11:00 – 4:00Mine Yard Living History Days: Saturdays, June 7, July 5, August 2 & September 6; 11:00AM – 3:00PM br>
Miner's Picnic ( see "Picnic" on main menu ): Saturday August 23: 11:00Am – 4:00PMFort Tejon6 September Frontier Army Days / Dragoon LH Program Focus: Camel Myth vs. RealityCalifornia Admission Day Parade
September 6 @ 11:00 am – 5:00 pmThe Native Sons of the Golden West, Columbia Parlor #258, sponsors a California Admissions Day Parade in Historic Columbia. The Native Sons have a tradition of preserving California History–the parade is one of those that started in 1876, and revived in 2008. There are many other events held on Admissions Day in historic Columbia, the parade is just one of them. The Columbia Docents will also sponsor a fashion show and additional tours throughout the day. Contact Bob Law: gransur@aol.com or 588-8475 or George Van Buskirk at 588-1565.Planes of Fame Air MuseumOpen to the public, Planes of Fame Air Museum (Chino, CA) presents its monthly Living History Event. The topic for the September 6 event is 'Fork-Tailed Devil', featuring the Lockheed P-38 Lightning. A speaker panel of distinguished aviation experts, historians and veterans is featured, followed by a question & answer period and flight demonstration when possible. Our distinguished speakers today are Don Oldis and Lynn Shubert. The P-38 Honey Bunny will be on display. At 12:00 noon, the Membership Sponsored raffle flight will occur in the P-51 Spam Can/Dolly. Become a member to enter the raffle. All members are eligible to enter the raffle, but you must be present to win.Saturdays from 1p.m. to 2p.m.Living history activities take place most Saturdays from 1:00pm to 2:00pm at the Santa Cruz Mission State Historic Park. Activities vary and may include mission cooking, mission building methods, working with leather and tallow, or early textiles: wool spinning & weaving. Each activity is aimed to give a feel for the way of life introduced to this area in the late 1700's to early 1800's as part of California's Mission Period.Saturday, September 6, 2014
Saturday, September 13, 2014
Saturday, September 20, 2014
Saturday, September 27, 2014Old Town San DiegoFiestas Patrias Celebration (Mexican Independence Day)
September 13 (Saturday)
A festival to commemorate the rich and diverse Mexican culture that was vital in the development of San Diego and California. Music, dancing, games, and activities for the entire family. Stage with performers.Carmichael Founders' Day Celebration
The Carmichael Founders' Day Celebration annually commemorates the community's founding in 1909 by
Daniel Carmichael. Featured events include live entertainment in the bandshell, a
www.carmichaelchamber.comGold Rush Days
Hitch up the team to your buckboard and come on down for Gold Rush Days! Bring the young'uns and the
in-laws, the neighbors and the new folk just off the stage from Back East. Heck
www.sacramentogoldrushdays.comTall Ships Festival, Dana Point: A good opportunity to see those beautiful, tall-masted sailing ships.Greater Sacramento
Stroll Through History
The Stroll Through History is a celebration of Woodland's cultural and architectural history, which
dates back to 1850. Fortunes were made on the rich agricultural lands, and Woodl
www.strollthroughhistory.comNorth Hollywood "NoHo" Historic Walking TourSep 13 – 10:00 AMNorth Hollywood Regional Branch LibraryHistory for Half Pints – Arts, Crafts, and more – September Edition
Saturday, Sep 13 12:00p
California Historical Society, San Francisco
Make crafts, sing, play games, and learn about California History at our Family Program, History for Half Pints! Featured Craft of the Day – Design your own Back to School Binder or capture summer …

Gold Nugget Museum

Days of Living History

September 13, 2014

September 13-14, 11am-4pm

Come experience crafts and events reminiscent of 1850-1950's.  Great Family activity.  $5 entrance fee includes all activities.  Food is available for a small fee.

September 20 – 21, 2014
Location: Elverhoj Museum of History & Art
Address: 1624 Elverhoy Way, Solvang, CA 93463
Venue: Elverhoj Museum of History & Art
Website http://elverhoj.org
– See more at: http://www.solvangusa.com/includes/events/?action=displayDetail&eventid=7223#sthash.nt5sM7Es.dpuf

Elverhoj Museum of History & Art

September 20 – 21, 10 am to 5 pm: Living History Festival. Demonstrations, storytelling, hands-on activities brought over from Denmark for all ages. Free.
– See more at: http://www.solvangusa.com/includes/events/?action=displayDetail&eventid=7223#sthash.nt5sM7Es.dpuf

August 16, 2014 Hands on History: 175th Anniversary Celebration

(10:00 – 5:00)

$7 per adult (18 and older), $5.00 per youth (ages 6-17), free for children 5 years and under

On Saturday, August 16, 2014, California State Parks and Sutter's Fort State Historic Park (SHP) will present a special "Hands on History" event commemorating John Sutter's arrival to the Sacramento region 175 years ago that led to the building of Sutter's Fort, the discovery of gold and the founding of the City of Sacramento. As background, John Sutter landed on the bank of the American River in August of 1839 and went on to found the New Helvetia area on which Sutter's Fort was later constructed.

West Adams Heritage Association presents
the 22nd Annual Living History Tour at Angelus Rosedale Cemetery

Entertaining Lives

History Comes to Life on Saturday, September 29

Marilyn Monroe's Grandmother, Buster Keaton's Cameraman Join Vaudeville and Jazz Age Performers on this Unique Outdoor "Stage"

Flappers, singers, dancers, magicians, and even a celebrity chef –– a host of colorful entertainers rest at Angelus Rosedale Cemetery, one of the city's oldest, most historically significant cemeteries.

At this year's Living History Tour, visitors will "meet" some of Los Angeles's most interesting early performers and entertainment industry personages as costumed actors, at graveside, portray the lives of a Civil War-era escape artist, a headlining dancer who lost her life in the 1933 Long Beach earthquake, a mezzo soprano who fought for civil rights, and a Chinese-American dancer/actor/MC, among other quirky and wonderful characters.
– See more at: http://www.westadamsheritage.org/read/1243#sthash.Rod3BeU6.dpuf
Stagecoach Days at Banning
Friday – Sunday, September 6 – 8
714-849-4695
Carnival, musical and dance performances throughout the day, live music and dance on Saturday night. Historical Old West actors and large encampment with demonstrations throughout the day, Wild West Shoot Out Shows, Rodeo events; Barrel Racing and Team Roping, Carnival, petting zoo and food craft booths all at Dysart Park. Parade with over 100 entries in downtown Banning.
Sycuan Pow-Wow at the Sycuan Reservation
Saturday, September 7 at 7 pm.
619-445-2613
The Sycuan Band of the Kumeyaay Nation presents a traditional celebration featuring Indian song, dance, arts and crafts, games and food, held at the Sycuan Reservation in San Diego's East County.
What is a Pow-Wow? Originally a Pow-Wow was held in the spring to welcome the beginnings of life. It was a time for people to get together, sing, dance, renew old friendships and make new ones, and a time for young people to meet and court.
Blessing ceremonies, honoring ceremonies and ceremonies for dropped eagle feathers remain today. Competitive singing and dancing for prize money is a fairly recent change in the traditional Pow-Wow celebration. Only registered contestants can participate in the dancing contests, but everyone can take part when an "intertribal" dance is announced – visitors included, as each of us shares a place in the circle. There are no spectators at a Pow-Wow, everyone is a participant!
Columbia State Historic Park
California Admission Day Parade and Celebration
Saturday. September 7 at 11:00 am.
209-588-9128
Celebrate California becoming part of the United States!
Free. Sponsored by the Native Sons of the Golden West,
Columbia Parlor #258.
BBQ lunch available for purchase.
Afternoon events include a 1850s "Fashion Show", free square dance lessons sponsored by Friends of Columbia, town and cemetery tours.
California State Capital Museum
Admission Day Celebration
Monday, September 9 from 11:00 am to 2:00 pm.
916-324-0333
Happy Birthday, California! Please join us on the State Capitol north steps for cake and ice cream to celebrate California's admission to the Union, 164 years ago!
Californians deserve a day to celebrate their great state.  Enjoy patriotic live music, birthday cake and ice cream provided by California State Parks, the State Capitol Museum, with support from the California State Capitol Museum Volunteer Association. Come one, come all.
The California State Capitol Museum located inside the Capitol offers free admission all year long.
Old Town San Diego
Fiestas Patrias
Saturday, September 14 from noon to 5 pm.
619-220-5422
Experience a traditional Mexican Independence celebration.
This free festival commemorates an important day in early San Diego history when Alta California was still part of Mexico – gaining independence from Spain in 1821.
The ringing of the bell in the historic Casa de Estudillo will kick off the festivities including an "El Grito" contest, parade, and an address from the Mexican Consulate. We invite everyone to march in the short parade around the plaza along with horses, dancers, dignitaries, and people in historical costumes. The parade is scheduled at 12:30 pm.
Park guests can relax and picnic in the grassy area in front of the stage that will be filled with free entertainment. A special theatrical production on the origin and meaning of Fiestas Patrias, "Doin' the Grito, San Diego Style" will be performed at 12:10 and 4:00 pm on the plaza stage.
Following the parade, there will be a variety of entertainment, including historic and traditional music and dance groups, crafts, games, and informational demonstrations that represent the activities enjoyed by the early settlers of San Diego in the 1800s. Escaramuzas Golondrinas (female equestrian group) and Luis Max & Blue Moon will perform during the day.
The event is sponsored by California State Parks, Boosters of Old Town, and the San Diego business community.
The park is located on San Diego Avenue and Twiggs Street, and is conveniently next to the Old Town transit Center, with Coaster, Trolley and MTS bus service. Free parking is available in the CalTrans parking lot on Sunset Street off of Taylor Street in Old Town all day on weekends.
Henry Cowell Redwoods State Park
Ohlone Day
Saturday, September 14 from 10:00 am to 4:00 pm.
831-335-7077 or 831-335-3174
Event features hands-on experiences to relate Ohlone cultural, social, and every-day life
Ohlone people share traditional basketry, songs and musical instruments, stories, dances, tools, language, and history at Henry Cowell Redwoods State Park on Saturday, September 14, from 10:00am to 4:00pm. During this family-friendly event, visitors can throw an atlatl, play Ohlone games and find out how rocks cook meals and bay trees cure headaches.
One of the highlights this year is a celebration of the many ways native plants were used in everyday life including how they are gathered and prepared. Accomplished Indian artisans and Ohlone dancers will be featured throughout the day. For thousands of years, the native tribes we now collectively call the Ohlone thrived in this abundant region with plentiful sources of food and a life rich in culture. Descendants of the Ohlone people present this event each year so that visitors make connections to Ohlone culture in a meaningful way.
The event takes place in the group picnic area, one of the largest riparian forests along the San Lorenzo River. The park is also known for its old-growth redwood forest along a .8 mile trail.  The main entrance to Henry Cowell Redwoods State Park is located off of Highway 9 in Felton at 101 Big Trees Park Road. Sponsors include Mountain Parks Foundation, the Arts Council Santa Cruz County, Valley Women's Club, and California State Parks. More information can be found by calling
All activities are free; day-use parking fee is $10.
Columbia State Historic Park
Back to School Night in 1861
Saturday. September 21 from 4:00 to 7:00 pm.
209-588-9128
At the historic school on the hill, sit in an old desk while a park docent teaches school! Tour the second story,play  games and with toys of the past. Don't miss the hand-cranked ice cream! Music by the Fiddle Gang. Free event.
Columbia State Historic Park
Stories in Stone Cemetery Tour
Fridays and Saturdays, September 27 and 28 and October 4 and 5
at 7:00 pm.
209-588-9128
Stories of tragedy, family and daily life brought to life by costumed volunteers in the cemetery. This guided walking tour will leave you thinking.
Monterey State Historic Park
Art in the Adobes Festival
Friday – Sunday, September 27 – 29
831-241-5504
Downtown adobes are among the twelve affiliated venues to be featured in the 3rd annual Art in the Adobes Festival. This year's theme is Artists & Architecture in Historic Downtown Monterey. Presented by the Old Monterey Business Association, several State Parks adobes will provide historic settings for the exhibits.
$25/person. Reservations required.
Bishop Paiute Pabanamanina Gathering and Pow Wow
Paiute Palace Casino
September 27-29, 2013
760-873-4150
For over three decades, the Bishop Paiute Tribe has hosted an inter-tribal gathering to celebrate different tribal cultures with dance and spiritual events during its annual Pabanamanina Gathering and Pow Wow on the Bishop Paiute Indian Reservation the fourth weekend in September.
The family-friendly drug- and alcohol-free festivities are open to everyone and start with a parade on Friday, California Indian Day, and continues through Sunday. Hundreds of Native American dancers, drummers and others from around the nation will descend upon Bishop to show off their regalia and their traditional regional dances.
There will also be games for the kids, music, a free barbecue Saturday of a steer cut from the Tribal herd, Native American artists selling wares, an honoring of all local veterans and the crowning of Miss Pabanamanina and a junior counterpart. Handgames, one of the oldest Owens Valley Paiute and Shoshone Indian traditions that can be traced back to some Creation stories, will also be performed. Many contest take place to honor the Paiute way of life such as hand game tournaments, hand drum and clapper contests. The Paiute Palace Casino, which is hosting the events on its new pow wow grounds.
Free
Thunder & Lightning Pow Wow
The Morongo Band of Mission Indians
951-849-4697
There has been a resurgence of interest in Pow Wows among non-Indians. Many non-Indians believe that Native Americans have a better relationship with our beleaguered earth. They are attracted to Indian spirituality and practices of living more harmoniously with nature and each other.
Pow Wow, as an expression of culture, is an opportunity for non-Indians to observe, learn and celebrate. In modern Pow Wows, most religious ceremonies no longer play a central part, they are often conducted in the privacy of family gatherings; but blessing ceremonies, honoring ceremonies and ceremonies for dropped eagle feathers remain today.
The eagle feather is sacred to most Native Americans. When an eagle feather accidentally falls from a dancer's outfit, the Pow Wow stops. Veteran dancers must perform a special ceremony before the Pow Wow can continue. Different tribes have different customs relating to how the dance ceremony is performed. Regardless of the tradition, spectators should stand, remove caps or hats, and listen carefully to the announcer's instructions.
The circle is a sacred symbol to Indian cultures. It means wholeness: there is no beginning, no end. At a Pow Wow, dancers are in the center of a circle. The audience forms a circle around them, bringing the people closer together, closer to their community, and their culture.
Historically, singing and dancing have always been an integral focus at Pow Wows. Competitive singing and dancing for prize money is a fairly recent development. Only registered participants can participate in the dancing contest, but when an "inter-tribal" dance is announced, everyone, including visitors, can take part.
We encourage you to join us in dance and celebration.
Free
Indian Grinding Rock State Historic Park
Chaw'se Big Time 
Saturday – Monday, September 28 – 30
209-296-7488
Several times a year ceremonies are held in the hun'ge (roundhouse) by local Native Americans. One of those ceremonies, Big Time, brings together Indian families on the weekend following the fourth Friday in September for the annual acorn gathering. Dancing, hand games, singing and storytelling are traditional at this event. Spectators are welcome, but there is no fixed schedule of events. Native American crafts and foods are available. During this event please ask for permission before taking photographs of Native Americans.
Camping is first come first serve.
18th Annual Chumash Inter-Tribal Pow-Wow
Live Oak Campground
Santa Ynez, CA 93463
Saturday and Sunday, October 5 and 6 from 10 am to 10 pm.
805-688-7997
Enjoy the excitement and intensity of Native American dancing and singing competitions between tribes from across the nation. There will also be vendors selling great food, arts and crafts, jewelry, pottery, baskets and much more.
Our inter-tribal Pow-Wow has featured drummers from the U.S. and Canada, a variety of foods and beautiful hand-made native crafts. Although Pow-Wows weren't traditionally part of the Chumash culture we wanted to provide the community with both an educational and cultural experience that focuses on Native American music, arts and customs.
In addition to providing an exciting and rewarding experience for those attending the Pow-Wow, our goal in producing this inspiring event is to promote self-reliance and pride in Native Americans by honoring our traditions and culture.
Admission is free, and parking is $5. Bring a blanket or lawn chair—all are welcome! At the Live Oak Campground near San Marcos Golf Course.
Marshall Gold Discovery State Historic Park
Gold Rush Live 2013
Friday to Sunday, October 11 to 13
530-622-3470
See Coloma transformed into an 1850's tent town. Demonstrations, music, food, carriage rides and re-enactments to make you feel like you have stepped back in time. Bring a picnic and your whole family and spend the day enjoying our beautiful park!
Individual and Family Gold Panning Lessons at Bekeart's Gun Shop
Gold Panning lessons are available on Saturday and Sundays from 10 am till 3 pm or Tuesday through Friday as space allows between school or tour group reservations. Recreational Panning is still allowed in the river. Check with The Gold Discovery Museum for details.
Visitors pan for real gold in troughs set up for teaching. Fun for all ages! Lessons are given through out the day. 45 minutes for lesson and panning and can keep any gold they find. The program is $7.00 per person, large group rates are available. Supplies will be provided for use while you are panning in park troughs. Once you have found gold you can purchase a pan and try your luck in the South Fork of the American River in our designated area near where James Marshall discovered gold in 1848.
Monterey State Historic Park
History Fest
Saturday and Sunday, October 12 and 13
831-241-5504
Heritage Square Museum
3800 Homer Street
Los Angeles, CA 90031-1530
323-225-2700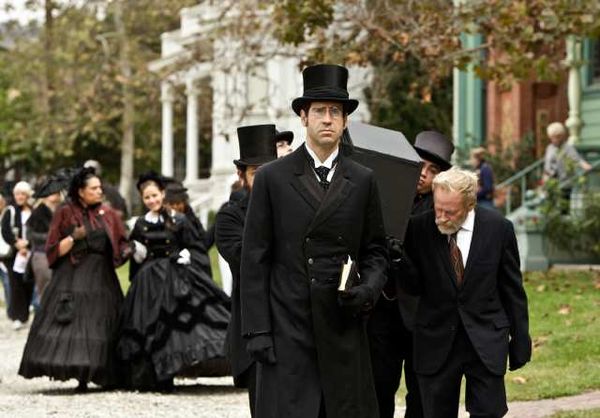 Heritage Square Museum, Spooky Times
Weekly on Friday, Saturday, Sunday and most  Mondays from noon to 5:00 pm.
Heritage Square Museum is classified as a "living history museum." It preserves and interprets the settlement and development of Southern California from 1850 to 1950 by offering visitors an opportunity to peek inside the homes and everyday lives of Southern Californians from the Civil War to the mid-20th Century.
Eight historic structures make up the museum, each representing a different aspect of California life. They include the Carriage Barn, the Ford House, the Hale House, the Lincoln Avenue Methodist Church, the Octagon House, the Palms Depot, the Perry Residence, and the Valley Knudsen. Most were constructed during the Victorian Era and saved from the wrecking ball to be used as background in educating the public about the area's early development.
Heritage Square Museum is off the 110 Fwy, 10 minutes northeast of downtown Los Angeles.
$10 Adults (13+), $8 Seniors (65+), $5 Children (6-12)
Old Town San Diego State Historic Park
Weekly living history activities every Wednesday and Saturday from 10 am to 4 pm.
619-220-5422
Free tours daily at 11 a.m. and 2 p.m.
California State Railroad Museum
Excursion trains
Old Sacramento Central Pacific Railroad Freight Depot on Front Street
916-445-7387
All aboard the California State Railroad Museum's popular excursion railroad–the Sacramento Southern Railroad. 2013 marks the 30th consecutive season the excursion trains have been operating in Old Sacramento. Train rides include closed coach cars, open-air gondolas and a first-class observation car pulled by vintage diesel locomotives from the Museum's collection.
Days of operation: Saturdays and Sundays; April 6 through September 29, 2013. Every hour on the hour, 11 a.m. to 5 p.m. (weather permitting)
Regular Coach: $10 adults, $5 youths (ages 6-17), ages 5 and under ride free. First Class El Dorado Car: $15 per person, ages 5 and under ride free
Mission San Juan Bautista
Living History Days
Monthly on first Saturdays from 11:00 am to 4:00 pm
831-623-4881
Step back to the early days of San Juan to meet mountain men,
Civil War soldiers, Victorian ladies and more. Enjoy craft and cooking demonstrations, an old-fashioned soda in the historic Plaza Hotel Saloon. See historic horse-drawn vehicles inside the Plaza Stables and Victorian furnishings in the Plaza Hotel and Zanetta family home.
The Park is located on Second Street between Washington and Mariposa streets in San Juan Bautista, 15 minutes from Gilroy.
Free parking on city streets.
Adults $3.00. 16 and under free.
Columbia State Historic Park
Gold Rush Days
Monthly on second Saturdays from 1:00 pm to 4:00 pm
209-588-9128

Columbia State Historic Park
Special exhibits and hands-on activities led by volunteers in period attire all afternoon.
San Francisco Maritime National Historical Park
Hyde Street Living History Players
Second Saturdays, March through December
415-447-5000
Sea Music Festival aboard the historic vessels at Hyde Street Pier.
Step into the past as you board our historic ships. Help the sailors on Balclutha raise the staysail in the morning and return for musical fun during the afternoon dogwatch. Learn about life in 1901 from the ferry passengers on Eureka, or join Mrs. Galan on the Ark houseboat for an afternoon tea to discuss issues of the day. In September, picknickers in period swimsuits frolic on the beach.