October 11
Race relations in 1906
San Francisco public school board ordered Japanese students be taught in segregated schools, causing Japanese outrage. President Theodore Roosevelt requested the order be reversed and promised to reduce Japanese immigration.
Accidents in 1935
Five tons of molten glass escaped from a break in a furnace at a plant in San Francisco. An emergency pit caught most of the escaping glass.
Lange in 1965
Dorothy Lange, photographer, died in San Francisco at age 70. Among her famous photographs are from the Dust Bowl and images of Japanese Americans just before removal to Internment Camps during World War II. 
Television in 1971 
KMPH-TV channel 26 in Visalia-Fresno began broadcasting. it was the first television station founded by the Pappas brothers and served as the flagship station of Pappas Telecasting Companies.
Environment in 1972
The Lava Beds National Wilderness, covering 28,460 acres, opened in Siskiyou and Modoc counties. This wilderness is known for lava tubes and as the site of the Modoc War.
Sports in 1973
The Oakland A's, defending world champions, beat the Baltimore Orioles to win American League Championship, 3 games to 2. 
Foxx in 1991
Redd Foxx, comedian and actor,  died in Los Angeles at age 68. He is known for comedy records, starring in "Sanford and Son" (1972-1977) and helping black comics get work.
Business in 2005
Google, in Mountain View, unveiled Google.org, a philanthropic organization for giving nearly $1 billion to help solve problems including poverty and environmental destruction.
Sports in 2010
The San Francisco Giants beat the Atlanta Braves, 3-2, to win the National League Championship.
October 12
Missions in 1812
Indians at Mission Santa Cruz killed Father Andres Quintana. He used a metal-tipped whip to punish Indian laborers at the mission.
Ranchos in 1835
Rancho Aromitas y Agua Caliente, a 8,660 acre land grant, was deeded. The name of this San Benito County rancho means "little perfumes and hot spring".
Prisons in 1933
Alcatraz Island, in San Francisco Bay, became a maximum high-security federal prison to hold prisoners who caused trouble at other federal prisons. Today it is a museum that draws some 1.5 million visitors annually. 
San Francisco in 1934
Coit Tower on Telegraph Hill in San Francisco opened to the public. It has a commanding view of the city and inside the memorial to Lillie Coit is murals painted by artists of the Public Works of Art, the first the New Deal federal employment program for artists.
Transportation in 1957 
Pan-American Airways flew the first commercial flight from California to Antarctica, a charter flight for the U.S. Navy. Including two stewardesses on the flight was groundbreaking.
Environment in 1962
Typhoon Freda washed out the World Series at Candlestick Park in San Francisco. The series lasted for 13 days, because of rain in New York as well. The Yankees defeated the Giants in seven games. 
Television in 1964 
KCSM-TV channel 60 began at the College of San Mateo as a student training facility for radio and television broadcasting.. 
Radio in 1969
KDB-AM, in Santa Barbara, changed its call letters to KAPN.
Tao House in 1971
Tao House in Danville, Eugene O'Neill's home, the home of America's only Nobel Prize-winning playwright, was dedicated as a National Historic Site.
Sports in 1986
The California Angels were one strike away from winning the American League Championship when they lost to the Chicago Red Sox.
Denver in 1997
John Denver, singer-songwriter, died at age 53 when his plane crashed into the ocean near Monterey. He wrote "Leavin' on a Jet Plane" (1966), that became a hit for Peter, Paul and Mary.
Contests in 1998
A 974-pound pumpkin won the Great Pumpkin Weigh-Off in Half Moon Bay. It was raised from an Atlantic Giant seed by Lincoln Mettler of Eatonville, Washington.
Chamberlain in 1999
Wilt Chamberlain, the 7-foot 1-inch basketball legend known as Wilt "The Stilt," died in Bel Air at age 63. During his years playing center for the Long Angeles Lakers (1968 – 1973), he was one of the most dominant players in the NBA.
Labor in 2003
Some 70,000 employees of Ralphs, Vons and Albertsons grocery stores went on strike in southern California, Missouri, Kentucky, West Virginia and Ohio. Health care costs was a main issue.
Kroc in 2003
Joan Kroc, widow of McDonald's founder Ray Kroc, died near San Diego at age 75. In her will, she left hundreds of millions of dollars to National Public Radio and The Salvation Army. 
Shoemaker in 2003
Bill Shoemaker, Hall of Fame jockey, died in San Marino at age 72. Over his career he won 8,833 races. For 29 years, Shoemaker held the world record for professional jockey victories. 
Crime in 2005
A fire at Wines Central in Vallejo destroyed tens of millions of dollars worth of vintage wine, some 6 million bottles. Investigators determined it was arson and charged Mark Anderson, of Sausalito, in 2007. Anderson pleaded guilty in 2009. And in 2012, he was sentenced to 27 years in prison.
Accidents in 2007 
Three people were killed and at least 10 injured when two trucks crashed near Newhall, in the southbound tunnels under I-5. Thirty commercial vehicles and a passenger vehicle were involved. Fire spread from vehicle to vehicle until flames filled the tunnel and shot nearly 100 feet into the air..
Sports in 2008
Hans Florine and Yuji Hirayama broke their own World Record for the fastest climb up the Nose of El Capitan in Yosemite National Park. They made it in 2 hours, thirty-seven minutes and 5 seconds.
Business in 2012
Shares of Workday, a software company in Pleasanton, doubled in price the day they launched on the New York Stock Exchange. And although revenue doubled to $119.5 million in the first six-months, Workday lost $46.9 million for the year. Today it is an industry leader.

October 13
Ranchos in 1843
Rancho Olompali, a 8,877-acre Mexican land grant was deeded to Camilo Ynita, son of a Coast Miwok chief.  It was the site of a Mexican-American War battle and home to the Grateful Dead during the 1960s. Today it is a State Historic Park in Marin County.
Overland Journeys in 1846
The Donner Party crossed the Humboldt Sink, a dry lake bed that was a dreaded section of the Overland Trail. One man who lost almost all his cattle, stopped to cache his wagon. Two other men stayed behind to help but returned without him, saying he was killed by Indians. Later one confessed to the murder.
Government in 1849
A state constitution was signed at Colton Hall in Monterey. Based partly on Mexican civil law, over time it has grown into one of the longest constitutions in the world.

Transportation in 1858
The California Central Railroad from Lincoln reached Folsom. Groundbreaking  took place on June 1, 1858.
Japanese American Internment in 1942
Tanforan Detention Camp, on the San Francisco peninsula, closed. This detention camp was part of the mass incarceration of 97,785 Californians of Japanese ancestry during World War II. Today the site is a shopping center.
Sports in 1967
In the first American Basketball Association game, played in Oakland, the Oakland Oaks defeated the Anaheim Amigos,134-129.
Sports in 1993 
The Mighty Ducks of Anaheim picked up their first victory in team history, with a 4-3 win over the visiting Edmonton Oilers. Ron Tugnutt was in goal for the milestone.
Sports in 2002
The Anaheim Angels routed the Minnesota Twins, 13-5, winning the American League Championship Series in five games.
Fires in 2008
Porter Ranch fire burned more than 22 square miles. It started near Oat Mountain oil fields when a power line fell on dry brush.
Environment in 2009
A 1-day record, 2.64 inches of rain, fell in San Francisco. It was part of the worst October storm since 1962 and knocked out power to 193,000 homes.
October 14
Sacramento in 1848
Sacramento, the current state capital city was founded by Sam Brannan and John Sutter, Jr. at the confluence of the American and Sacramento Rivers.
Race relations in 1864
The Klamath Lake treaty forced Modoc and Northern Paiute people from their traditional homeland, removing them to a reservation on Klamath land, which set the stage for the Modoc War of 1872-73.
Inventions in 1879
Annie McFarlane of San Bernardino patented a mining cart.
Flight in 1947
"Chuck" Yeager became the first person to travel faster than the speed of sound when he flew the X-1 at Mach 1.07 from Edwards Air Force Base.
Sports in 1949
Ezzard Charles knocked out Pat Valentino, of San Francisco, in the 8th round of a heavy-weight boxing match, before a crowd of 19,950 at the Cow Palace in Daly City.
Historic Sites in 1971
Golden Gate Park Conservatory in San Francisco was added to the National Register of Historic Places. Built in 1878, it is the oldest building in the park, and the oldest municipal wooden conservatory in the U.S.
Government in 1986
Lotto 6/49, the California Lottery's first online computer game, debuted.
Sports in 1998 
The San Diego Padres won the National League championship, beating the Atlanta Braves, 5-0 in Game 6.
Sports in 2002
The San Francisco Giants won the National League Championship, beating the St. Louis Cardinals, 2-1 in Game 5.
Government in 2007 
Governor Arnold Schwarzenegger signed legislation banning toys that contain toxic plastic softeners (i.e. phthalates), making California the first state to do so.
Fires in 2008
A downed electrical line sparked the Sesnon Fire, near Porter Ranch in northern Los Angeles. It burned 13,285 acres and destroyed 19 homes.
Crime in 2011
103 Norteno gang suspects were arrested over the three days as part of Operation Garlic Press. Charges included drug sales and possession of firearms and stolen vehicles.
October 15
Education in 1855
St. Ignatius opened for classes in San Francisco with 3 students. Today St. Ignatius College Preparatory is a leading private college preparatory school, still in San Francisco. 
Cities in 1863
The first Cliff House, overlooking the Pacific Ocean, opened in San Francisco. It burned on Christmas Day 1894 and was replaced by a series of grander establishments.
Music in 1932
Puccini's "La Tosca" was performed on the opening night at War Memorial Opera House, the first municipally owned opera house in the world. In spring of 1945, the United Nations held its first conference there.
Race relations in 1966
Huey Newton and Bobby Seale began the Black Panther Party for Self Defense. Their Ten Point Program called for adequate housing, jobs, education, an end to police brutality and more.
Business in 1969
The $100 million Bank of America World Headquarters in San Francisco was dedicated. In 1985 Walter Shorenstein bought it for $660 million. In 2005 a Hong Kong group offered $1.05 billion.
Sports in 1981
"Krazy" George Henderson, Professional cheerleader, lead the first audience wave during a nationally televised game between the Oakland A's and New York Yankees for the American League Championship.
Environment in 1985
Humphrey, a 45-ton humpback whale, entered San Francisco Bay and swam up the Sacramento River to within 27 miles of Sacramento. He finally exited through the Golden Gate into the Pacific Ocean on November 4, 1985.
Sports in 1989
Wayne Gretzky, of the Los Angeles Kings, surpassed the National Hockey League scoring record of 1,850 points In a game against the Edmonton Oilers.
Radio in 2003
Federal officials raided an unlicensed radio station and confiscated its equipment, Liberation Radio that had broadcasted in San Francisco for 10 years.
Crime in 2007
Local and federal agents in San Diego seized over 5,000 trained birds in the largest cockfighting bust in US history.
Crime in 2009
Prosecutors in San Francisco filed a mail-fraud charge against Roberto Heckscher. They charged him with running a Ponzi scheme that defrauded investors of over $20 million.
Business in 2009
Google Inc., in Mountain View, announced Google Editions, a new online service for booksellers that let readers buy books and read them on devices ranging from cell phones to possibly e-book readers.
October 16
Ranchos in 1841
Rancho San Pedro, a Mexican land grant covering 48,000 acres, was deeded. Today the Sepulveda family rancho, would include parts of Los Angeles harbor, San Pedro, the Palos Verdes peninsula, Torrance, Redondo Beach, Hermosa Beach, Manhattan Beach, east to the Los Angeles River.
Overland Journies in 1846
The Donner Party camped at Truckee River. Reaching this river brought great relief to exhausted travelers who had walked across the Great Salt Lake Desert. One member recalled, "The weather was already very cold and the heavy clouds hanging over the mountains to the west were strong indications of an approaching winter. Some wanted to stop and rest their cattle. Others, in fear of the snow, were in favor of pushing ahead as fast as possible."
Forts in 1852
Fort Jones was established in Siskiyou County. This Gold Rush town was formerly known as Scottsburg, Scottsville and Ottitiewa. The population was 839 at the 2010 census, up from 600 as of the 2000 census.

Montebello in 1920
A community east of Los Angeles, Newark, changed its name to Montebello. It is home to the original Mission San Gabriel Arcangel and where oil drilling began in 1917.
Business in 1923
Disney Brothers founded Cartoon Studio in Hollywood. Today Walt Disney Animation Studios, headquartered in Burbank has produced 53 feature films.
San Francisco in 1938
Aquatic Park in San Francisco opened at the end of Polk Street and Van Ness Avenue after seven years of work and $1 million in costs. Today it is part of San Francisco Maritime National Historical Park.
Movies in 1944
Woody Woodpecker's first steady opponent, Wally Walrus, debuted in "The Beach Nut," a Universal cartoon.
https://www.youtube.com/watch?v=597uP_irK2s
Business in 1952 
Woolworth's dime store opened at Powell and Market Streets in San Francisco.
Robbins in 1958
Tim Robbins, film actor, writer, producer and director, was born in West Covina. He is best known for "The Shawshank Redemption" (1994), "Mystic River" (2003) and as Senator Hammond in the superhero film "Green Lantern" (2011). 
Music in 1965
The world's first acid rock dance took place at Longshoreman's Hall in San Francisco. Jefferson Airplane made its first concert appearance. The dance was organized by a group called the Family Dog.
Protests in 1966
Joan Baez and 123 other anti-draft Vietnam War protestors were arrested in Oakland.
Television in 1969 
KHOF-TV channel 30 in San Bernardino / Glenda began broadcasting. The current KPXN-TV channel 30 signed on the air on January 7, 1994, airing a mix of religious programs, infomercials and movies.
Forts in 1970
Fort Point National Historic Site was established. The massive brick fortress, now beneath the south tower of the Golden Gate Bridge, was built during the Civil War.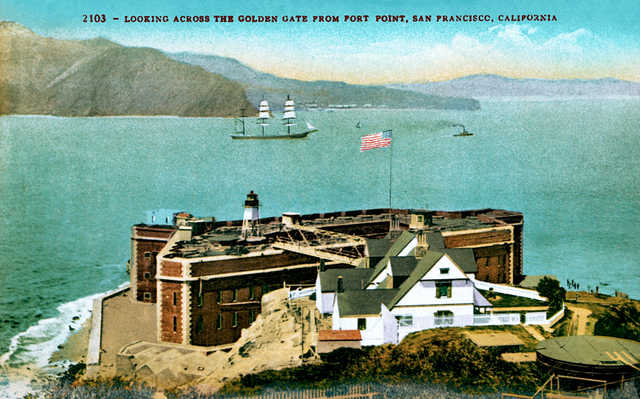 Business in 1985
Intel, in Santa Clara, introduced a 32-bit 80386 microcomputer chip.
Environment in 1999
A 7.0 earthquake, centered near Joshua Tree, struck in the Mohave Desert. It derailed an Amtrak train, but there were no deaths.
Government in 2006
Governor Arnold Schwarzenegger announced plans to set up an emissions-trading scheme between California and other states to try to curb greenhouse gases.
Accidents in 2007
A sandstorm caused a pileup on the Antelope Freeway, north of Los Angeles. It involved  15 vehicles. Two people died and 16 injured.
Government in 2007
Oakland City Council adopted an ordnance banning smoking in ATM lines, parks, bus stops, and municipal golf courses.
Business in 2009
A 5-day event to help struggling borrowers drew thousands to the Cow Palace in Daly City. The Save the Dream tour was sponsored by Neighborhood Assistance Corp. of America, a non-profit for helping people modify their home loans.
Accidents in 2012
The $8 million Oracle Team USA 72-foot catamaran flipped on San Francisco Bay during a training run for the America's Cup. It drifted out under the Golden Gate Bridge before being recovered.
October 17
Lebec in 1837
This Tejon Pass mountain community is named for Peter Lebec. He was killed by a bear and memorialized in an epitaph carved on an oak tree at Old Fort Tejon.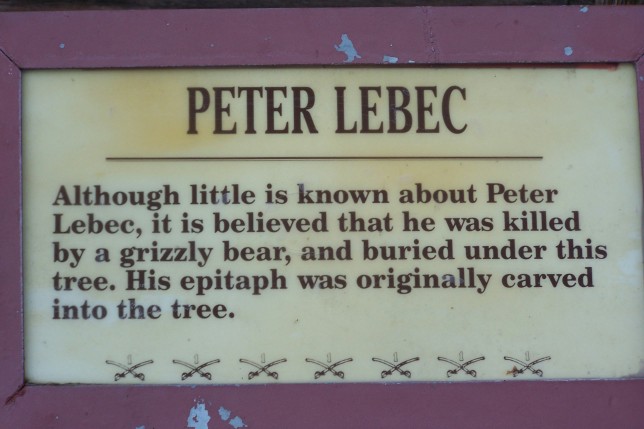 Education in 1887
Pomona College was incorporated. This private, liberal arts college was the first of the Claremont Colleges, which includes Scripps College, Claremont McKenna College, Harvey Mudd College and Pitzer College.
Business in 1904
Bank of Italy opened in San Francisco. It became Bank of America. In 1945 it had 493 branches in California and assets of $5 billion. Today it is a multinational financial services corporation headquartered in North Carolina and the third biggest company in the world.
Japanese American Internment in 1942
Stockton Detention Camp closed. It was part of the mass incarceration of some 110,000 Californians of Japanese ancestry during World War II.
Sports in 1974 
The Oakland A's beat the Los Angeles Dodgers in the World Series, 4 games to 1. The A's became the only team, other than the Yankees, to win three straight World Series.
Music in 1981
Some 145,000 people attended two Rolling Stones concerts at Candlestick Park in San Francisco.
Environment in 1989
The 6.9 Loma Prieta Earthquake struck the San Francisco Bay area during the start to the 3rd game of the World Series: Oakland A's vs San Francisco Giants. 67 people died, 3,000 injured. It caused $7 billion worth of damage to 28,000 structures and several freeways. 42 people died on the Cypress Freeway.

Labor in 2000
The month long Los Angeles transit strike ended after Reverend Jesse Jackson managed the negotiation. It was the third longest transit strike in Los Angeles history.
Engelberg in 2006
Miriam Engelberg, graphic novelist, died in San Francisco at age 48. She had recently published a best-selling comic memoir, Cancer Made Me a Shallower Person.

Business in 2008
Mervyn's, a department store chain based in Hayward, announced plans to close its remaining 149 stores and close the business after the holiday season. It had 189 stores in 10 states in 2006.
Accidents in 2009
Three people died when their car flipped during an Oakland sideshow. The Nissan that crashed was reportedly in a hyphy train, a line of cars weaving and speeding in unison.
Crime in 2012
Los Angeles authorities arrested and charged John Noguez, county assessor, his top aide and a campaign contributor, with alleged influence peddling and slashing property taxes for political allies.
October 18
Exploration in 1542
Juan Rodríguez Cabrillo, Portugese explorer for Spain, faced storms at the Santa Barbara headlands that divide Northern and Southern California. In 1602, Sebastián Vizcaíno named it Punta de la Limpia Concepción. A lighthouse built there was one of the first on the California coast. Today it's listed on the National Register of Historic Places. 
Exploration in 1769
Explorer Gaspar de Portola camped on the banks of the San Lorenzo River, erected a wooden cross and named the spot Santa Cruz. He was traveling with Father Crespí, 63 leather-jacket soldiers and a 100 mules loaded with provisions, searching for Monterey Bay. They missed their mark and found San Francisco Bay.
Ranchos in 1841
Rancho de la Punta de Quintin, a 8,877-acre Mexican land grant, was deeded. It included where San Quentin Prison stands today in Marin County.
Overland Journeys in 1841
The Bartleson-Bidwell Party reached the Sierra summit and would be the first wagon train to reach California. The 32 people and 9 wagons started at Sapling Grove, Missouri and headed for John Marsh's Rancho Los Meganos near Mount Diablo in today's Contra Costa County.
Theater in 1849
Eagle Theater opened in Sacramento with a show called "The Bandit Chief." The theater was destroyed in a flood some four months later.
Admission Day in 1850
Admission Day was celebrated. California legally became a state on September 9, 1850 but it took 38 days for the news to reach California.
Telegraph in 1861
A transcontinental telegraph construction crew reached Salt Lake City, Utah. The first electronic coast-to-coast communication link, completed five days later, ended of the Pony Express.
Science in 1955
U.C. Berkeley physicists Emilio Segrè and Owen Chamberlain discovered the anti-proton, for which they won the Nobel Prize in Physics (1959).
Movies in 1967
Walt Disney released "The Jungle Book," the 19th Walt Disney Animated Classic. It grossed some $73 million in the U.S. in its first release and as much from two re-releases. After the film's success, Disney released a live-action remake and a theatrical sequel, "The Jungle Book 2." 
Efron in 1987
Zachary David Alexander, film actor, known as Zac Efron, was born in San Luis Obispo.

Labor in 1997
A 10-day strike continued at the Foster Farms chicken slaughterhouse in Livingston. The plant was the largest in the world and some 2,000 workers refused to accept a pay hike and doubled health insurance costs.
Crime in 2005
A U.S. District Court in San Francisco sentenced Victor Conte, founder of BALCO lab in Burlingame, to federal prison and house arrest for conspiracy to distribute steroids to professional athletes.
Crime in 2007
Rene Medina, of Atherton and owner of Lucky Chances Casino in Colma, pleaded guilty to evading $591,000 in income taxes. He was sentenced to federal prison.
Public art in 2008
U.C. Berkeley dedicated the sculpture "Berkeley Big People" by Emeryville artist Scott Donohue. It was erected just off I-80 at a cost of $196,000.
Business in 2010
Crystal Cathedral in Garden Grove, birthplace of the televangelist show "Hour of Power," filed for bankruptcy after struggling with a debt in excess of $43 million.