September 18
Indians in 1863
A group of Koncow Maidu reached Round Valley in Mendocino County after a forced march from their ancestral homeland near modern Chico. 435 people were lead away under guard to began the march on August 28. 277 survived.
Business in 1882
Pacific Stock Exchange opened. Forty members organized a marketplace for mining company stocks after the Comstock Lode strike. Los Angeles Oil Exchange opened in 1889. They merged in 1957. Today the San Francisco Stock Exchange building is a fitness center.
Crime in 1975
Patty Hearst was arrested after a year on the FBI Most Wanted List. The 19-year-old newspaper heiress was kidnapped from her Berkeley apartment by the Symbionese Liberation Army, a revolutionary group. She was brainwashed then joined them in a bank robbery. Hearst was found guilt and imprisoned for almost two years before her sentence was commuted by President Jimmy Carter. 
Government in 1979
Governor Jerry Brown appointed Steven Lachs, as a judge of the Los Angeles County Superior Court. That made him the first openly gay judge in the U.S.
Sports in 1993
Mighty Ducks of Anaheim played their first NHL preseason game against the Pittsburg Penguins. 
September 19
Transportation in 1868
Groundbreaking started for construction of the Los Angeles & San Pedro Railroad. The 22-mile track was the first railroad line in Southern California.
Business in 1957
Eight engineers formed Fairchild Semiconductor in Santa Clara. The "Fairchild Eight" became key individuals who developed the computer industry. 
Parsons in 1973      
Gram Parsons, rock band leader, died at the Joshua Tree Inn. Phil Kaufman hijacked Parson's body and burned it in the desert. Parsons' bands included the Byrds and the Flying Burrito Brothers with singer Emmylou Harris. 
Transportation in 1982
Streetcars stopped running on Market Steet after 122 years of service. Muni planned to run modern light rail vehicles in an underground subway instead. To celebrate the end of an era, Muni ran two historic streetcars for a few weekends. They were so popular that vintage streetcars on Market Street are part of San Francisco's identify today.
Redenbacher in 1995   
Orville Redenbacher, popcorn magnate, died in Coronado at age 88. His face was identified with his brand. During the mid 1970s, Redenbacher sold a third of the unpopped popcorn in the U.S.
Environment in 2011     
Companies responsible for the Cosco Busan oil spill in the San Francisco Bay in 2007 agreed to pay $44.4 million to restore bay habitat and reimburse agencies that responded to the disaster.
Business in 2013
Disney Interactive announced the closing of the MMO games, Toontown Online, Pirates of the Caribbean and Pixie Hollow. A month earlier, Disney stated that it would be "shifting its focus to other online and mobile play experiences, such as Club Penguin and a growing selection of mobile apps."
Business in 2014
Disney Interactive reopened, Toontown Rewritten, the MMO game, one year after Toontown Online's closed.
https://www.youtube.com/watch?v=gaEiD_H6ZtM
September 20
Transportation in 1859
A Pacific Railroad Convention meeting in San Francisco brought together men with conflicting interests. Theodore Judah convinced them to support his vision for the Transcontinental Railroad.
Inventions in 1881
Mary McMaster of Antioch patented a fruit drier for stoves. "In use the wheels and shelves are filled with fruit … and these are put in place. The door and the opening in the bottom are closed, and the device is placed on the stove with the pipe coming up between the hangers S and through hole W, the slide \V is put in place, and the hinged front]? closed. To make all tight the pieces G and H are slid on and together. By rotating the wheels the different portions are brought around to the under side. To use the device as a heater or warmer, it is taken from the pipe, the cover Y taken from opening X, all the rest made tight, and the device placed on top the stove."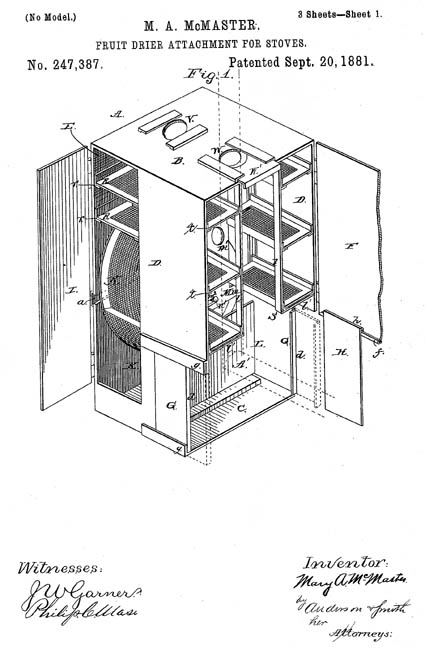 Fruit Drier Attachment for Stoves
Park in 1960 
David Park, painter, died in Berkeley at age 49. His key works include "Kids on Bikes" (1950), "Untitled" (1958) and "Torso" (1959). 
Newspapers in 1966
Allen Cohen published the San Francisco Oracle, a Haight-Ashbury underground newspaper, featuring visionary art and Beat era writers. Cohen was arrested earlier in 1966 for publishing The Love Book by Lenore Kandel, convicted and fined $50. The Oracle folded in 1968.
Sports in 2005
Sacramento Monarchs won their first Women's National Basketball Association championship, defeating the Connecticut Sun in game 4 of the WNBA finals, 62-59. Yolanda Griffith had 14 points and 10 rebounds. She was unanimously voted the series MVP; averaging 18.5 points and 10 rebounds per game. 
Environment in 2006 
California Attorney General Bill Lockyer sued major U.S. and Japanese auto companies. He charged that emissions from their vehicles contributed significantly to global warming, harmed resources, infrastructure and the health of Californians, costing the state millions of dollars.
September 21
Exploration in 1769
Gaspar de Portolá camped west of the Nacimiento River. He was searching for Monterey, to settle with Father Crespí, 63 leather-jacket soldiers and a 100 mules loaded with provisions. One of the men wrote in his diary, "We rested at this place so as to give time for the scouts to examine the country carefully, and also to allow the animals to recuperate somewhat, as they were in bad condition."
Ward in 1920
Jay Ward, creator and producer of television cartoons, was born in Berkeley. He was involved with "Peabody and Sherman" (1959-1960), "Rocky & Bullwinkle," (1959-1964), "George of the Jungle" (1967), "Super Chicken" (1967) and "Dudley Do-Right" (1969-1970).
Sports in 1970
Vida Blue, Oakland A's, no-hit the Minnesota Twins, 6-0 at Oakland-Alameda County Coliseum. The only baserunner was Harmon Killebrew's fourth-inning walk.
Art in 2006 
Kirby Scudder, a 50-ear-old Santa Cruz former bike messenger, set up 500 giant flashlights, shining skyward every 30 feet along West Cliff Drive on the Pacific Ocean in a tribute to International Peace Day.
Business in 2008
Oracle's 22nd annual OpenWorld customer conference opened in San Francisco with some 43,000 people attending. Today Oracle OpenWorld is an annual event for business decision-makers, IT management and business users.
September 22
Politics in 1817
At Fort Ross, Russian-American Company representatives signed a treaty with the Kashaya Pomo, who lived there on the Sonoma coast. Russians needed an outpost south of their Alaska settlements for agriculture and hunting seals.
Crime in 1880
Charles Bowles, English born gentleman bandit known as Black Bart, left poems at the scene of his crimes. He held up Wells Fargo stage coaches 28 times. The 14th was in Jackson County, Oregon three miles from California border.
Sports in 1969
Willie Mays, San Francisco Giants, became the second player to hit 600 home runs. One of baseball's greatest players, his statue stands in front of the Giants Stadium.
Crime in 1975
Sara Jane Moore, in San Francisco attempted to assassinate President Gerald Ford. She and Lynette Fromme, who also tried to kill Ford, are the only women who tried to assassinate a U.S. president. 
Transportation in 1982
San Francisco cable cars made a last run before closing for a 20-month, $60 million renovation. The first line began operation since 1873.
Lamour in 1996
Dorothy Lamour, film actress and singer died in North Hollywood at age 81. She was in a series of comedies with Bing Crosby and Bob Hope in the 1940s. She was a popular pinup girl among U.S. servicemen during World War II. 
Business in 2006 
Patricia Dunn, Hewlett-Packard chairman of the board, resigned after the company's investigation of media leaks from their boardroom. She was charged with four felonies but criminal charges against her were dropped. 
Business in 2010
Recurrent Energy, headquartered in San Francisco, agreed to be purchased by Sharp Corp., Japan's biggest solar panel manufacturer, for some $305 million. "Since 2006, Recurrent Energy has developed and sold more than 520 MW of solar PV projects, won more than 1.1 GW of power purchase agreements, and secured more than $4B of project debt and equity financing."
Protests in 2011
Some 23,000 Sutter Health and Kaiser Permanente nurses went on a one-day strike in northern and central California. They protested benefit cuts and other concessions sought by hospital management.
September 23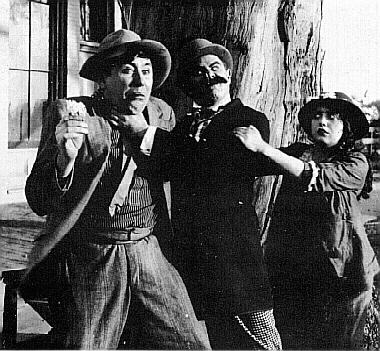 Movies in 1912
Mack Sennett released Keystone Cops comedy, "Cohen Collects a Debt." It was filmed at his new studio in Edendale, now part of Echo Park in Los Angeles. His slapstick comedies were known for wild car chases and custard pie fights. 
Television in 1962
"The Jetsons", an animated Hanna-Barbera cartoon series about a Space Age family, premiered. It was the first ABC-TV color program. 
Sports in 2006
Barry Bonds, San Francisco Giants, hit his 734th career home run to break Hank Aaron's National League record. The Giants lost to the Milwaukee Brewers,10-8.
Business in 2008
Google, in Mountain View, and T-Mobile unveiled the T-Mobile G1, the first phone to use Google's Android operating system.
Business in 2009
To support new Tesla electric cars, SolarCity and RaboBank partnered to build recharging stations along Highway 101, from the San Francisco Bay Area to Los Angeles.
September 24
Crime in 1855
Joaquin Murrieta's preserved head and Three-Fingered Jack's hand were sold at auction for $36. People called them Mexican outlaws or "Robin Hoods" because of their robberies. The head and hand displayed around the state were said to be cursed. Two owners died mysteriously.

Entertainment in 1865
Circus performer, James Cooke walked a 150-yard tightrope from San Francisco's Cliff House to Seal Rocks. A year later Rosa Celeste walked the same tightrope walk – round trip. Cliff House sold balcony seats for $1. Another stunt featured Millie Lavelle who held a bit between her teeth connected to a wire cable. She coasted under the wire to Seal Rocks.
Crime in 1871
Three escaped convicts and lawmen shot it out at a lake in Mono County. Today Convict Lake is a popular recreation spot.
Naming in 1892
Mount Lowe, in Los Angeles County, was named for Thaddeus S. C. Lowe. The American Civil War aeronaut, scientist and inventor later opened Mount Lowe Railway in the hills near Altadena.

Sports in 1963
Dodgers clinched their second National League pennant in Los Angeles. Led by pitcher Sandy Koufax, they went 99–63 to win by six games over the St. Louis Cardinals. They swept the New York Yankees to win the 1963 World Series, the first time the Yankees were swept in postseason.
Seuss in 1991
Theodor Seuss Geisel, known as Dr. Seuss, died in La Jolla at age 87. His are among the most loved American children's books; The Cat in the Hat (1957), Green Eggs and Ham (1960), One Fish Two Fish Red Fish Blue Fish (1960), Hop on Pop (1963), and The Lorax (1971).
Government in 2004
California Air Resources Board backed auto emission reductions. It limited greenhouse gas released from new cars, SUVs and pickup trucks sold in California starting in 2009.
Entertainment in 2005
The second Love Parade rolled in San Francisco. It included 24 floats with some 200 DJs. The parade began in Germany (1989) then spread to the U.S., Mexico, Chile, and Israel. Now called LovEvolution, the parade has not been held since 2011 and is looking for a venue.
Bond in 2005
Thomas Ross Bond, actor, died in Northridge at age 79. He began acting in "Our Gang" and "Little Rascals" short films in the early the 1930s. He also played Jimmy Olsen in two "Superman" movies (1948 and 1950).
Protests in 2007 
Union-represented security officers at 14 San Francisco Financial District buildings went on strike. They protested the lack of progress in contract negotiations for three months. 
Government in 2008
Governor Arnold Schwarzenegger signed a bill  that banned driving while text messaging.
Accidents in 2008
During a demolition project at Searles Valley Minerals in San Bernardino County, workers released some 90 pounds of mercury by accident. In a second spill at the site. On October 10, another 90 pounds were released.
Business in 2008
Google, in Mountain View, announced a $10 million project to reward five winners in an Internet competition for an idea making the world a better place.
Business in 2008
Oracle, in Redwood City, unveiled a project with Hewlett Packard, headquartered in Palo Alto, for a storage server for data warehousing. They named it the HP Oracle Database Machine.
Norman in 2009
Emile Norman, self-taught artist, died in Monterey at age 91. His work includes sculptures, mosaics, panels, jewelry and other forms. His largest work is the 40-by-46-foot mosaic window for the Nob Hill Masonic Center in San Francisco.
September 25
Parks in 1890
Sequoia National Park, famous for its enormous trees, opened. The southern Sierra Nevada park, east of Visalia, covers 404,063 acres. It includes Mount Whitney, which at 14,505 feet is the highest point in the lower 48 states. It borders Kings Canyon National Park so together they are known as the Sequoia and Kings Canyon National Parks.

Crabtree in 1924
Lotta Crabtree, actress, entertainer and comedian who started performing as a child in the Gold Rush, died. She was one of the wealthiest and most beloved American entertainers of the late 1800s. Crabtree left an estate of some $4 million in a trust to care for veterans, aging actors and animals. Her trust still exists.
Accidents in 1978
A Pacific Southwest Airlines Boeing 727 and a Cessna 172 collided over San Diego, killing 144 people. It was PSA's first accident involving fatalities and the deadliest aircraft disaster in California history. 
Sports in 1979
California Angels won their first American League West pennant with a record of 88 wins and 74 losses. They later lost to the Baltimore Orioles, 3 games to 1.
Sports in 1990
Oakland A's clinched their third straight American League West title, with 103 wins and 59 losses. Rickey Henderson lead the offense, stealing 65 bases and hitting 28 home runs, earning a .325 batting average. That earned him the American League MVP Award.
Protests in 1992
Nearly 50 bicycle riders began to ride up San Francisco's Market Street. The group called Commute Clot grew into Critical Mass, a "monthly protest by cyclists reclaiming the streets." By the end of 2003, Critical Mass events were held in over 300 cities around the world.
Environment in 1997 
Toxaphene, a toxic chemical banned in 1982, was reportedly found in at least one bird in a southern Tulare County canal, where some 1600 western grebes and millions of fish died.
Government in 2007 
California Department of Fish and Game began poisoning Lake Davis in northern Plumas County to rid it of northern pike. 
Protests in 2009
Thousands of students, professors, and workers at U.C. campuses protested deep cuts to public education. They blamed the cuts on how U.C. leaders handled the budget.
Crime in 2009
Garrett Gililland III pleaded not guilty in Sacramento to charges in a $100 million mortgage fraud. He later wrote, "At the ripe old age of 22, a fraudster trained by the best corporate environment for fraud, I built a company modeled after the movie Boiler Room."
Government in 2012
Governor Jerry Brown signed a bill making robotic vehicles legal in the state. California became the third state to legalize self-driving vehicles.
Sports in 2013 
Oracle Team USA defeated Team New Zealand in San Francisco Bay to win the America's Cup, 9-8. It was the longest, fastest and wildest America's Cup ever with one of the greatest comebacks in sports.