September 11
Forts in 1812
The Russian-American Company established a fort on the Sonoma coast as a southern outpost to support Russia's North American colonies. Today Fort Ross is a California State Historic Park.
Literature in 1835
Richard Henry Dana traded for cow hides and tallow, went ashore at San Pedro and saw a black sailor flogged, which he wrote about in Two Years before the Mast (1841).
Transportation in 1886
Los Angeles Electric Railway Company was formed. It opened on January 4, 1887 with a line from Pico Boulevard and Main Street  to Harvard Boulevard. Most of the horse and cable cars in Los Angeles converted to electric power In 1896.
Pico  in 1894
Pío de Jesús Pico, last governor of Mexican California, died in Los Angeles at age 93. He was a soldier with the Juan Bautista de Anza expedition (1775) to explore and colonize Alta California. Pico's ancestors were Spanish, African and Native American. His home is now a State Historic Park in Whittier.

Television in 1953
KSBW-TV began broadcasting in the Salinas-Monterey area. It shared a frequency with KMBY-TV in Monterey until they merged (1955).  Originally, KSBW was affiliated with NBC, ABC, CBS and DuMont, which folded in 1955. Today it is the primary NBC affiliate for the Monterey-Salinas-Santa Cruz market. 
Television in 1962 
KVCR-TV, UHF digital channel 26, launched. It was the first successful UHF station in the Inland Empire and the first public television station in Southern California. Today it is part of the San Bernardino Community College District.
Music in 1967      
Charles Manson recorded his album "Lie: The Love and Terror Cult," produced by Dennis Wilson, of the Beach Boys. It was released months before his murder trial. Guns N' Roses covered one of his songs.
Transportation in 1972
BART, Bay Area Rapid Transit, opened its first line. The 26-mile track ran from Oakland to Fremont. Today BART operates five routes on 104 miles of track, with 44 stations in four counties.
Fleisher in 1972 
Max Fleischer, animator, inventor, film director and producer, died in Los Angeles at age 89. In the 1930's he introduced Betty Boop, Koko the Clown, Popeye, and Superman to the movies. He is the "Dean of Animated Cartoons."
Government in 2006 
The Pacifica town council voted to ban smoking on its public beaches and fishing pier. "This is not a no-smoking issue," said Mari Brumm-Merrill, director of parks, beaches and recreation in Pacifica. "We are concerned about what (cigarette butts) are doing to the wetlands we've restored." 
Gelbart in 2009   
Larry Gelbart, comedy writer, died in Los Angeles. He developed the "MASH" television series (1972-1983), co-wrote for the Broadway musical "A Funny Thing Happened on the Way to the Forum" (1966) and the film "Tootsie" (1982). 
September 12
Business in 1857
James Birch, who founded the California Stage Co, which grew into the largest stage line in California, drown at sea. His San Antonio-San Diego Mail Line, nicknamed the Jackass Mail, delivered the first U.S. transcontinental mail.
Women in 1910 
Alice Stebbins Wells became the first policewoman in the U.S. when the Los Angeles Police swore her in. She was given a badge, assigned a telephone call box, handed a rule book and first aid book. She founded the International Policewomen's Association and traveled throughout North America to promote female officers.
Television in 1955
KNTV-TV in San Jose began broadcasting. It was the first station in the South Bay. Originally owned by Sunlite Bakery, at first it broadcasting from a bakery garage. Today it is part of NBCUniversal.
Leary in 1970 
Dr. Timothy Leary, professor and LSD guru, escaped from prison in San Luis Obispo.. He was in on marijuana-related charges. When he got to prison, he was given psychological tests to assign inmates to appropriate work details. Because he wrote some of the tests, Leary answered to work as a gardener in a low-security prison. 
Perkins in 1992 
Anthony Perkins, film actor and singer, died in Hollywood at age 60. He is best known for roles in Alfred Hitchcock's "Psycho" (1960) and its three sequels. 
Burr in 1993 
Raymond Burr, film and television actor, died in Healdsburg at age 76. He is best known for roles in television dramas "Perry Mason" (1957-1966) and "Ironside" (1967–1975).
Business in 2005   
Oracle Corp., in Redwood City, confirmed that CEO Lawrence Ellison would pay $100 million to a charity to settle charges of insider trading.
Business in 2005
Oracle Corp., in Redwood City, bought rival Siebel Systems Inc. for about $5.85 billion. That continued a nine-month acquisitions spree that eliminated two of its biggest competitors.
Business in 2005
Ebay, in San Jose, agreed to buy Skype, a start-up, for some $4.1 billion. That added free Web telephone calls to ebay's online services.
Government in 2006       
Governor Arnold Schwarzenegger signed a minimum wage bill increasing hourly wages by $.75 in January plus $.50 a year later to total $8 an hour. That was the highest state minimum wage in the nation.
Accidents in 2008  
A Union Pacific freight train crashed into a Metrolink commuter train, killing some 25 people. The Chatsworth wreck in was the deadliest U.S. passenger train accident in 15 years. Officials learned that the passenger train engineer, who died in the crash, sent a text message and failed to stop at a red light just before the collision.
September 13
Alta California in 1791
John Graham became the first U.S. citizen buried in Alta California. He joined Alejandro Malaspina's scientific Global Expedition in Spain in (1789). Graham, who died at sea, was brought ashore at Monterey and buried in the Royal Presidio.

Crime in 1859
David Terry, Chief Justice of the California Supreme Court, shot and killed David Broderick, a U.S. Senator, in a duel in San Francisco. Terry resigned and was charged with murder but not convicted. The men had argued about slavery and abolition.
Post offices in 1865
A U.S. post office opened in Petrolia, a community near Cape Mendocino first called New Jerusalem. It was the site of the first oil well in California (1865).

Flight in 1935
Howard Hughes, of Hughes Aircraft in Glendale, set a speed record of 352 mph in his H-1 Racer at his test course near Santa Ana. He ran out of fuel and crash-landed. Afterwards he said, "We can fix her, she'll go faster". 
Television in 1953
KGTV-TV, originally KFSD-TV, began broadcasting in San Diego. It was the third television station to sign on in the San Diego market.
Parks in 1962
Point Reyes National Seashore was established on the Marin County coast. This 71,028-acre preserve, home to native cultures for thousands of years, is also home to over 1,500 species of plants and animals.

Television in 1974 
"Rockford Files," filmed at Universal Studios in Hollywood and starring James Garner, was first broadcast on NBC-TV. It continued to 1980.
Sports in 1983 
Rickey Henderson, Oakland A's, stole 100 bases for his third  season in a row.
Accidents in 2010 
PG&E said it would spend as much as $100 million to help rebuild the San Bruno neighborhood destroyed by the September 9 gas line explosion.

Frank in 2007 
Phil Frank, creator of Farley and Elderberries comic strips, died in Bolinas at age 64. He was published in the San Francisco Chronicle for decades.
September 14
Exploration in 1786
La Boussole and l'Astrolabe, French ships anchored in Monterey Bay for a 10-day visit. Afterward they set off to continue exploring around the world. But both ships wrecked and sank in a South Pacific storm.

Ranchos in 1844
Rancho Aguaje de la Centinela, a 25,000-acre rancho, was deeded. Today it would include Redondo Beach, Inglewood, Hawthorne, El Segundo, Lawndale, Manhattan Beach and Hermosa Beach.
Business in 1848
John Sutter Jr. arrived at Sutter's Fort from Switzerland to rescue his father's failing business affairs.
Missions in 1858
The Santa Barbara Mission registered its 4,771st baptism of a Chumash Indian.
Government in 1961 
San Francisco Police Department vice squad raided the Tay-Bush Inn and arrested 103 people. All but 14 were men accused of dancing together and kissing. Charges were dropped against 101 of them. Art courtesy of Azurecricket.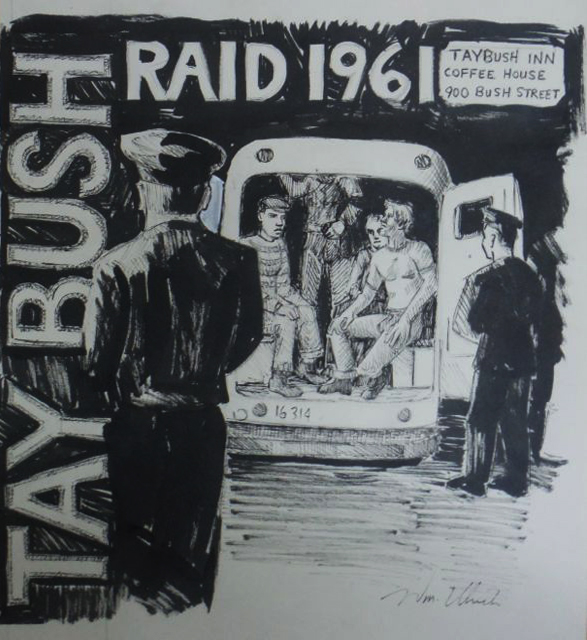 Protests in 1964 
In an effort to end student protests on campus, U.C. Berkeley announced a new policy prohibiting political action at the campus entrance at Bancroft Way and Telegraph Avenue.
Environment in 1913 
The temperature in San Francisco reached a record 101 degrees.
Gaynor in 1984     
Janet Gaynor, the first actress to win an Academy Award for Best Actress (1929), died in San Francisco. Her 34 movies included "Seventh Heaven" (1927) and "A Star Is Born" (1937). Gaynor was one of few leading ladies to successfully transition from silent to sound films.
Business in 2009        
Google, in Mountain View, introduced Fast Flip. It let users scroll through the contents of online newspapers like they leaf through pages in print.
September 15
Transportation in 1858
Butterfield Overland Mail service began delivering twice a week, year-round mail service. From St. Louis, Missouri to San Francisco took 25 days. The company's motto was: "Remember, boys, nothing on God's earth must stop the United States mail!"
Transportation in 1929
Southern Pacific railroad Modoc Line opened. It was a shortcut from Oregon, through northeast California to connect to their transcontinental line.
Japanese American Internment in 1942
The Merced Detention Camp closed. It was part of the mass incarceration of some 110,000 Californians of Japanese ancestry during World War II.
Sports in 1957 
San Francisco Seals, a Pacific Coast League baseball team, played their last game. They were founding members of the league in 1903, with the Los Angeles Angels, Portland Beavers, Oakland Oaks, Sacramento Solons and Seattle Indians. 
Ramone in 2004     
John Cummings, known as Johnny Ramone, guitarist and co-founder of the punk band The Ramones, died in Los Angeles. In 2003, he appeared on Time's "10 Greatest Electric-Guitar Players". Every year a Johnny Ramone memorial is held in the Hollywood Forever Cemetery.
Government in 2010  
California Attorney General Jerry Brown accused City of Bell officials of defrauding taxpayers of more than $5 million by granting themselves high salaries and bloated pensions. It demanded they reimbuse hundreds of thousands of dollars.
September 16
War in 1810
The Mexican War of Independence from Spain began. Freedom from Spain marked the beginning of Mexican California.
Crime in 1880
Charles Bowles, English born gentleman bandit known as Black Bart, left poems at the scene of his crimes. He held up Wells Fargo stage coaches 28 times. The 13th was in Jackson County, Oregon a mile from the California border.
Alturas in 1901
Alturas incorporated, making it was the only city in Modoc County. Formerly called Dorris Bridge, Dorris' Bridge and Dorrisville, Alturas had a population of 2,827 in 2010. It occupies what was initially an Achumawi (Pit River) village known as Kosealekte or Kasalektawi.
Television in 1949
KABC-TV channel 7 in Los Angeles began broadcasting. It was the last VHF television station licensed to Los Angeles to sign on. It has used the Circle 7 logo since 1962. Today it is owned by The Walt Disney Company.
Sports in 1962
Ruth Jessen won the Ladies Professional Golf Association Open in Sacramento. She won 11 times on the LPGA Tour between 1959 and 1971.
September 17
Presidios in 1776
El Presidio Real de San Francisco, built to guard the entrance to the Bay, was dedicated. It was one of four Spanish military outposts in Alta California, including ones at San Diego, Santa Barbara and Monterey. Today the San Francisco Presidio is a National Park.
Missions in 1804
Father Estévan Tapis dedicated Mission Santa Inés, near modern Solvang. It was the 19th of 21 California mission and the site of a Chumash revolt in 1824 that spread to Mission Santa Barbara and Mission La Purisima. Chumash warriors attacked Mission La Purisima, captured it and took the soldiers, priests and civilians inside as prisoners. In the end, the Chumash fled to their ancestral land.

Fires in 1850
San Francisco burned for the fourth time in a year. The blocks that burned had burned in June so the loss was not as great as before.

Emperor Norton in 1859
After Joshua Norton, a San Francisco businessman, went bankrupt, he later proclaimed himself Norton I, Emperor of the United States and Protector of Mexico.
Emperor Norton in 1872
Emperor Norton decreed: "Whereas, we issued our decree ordering the citizens of San Francisco and Oakland to appropriate funds for the survey of a suspension bridge from Oakland Point via Goat Island; … we do hereby command the arrest by the army of both the Boards of City Fathers if they persist in neglecting our decrees." That decree is why some argue the Oakland Bay Bridge should be named for him.

Crime in 1882
Charles Bowles, English born gentleman bandit known as Black Bart, left poems at the scene of his crimes. He held up Wells Fargo stage coaches 28 times. The 24th was at Bass Hill in Shasta County.
Inventions in 1895
Sesi Kell of Los Angeles patented a baby walker. "The object of my invention is to provide a device of this class which will support the child in an upright position and guide it in a circular course, when desired, and which, when it is desired to allow the child to rest, can quickly be arranged to seat the child with a play-table surrounding it."

Flight in 1911
Calbraith Perry Rodgers flew the first transcontinental flight – New York to Pasadena – in 52 days with many intentional and accidental stops.

Television in 1948
KCOP-TV channel 13 in Los Angeles/Hollywood began broadcasting. Channel 13 was first called KMTR-TV then changed its call letters to KLAC-TV and adopted the nickname "Lucky 13". Today the station is owned by 21st Century Fox.
Sports in 1950
San Francisco 49ers, formerly an All American Football Conference team, played their first NFL game. They lost to the New York Yanks, 21-17.
Sports in 1959
Ground was broken for Dodger Stadium. It is carved  into the hillside of Chavez Ravine, overlooking downtown Los Angeles to the south and the San Gabriel mountains to the north.
Sports in 1981
Fernando Valenzuela, Los Angeles Dodgers pitcher, set a National League rookie record with his eighth shutout of season. He struck out 12 batters in a row.
Sports in 2004
Barry Bonds became the third player, after Hank Aaron and Babe Ruth, to hit 700 homers in his career.
September 18
Indians in 1863
A group of Koncow Maidu reached Round Valley in Mendocino County after a forced march from their ancestral homeland near modern Chico. 435 people were lead away under guard to began the march on August 28. 277 survived.
Business in 1882
Pacific Stock Exchange opened. Forty members organized a marketplace for mining company stocks after the Comstock Lode strike. Los Angeles Oil Exchange opened in 1889. They merged in 1957. Today the San Francisco Stock Exchange building is a fitness center.
Crime in 1975
Patty Hearst was arrested after a year on the FBI Most Wanted List. The 19-year-old newspaper heiress was kidnapped from her Berkeley apartment by the Symbionese Liberation Army, a revolutionary group. She was brainwashed then joined them in a bank robbery. Hearst was found guilt and imprisoned for almost two years before her sentence was commuted by President Jimmy Carter. 
Government in 1979
Governor Jerry Brown appointed Steven Lachs, as a judge of the Los Angeles County Superior Court. That made him the first openly gay judge in the U.S.
Sports in 1993
Mighty Ducks of Anaheim played their first NHL preseason game against the Pittsburg Penguins.