Education in 1848
The first American public school in California opened on Portsmouth Square in San Francisco. Thomas Douglas, a Yale graduate, was the first teacher. His salary; $1000.
Business in 1854
The San Francisco mint opened. It issued $4 million in gold coins that year. An Indian princess appeared on gold dollars. 
Communication in 1860
James Randall, Pony Express rider, carried the first eastbound mail from the Alta Telegraph Company in San Francisco to the wharf, where It was placed on the steamer "New World" to Sacramento. The mail reached St. Joseph, Missouri ten days later.
Caen in 1916        
Herb Caen, beloved columnist  for the San Francisco Chronicle, was born in Sacramento. His column was like "a continuous love letter to San Francisco."
Berry in 1941
Jan Berry, composer, producer and lead singer of Jan and Dean, was born in Los Angeles. He met Dean Torrence in junior high. They formed a band in high school and became famous in the late 1950's and 60's as pioneers of the surf music craze that  The Beach Boys popularized.
Radio in 1949 
KQW-AM in San Francisco changed its call letters to KCBS. It is the third oldest radio station in California, after KWG in Stockton and KNX in Los Angeles. KCBS began with broadcast experiments by Charles Herrold of San Jose in 1909.
Computers in 1981
Osborne 1, the first successful portable computer, was unveiled at the West Coast Computer Faire in San Francisco.
Business in 1985        
The Brown Derby a Hollywood landmark restaurant, closed after 56 years in business.
Leff in 1993       
Pincus Leff, better known as Pinky Lee, pioneer children's television show host, died in Mission Viejo at age 83. "The Pinky Lee Show" ran from 1954 – 1957.
Sports in 1995       
The UCLA Bruins defeated the Arkansas Razorbacks to win the NCAA basketball championship, 89-78. 
Sports in 2006       
The Florida Gators beat the UCLA Bruins to win a first NCAA championship, 73-57.
Business in 2010       
Apple Inc., of Cupertino sold some 300,000 iPads the first day they were available.
Protests in 2012        
Santa Monica College police pepper-sprayed some 30 demonstrators after students, angry over tuition increases, tried to force their way into a trustees meeting.
Government in 2012     
San Francisco's treasurer ruled that Airbnb, an online home rental service, and other companies like it must pay hotel taxes.
Business in 2012      
Google of Mountain View started building one of its three planned data centers in Asia to meet fast growing online demand from the region. 
April 4
Missions in 1824
Mission San Francisco Solano was dedicated in Sonoma. It was the only mission established under Mexican rule, It marked the northern end of El Camino Real, "The Kings Highway." 
Los Angeles in 1850
Los Angeles incorporated. Today it is the most populous city in California, second most populous in the U.S. after New York City, 
Fires in 1850
Fire burned Sacramento. Eight buildings on Front Street were destroyed in 30 minutes. Some $100,000 in merchandise was lost at a time when the population was around 150.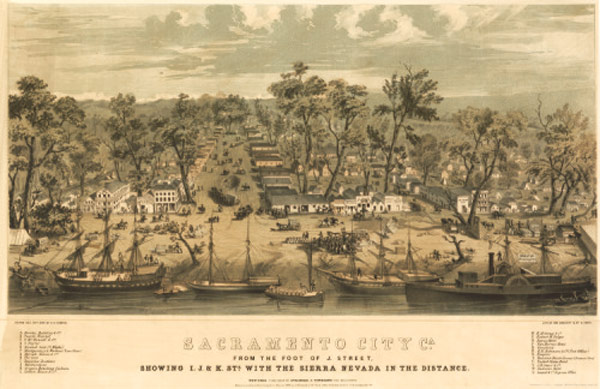 Newspapers in 1850
The Placer Times posted the following prices: Filtered water, $1.50 per barrel. Washing and ironing, $6 and $7 and per dozen. Admission to the theater, $3 for box tickets, $2 pit. Haircut, $1.50. Shave, $1. Billiards, $1 per game. Lodging for laying on the floor in your own blankets, $1 per night. Musicians at the gambling houses earned $15 per day. 
Communication in 1860
Sam Hamilton, Pony Express rider, rode East from a Sacramento building that housed Pony Express and Wells Fargo offices.
Parks in 1870
The state legislature passed "An Act to provide for the improvement of Public Parks in the City of San Francisco." Golden Gate Park, 1,017 acres, became the fifth largest urban park in the U.S.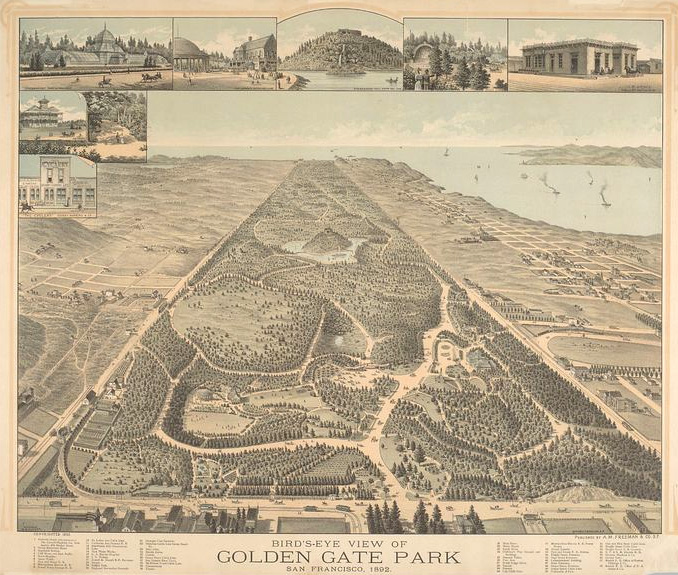 Bidwell in 1900        
John Bidwell, pioneer, farmer, soldier, politician, prohibitionist, philanthropist and founder of Chico died in Chico at age 80. He lead one of the first wagon trains, the Bartleson-Bidwell Party, to California. 
Accidents in 1986        
An explosion in San Francisco's Bayview District leveled nearly three blocks, injuring at least 21 people and leaving about 30 missing.
Sports in 1997
Anaheim Ducks won their first playoff berth. The club founded by The Walt Disney Company as the Mighty Ducks of Anaheim (1993), was named for the film "The Mighty Ducks" (1992). 
Sports in 1999        
The Colorado Rockies beat the San Diego Padres, 8-2, in baseball's first season opener played in Mexico.
Newspapers in 2005       
The Los Angeles Times won two Pulitzer Prizes. Charles Ornstein, Tracy Weber and photographer Robert Gauthier were honored for exposing deadly medical problems and racial injustice at a major public hospital.
Business in 2005        
Chevron of San Ramon announced plans to purchase Unocal Corp. for $18.4 billion. The acquisition included a stake in the Yadana project in Myanmar. That project brought in an estimated $969 million to the government, undercutting international sanctions to isolate the regime.
Business in 2007       
Apple, Inc. of Cupertino updated its desktop Mac Pro computers. It added two new 3.0GHz Quad-Core Intel Xeon processors, bringing 8-core processing to the Mac. The new machines ran the 3.0GHz Intel Xeon processors and were available as build to order options.
Clark in 2007      
Bob Clark, film director, age 67, and his son were killed in a Pacific Palisades car crash with a drunken driver. Clark was best known for "A Christmas Story" (1983). 
April 5
Santa Cruz in 1850
Branciforte changed its name to Santa Cruz. It was one of three pueblos established in Spanish California.


Closeup of the City of Santa Cruz Photograph courtesy of the Library of Congress.
Business in 1859
Hibernia Savings & Loan Society of San Francisco incorporated. It grew into a major San Francisco bank and became the largest bank in California by 1900.
Inventions in 1870
Annie J. Hall, of San Francisco, patented an improved pencil holder. "This invention consists of a rigid tube provided with fingers of peculiar construction, in combination with an elastic tube, as will be fully described."
Libraries in 1880
Stockton authorized a tax to establish a public library. It opened in two upstairs rooms at the corner of Main and San Joaquin in 1881. In 1906 2,362 people had library cards and that May they borrowed 4969 items, including 847 children's books. 
Peck in 1916
Gregory Peck, film actor, was born in La Jolla. One of Hollywood's great leading men, he won an Academy Award for "To Kill a Mockingbird" (1960).
Transportation in 1941
Horse-drawn streetcars on Castro and Fillmore Streets in San Francisco were replaced by buses. 
Newspapers in 1951 
The first full separate food section in a U.S. newspaper debuted in The San Francisco Chronicle.
Television in 1954
KQED in San Francisco debuted on the air. It was the sixth public television station in the U.S..
Crime in 1970
A shootout in Newhall between criminals and California Highway Patrol officers left four CHP officers dead in less than 5 minutes. At the time, it was the deadliest day in the history of California law enforcement.
Crime in 1984 
Tina Faelz, age 14, was killed while walking home from school in Pleasanton. Fellow students discovered her body shortly afterward. Steven Carlson, a former classmate, was convicted of her murder in 2012.
Tchelistcheff in 1994 
Andre Tchelistcheff, pioneer winemaker, died in Napa at age 92. Beside managing Beaulieu Vineyards for 35 years, he ran a private wine laboratory and assembled a fabled wine library.
Technology in 2006 
San Francisco selected Google and EarthLink to bring free Internet access to the city.
Kaprow in 2006 
Allan Kaprow, pioneer performance artist artist who coined the term "happenings" in the late 1950s, died in Encinitas at age 78. 
Crime in 2007 
Dr. William Ayres, San Mateo child psychologist, was arrested on 14 counts of child molestation  since 1969.
Heston in 2008 
Charlton Heston, film star and political activist, died in Beverley Hills at age 84. He appeared in 100 films and is best remembered for "The Ten Commandments" (1956) and "Ben-Hur" (1959), for which he won an Academy Award.
April 6
Ranchos in 1837
Ojai Rancho was deeded. The 17,717-acre  Mexican land grant in present day Ventura County included what became Ojai in 1917.
Communication in 1861
The Butterfield Company ran the first stage coach over the new road through the Santa Susana Pass in the Simi Hills to deliver mail from Los Angeles to San Francisco.
Newspapers in 1872
The Tuolumne Independent began publishing in Sonora and continued until May 25, 1945.
Crime in 1911 
The San Francisco Police Board examined nine Mission saloon keepers who were cited for selling liquor to women decoys. 
Sports in 1931 
Seals Stadium opened in San Francisco. It was home to the San Francisco Giants for their first two seasons in the city.
Hoaxes in 1937
A legendary piece of brass left by Sir Francis Drake was found near San Francisco Bay. In 1579 Drake explored the California coast, landed, claimed it for England, named it New Albion and supposedly left an inscribed plate of brass as proof. What was found was a fake.
Haggard in 1937
Merle Haggard, country music star, was born in a converted boxcar in Bakersfield. His band, The Strangers, helped create the Bakersfield sound.
Sports in 1958 
Los Angeles Dodgers built a 42-foot high screen in left field at the Coliseum to cut down on home runs, since it is only 250 feet down the line.
Radio in 1967 
Tom Donahue, Marin County DJ at KMPX-FM, launched a new radio format that became known as freeform progressive rock with "no jingles, no talkovers, no time and temp, no pop singles." He played albums by Jefferson Airplane, Grateful Dead, Jimi Hendrix "and The Beatles uninterrupted in their entirety.
Sports in 1969 
Bill Singer, Los Angeles Dodgers pitcher, was credited with the first official save in a game against the Cincinnati Red Sox. 
Music in 1974
250,000 people attended California Jam at the Ontario Motor Speedway. Featuring Deep Purple and Emerson, Lake & Palmer, it set records for loudest amplification and the highest paid attendance and was the last of the original era of rock festivals. 
Race relations in 1987 
Al Campanis, Los Angeles Dodgers executive, said on television that blacks "may not have some of the necessities" to hold managerial jobs in major-league baseball. He was fired.
Sports in 1996 
Kelly Robbins won the Sacramento 12 Bridges Ladies Professional Golf Association Golf Classic.
Business in 2001 
PG&E filed for bankruptcy with $9 billion in debt due to the California energy crisis. Just before filing, PG&E awarded bonuses and raises to 6,000 senior managers and other employees. 
Olatunji in 2003 
Babatunde Olatunji, Nigerian drummer, educator, social activist and recording artist, died in Salinas at age 75.
Accidents in 2006 
Three ski patrollers were killed at Mammoth Lakes when snow collapsed around a volcanic gas vent.
Kinkade in 2012 
Thomas Kinkade, artist, died in Monte Sereno at age 54. His paintings of peaceful landscapes, cottages and churches were big sellers for dealers across the country. 
Newspapers in 1855
The Fireman's Journal and Military Gazette debuted in San Francisco. It was published through 1859, "Devoted to the interests of the various fire departments and the military organizations throughout the state."
Accidents in 1926
Fire tornadoes developed after lightning struck an oil storage facility near San Luis Obispo. Nine hundred acres burned  and two people died. Thousands of whirlwinds were produced by the four-day-long firestorm. Debris was carried miles away.
Brown in 1938 
Jerry Brown Jr., politician, was born in San Francisco. He became Oakland mayor, California Attorney General and California governor, twice.
Accidents in 1982 
An AC Transit bus clipped a stalled car then struck a double-tanker truck. It jack-knifed and exploded in the Berkeley Hills Caldecott Tunnel, killing seven people.
Newspapers in 1992 
The Sacramento Bee won two Pulitzer prizes. It was recognized for stories on environmental threats and damage to the Sierra Nevada mountain range and examining the moral and ethical issues involved in primate research.
Straight in 2001 
Beatrice Straight, theater, film and television actress, died in Los Angeles at age 86.  She won an Academy Award for film acting and a Tony Award for her work on stage. 
Agar in 2002 
John Agar, actor, died in Burbank at age 81. He was best known for starring with John Wayne in "Fort Apache," (1948) and "Sands of Iwo Jima" (1949).
Crime in 2003 
Thieves stole 1,300 pieces of jewelry valued at $4.5 million from a San Francisco store. Troy and Dino Smith and George Turner were caught and convicted of the crime.
Newspapers in 2003 
The San Francisco Chronicle ran a full-page ad calling for the impeachment of President George Bush.
Crime in 2005 
Prosecutors charged Julie Lee, age 62, with grand theft and other felonies. Charges related to a $500,000 grant for a San Francisco community center that was never built.
Crime in 2009 
A gunman in Temecula opened fire at a Korean Christian retreat center, killing one woman and injuring four.
Crime in 2010 
DEA agents raided an Emeryville drug analysis laboratory as part of an investigation called "Operation Lude Behavior." Three men at the lab were among 22 charged in a nationwide Quaalude trafficking ring.
Environment in 2011 
An Asian citrus psyllid, which carries a disease killing trees, was discovered in Ventura County. The county was put under quarantine for the tiny aphid-like pest.
Government in 2013 
California officials announced that federal authorities broke the law when they leased land to oil drillers without studying the possible risks of hydraulic fracturing.
April 8
Russians in 1806
Nokolai Rezanof anchored in San Francisco Bay. He sought supplies for the Russian-American outpost at Sitka, Alaska and hoped to discuss trade with the Spanish. During his visit to Yerba Buena, he fell in love with the teenage daughter of the commandant of the presidio, which began a tragic love story.
Indians in 1864
Round Valley Indian Rancheria was formed in Mendocino County by forcing people from different tribes from their homelands to live together. Through years of intermarriage, a common lifestyle and a shared land base, a unified community has emerged.
Newspapers in 1867
The Weekly Sutter Banner began publishing in Yuba City 
and continued through March 28, 1879.
Doerr in 1910 
Harriet Huntington Doerr, granddaughter of railroad tycoon Henry Edwards Huntington, was born in Pasadena. She won the American Book Award for Stones for Ibarra (1984), about a couple that leaves a house and job in San Francisco to travel to the Mexican village of Ibarra to reopen a copper mine.
Sports in 1910
Auto racing began at the wooden track Los Angeles Motordrome in Playa del Rey, the first auto speedway in the U.S..
Sports in 1916
Bob Burman, race car driver, crashed in Corona. He killed himself and three others, injuring five spectators when he rolled his open-cockpit car. His death prompted a new race car designed with a roll cage that completely enclosed the driver.
Government in 1953 
A Federal Grand Jury in San Francisco indicted Hugh Bryson, president of the National Union of Marine Cooks and Stewards, on charges with lying about not being a communist.
Carmel in 1986 
Clint Eastwood, film star and director, was elected mayor of Carmel. He campaigned to overturn the "ice cream cone law," restricting the sale of fast-food including ice cream cones, in the coastal tourist town.
Crime in 1989 
Charles Hughes, age 18, and Roshawn Johnson, age 20, innocent bystanders, were killed in a gang gun battle in Hunters Point. 
Trevor in 2000 
Claire Trevor, Hollywood actress, died in Newport Beach at age 90. She starred in over 60 films, including "Key Largo" (1948) and "The High and the Mighty" (1954). Trevor was called the "Queen of Film Noir" because of her appearance in many "bad girl" roles.
Business in 2008 
Intel of Santa Clara completed its first round of investment in China and planed to invest $500 million more in the next several years.
Government 2010 
The U.S. Environmental Protection Agency sent a notice of violation to Chemical Waste Management involving federal laws on the disposal of PCBs. Neighbors blamed the landfill near Kettleman City for at least 11 birth defects since 2007.
Architecture in 2011 
The Naval Hospital, formerly called Oak Knoll Naval Hospital in Oakland collapsed after some 800 pounds of dynamite blasted the 11-story building into a pile of rubble.
Crime in 2011 
Jesus Campos, owner of the popular Otaez Mexicatessen restaurant in Oakland  was shot and killed as he arrived to work.
Public health in 1991
Oakland A's stadium became first outdoor stadium in the U.S. to ban smoking.
April 9
Santa Barbara in 1850
Santa Barbara incorporated five months before California became a U.S. state in September of 1850.
Post offices in 1850
U.S. Post offices opened in Los Angeles and Mission San Jose.
Government in 1856
Fresno, San Francisco, San Mateo and Tehema counties were established.
Religion in 1906
The Azusa Street Revival meeting began in Los Angeles. Led by William Seymour, an African American preacher, it began the Pentecostal movement.
Kelvinators in 1927 
The new Princess Apartments in San Francisco offered a Kelvinator electric refrigerator in every apartment. They were run from a central unit in the basement.
Transportation in 1961
The Pacific Electric Railway in Los Angeles, known as the Red Car system, ended operations. It was the largest electric railway in the world in the 1920s. Started in 1887, it connected cities in Los Angeles, Orange, San Bernardino and Riverside Counties.
Sports in 1966
The California Angels Anaheim Stadium opened. Unofficially nicknamed the Big A, it is the fourth-oldest stadium in the major leagues.

Sports in 1974 
Ray Kroc, San Diego Padres owner, addressed fans; "Ladies & gentlemen, I suffer with you. I've never seen such stupid baseball playing in my life."
Sports in 1981
Fernando Valenzuela, Los Angeles Dodgers pitcher, shut out the Houston Astros 2-0 on opening day in his rookie year. His pitching was so celebrated it became known as "Fernandomania."
Sports in 1982
Los Angeles Lakers set a NBA regulation game record by blocking 21 of the Denver Nuggets' shots.
Sports in 2001
Michelle Kwan, figure skater born in Torrance, won the Sullivan Award as the top U.S. amateur athlete.
Crime in 2003 
James Smith, a senior FBI counterintelligence agent, age 59, was arrested in Los Angeles along with Katrina Leung, venture capitalist, age 49, for theft and transfer of a classified defense document to the Chinese government. 
Government in 2008 
The California Supreme Court rejected San Francisco's appeal of a lower court ruling, limiting the city's ability regulate handguns as approved by voters in 2005.
Sports in 2008 
San Francisco officials changed the course of the Beijing Olympic torch at the last minute to avoid most protestors and spectators.
Crime in 2009 
Vandals in the San Jose and San Carlos cut fiber optic cables, disrupting service for hundreds of thousands of people in Santa Clara, Santa Cruz and San Benito counties.
Accidents in 2009 
Nick Adenhart, Los Angeles Angels pitcher, was killed along with two others in a car accident with a suspected drunk driver in Fullerton.
April 10
Parks in 1871 
William Hammond Hall's maps and surveys of Golden Gate Park were accepted.
Transportation in 1878
The California Street Cable Railroad Company started service. On opening day, 11,000 people rode the 1.7 mile line to the top of Nob Hill where the Bonanza Kings were building palatial homes.
Festivals in 1894
La Fiesta de Los Angeles began. It was the idea of business leader Max Meyberg to promote Los Angeles.
Movies in 1953
Warner Brothers premiered the first 3-D film from a major U.S. studio. "House of Wax," a horror film, starred Vincent Price.
Sports in 1962
The Los Angeles Dodgers lost to the Cincinnati Reds in the first game at Dodger Stadium, 6-3. The stadium is the third oldest continually used park in Major League Baseball.
Sports in 1982
The Los Angeles Kings completed the largest comeback in NHL playoff history. They went from down 5-0 to win the game 6-5 in overtime. It was called the "Miracle on Manchester."
Crime in 1984 
Mei "Linda" Leung, age 9, was murdered in San Francisco by Richard Ramirez, the serial killer known as the "Night Stalker." 
Business in 1989
Intel Corp of Santa Clara released the 80-486 chip. It was the first x86 chip to use more than a million transistors, due to a large on-chip cache and an integrated floating-point unit.
Sports in 1991
Wayne Gretzky, of the Los Angeles Kings, scored a National Hockey League record 93rd playoff goal. 
Accidents in 1992 
Sam Kinison, 38-year-old comedian, was killed in a car crash outside Needles. He was known for intense, harsh and politically incorrect humor.
Science in 2001 
Doctors in San Diego implanted genetically modified cells in the brain of a woman with Alzheimer's disease to slow her mental decline.
Protests in 2004 
Several thousand protesters gathered in San Francisco to call for ending U.S. military presence in Iraq.
Crime in 2004 
Isaac Espinoza, San Francisco Police officer age 29, was shot dead and his partner wounded in the Bayview neighborhood. David Hill,  arrested the next day, who used an AK-47 against the officers, was found guilty of murder.
Cross-country walking 2005 
Steve Vaught, age 39, left San Diego to walk to New York to lose some of his 400 pounds. He completed his walk in May, 2006 after losing around 100 pounds.
Business in 2013 
Governor Jerry Brown, on a trade mission to Beijing, announced that a Chinese investor would help pay for a $1.5 billion development deal in Oakland to transform 65 acres of industrial waterfront.
Business in 2012
Apple Inc. of Cupertino claimed a value of $600 billion, a milestone only one other company ever achieved. That made it the largest company by market capitalization in the world.
Chambers in 2009        
Marilyn Chambers, pioneer adult film actress, died in Los Angeles at age 56. She modeled for Ivory Snow detergent as a baby. But her role in "Behind the Green Door" (1972), made her famous. 
Government in 2011        
Governor Jerry Brown signed legislation requiring the state's utilities to get 33% of its electricity from renewable sources by the end of 2020.
Weather in 2012       
Thunder storms dropped a record 1.24 inches of rain in San Francisco. The previous record was .92 inches on April 12, 2003.