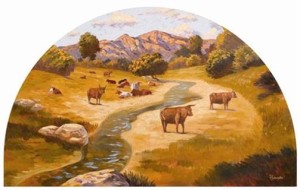 Ranchos in 1844
Cañada de los Pinos rancho was deeded to the Seminary of Santa Inez. It covered 35,499 acres in present day Santa Barbara County near Santa Ynez and along the Santa Ynez River.
Government in 1864
Alpine County was established in the Sierra Nevada between Lake Tahoe and Yosemite National Park. It is the least populated county in the state.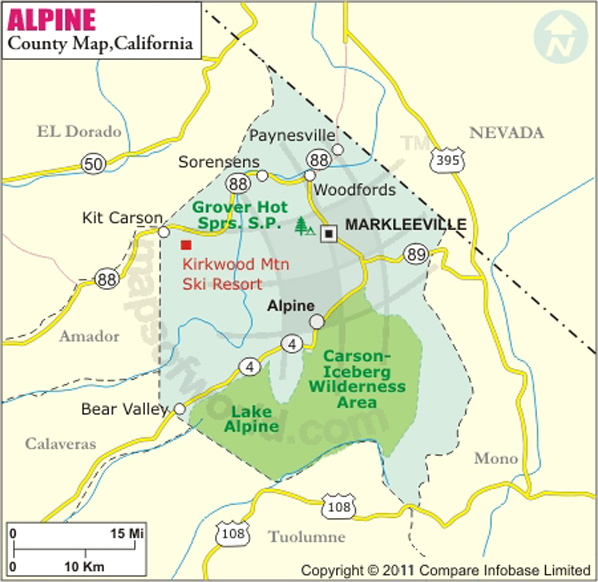 Tong War in 1912       
The Chinese tong war continued in San Francisco when four Ho Sing gunmen opened fire at the liquor store of Cham Kok, president of the Suey Sing tong.
Post Offices in 1949
A U.S. post office opened in Apple Valley. This San Bernardino County town was home to Western TV stars Roy Rogers and Dale Evans and the first intercollegiate rodeo in the U.S.
Radio in 1964
KCOY-TV began broadcasting in Santa Maria.
Accidents in 1991        
A plane crashed near San Diego, killing 10 people including members of Reba McIntire's band.
Crime in 2007        
Ruby Ordenana, age 27, a transgender woman, was brutally killed in San Francisco. DNA evidence lead to Donzell Francis. Prosecutors charged him with murder in 2010 but he was already in prison.
Accidents in 2011        
A 40-foot section of Highway 1 crumbled along the coast south of Carmel following several days of rain. The southbound lane was gone and soil under the northbound lane was giving way.
Crime in 2012        
Balvinder Chadha, age 45, former manager of postal vehicle service operations in Oakland, was charged with illegally billing over $4 million for steering contracts to a truck-leasing company he ran with his wife. They pleaded guilty to conspiracy.
Accidents in 2013        
A boy, age 14, and a man, age 68, were killed in Marysville when a sprint car ran off a track and into the pit during warm-up laps on opening day of the California Sprint Car Civil War Series.
Business in 1803
The Lelia Byrd, one of the first U.S. ships to reach San Diego, anchored in the bay. Her captain told Spanish authorities they needed water and supplies, that they were not there to trade for furs, which was against the law. Spanish guards watched the ship to prevent the trade. In the morning, the crew overpowered their guards, brought aboard 1,000 otter skins and exchanged cannon fire with the fort. Out of range, they put their Spanish guards into a row boat then sailed away. 
Government in 1860
Japanese diplomats arrived in San Francisco to ratify the Treaty of Friendship, Commerce, and Navigation. This was Japan's first diplomatic mission to the U.S.

Government in 1914
The town of Myford changed its name to Irvine when another town named Irvine became Carson Hill.
Crime in 1985
Richard Ramirez, the serial killer called the "Night Stalker," committed the first two murders in his Los Angeles murder spree. He died in prison at age 53.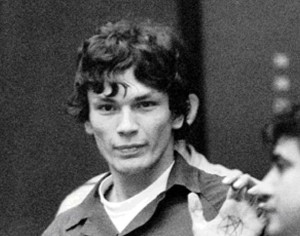 Business in 1988        
Apple, in Cupertino, sued Microsoft, claiming copyright infringement in the Windows GUI.
Lantz in 1992       
Grace Stafford Lantz, known by her stage name Grace Stafford, the voice of Woody Woodpecker, died in Burbank at age 88.
https://www.youtube.com/watch?v=tEh–efN0rw
Museums in 1996        
The $16 million Museum of Television and Radio opened in Beverly Hills.
Government in 1997        
The U.S. Supreme Court refused to hear San Francisco's argument that the cross on Mount Davidson was a cultural landmark. That meant the cross would now have to be torn down or sold to a private owner.
Rice in 2001        
Ray Rice, one of the founders of the Art and Architecture movement, died in Mendocino at age 85. His work included 40 short films.
Jackson in 2004        
J.J. Jackson, musician and MTV personality, died in Los Angeles at age 62.
Pham in 2011        
Huy Pham, age 29, jumped off the Costa Mesa City Hall roof and died after getting his layoff notice. More than 200 people, nearly half of the city's workforce, were targeted for layoffs in a move to plug a $15 million budget gap.
March 18
Sanchez de Bernal in 1858
Doa Josefa Sanchez de Bernal died at San Jose at the age of 97. She was among the first Spanish settlers in that region of California, where she married and raised a large family.
San Francisco in 1848
The California Star reported that the population of San Francisco was 575 males, 177 females and 60 children, not including Indians and Mexicans.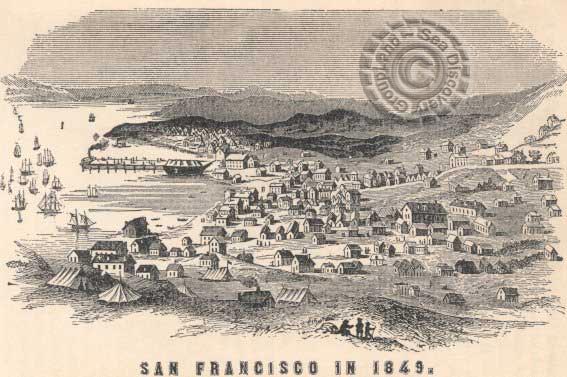 Museums in 1860
William Heath Davis bought 160 acres in New Town, now downtown San Diego. Today his home, now a museum, is the oldest structure in New Town. It was built on the East Coast then shipped around Cape Horn. 
Wells Fargo in 1852
Wells Fargo & Co., incorporated in New York, opened offices in San Francisco and Sacramento. Today it is a multinational bank and financial services company headquartered in San Francisco.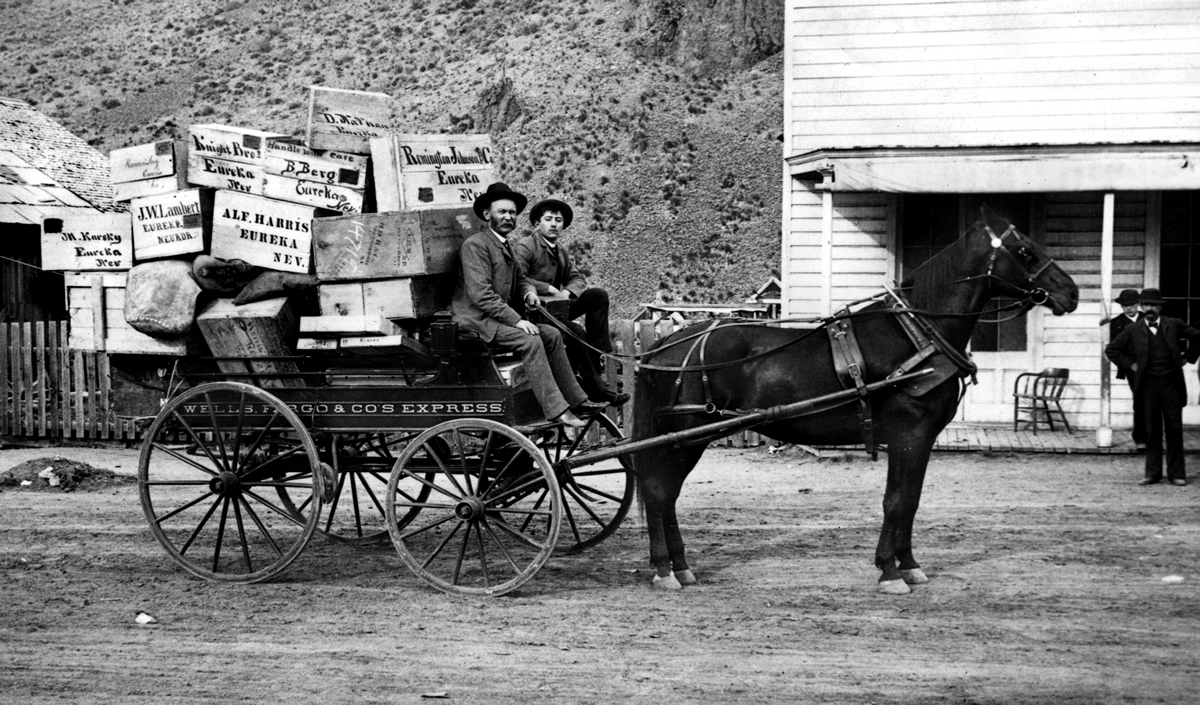 Government in 1854
Plumas County, in the Sierra Nevada, was created from Butte County. Part of Plumas County was taken to create Lassen County in 1864. Then Plumas County annexed part of Sierra County, including the town of La Porte.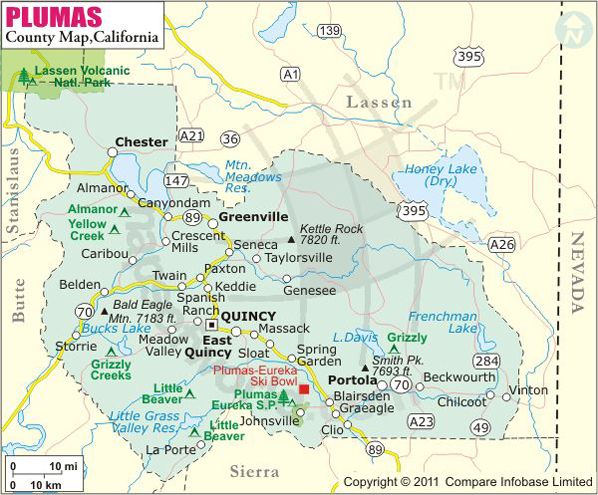 Environment in 1870 
Lake Merritt Wild Duck Refuge became the  first official wildlife refuge in the U.S..
Daly City in 1911 
Daly City was voted into existence. The vote was 132 for – 130 against. The name, Daly City, honoring John Daly, passed the vote.
Levine in 1979
Adam Levine was born in Los Angeles. He is a singer-songwriter, musician, entrepreneur,  actor and star on "The Voice".
Amusement parks in 1989
The California Quake opened at Universal Studios.
Mass transit in 2000
The Newhall Metrolink rail station in Santa Clarita was built as an infill station on the busy Antelope Valley Line.
Accidents in 2001 
An Amtrak train bound for the Bay Area derailed in Iowa. One person was killed and 96 injured.
Protests in 2007        
Some 3,000 protesters marched in San Francisco to mark the 4th anniversary of the U.S. invasion of Iraq, demanding an end to the war.
Parker in 2010      
Fess Parker, film and television star, died in Santa Ynez at age 85. He played Daniel Boone in the television series "Daniel Boone" (1964-1970).
March 19
San Diego in 1770
The ship San Antonio brought much-needed food and supplies to San Diego and took some people back to Mexico.
Newspapers in 1854
The Wide West debuted in San Francisco and ran until 1857. It was published every other week to promote California to people back East.
Crime in 1875
Tiburcio Vasquez, legendary bandit, was hanged in San Jose. He rustled cattle, robbed and killed from Sonoma to Los Angeles and escaped from San Quentin prison four times. Vasquez claimed he defended Mexican-American rights. He was literate, charming, played guitar and danced skillfully. 
Electricity in 1887
Santa Barbara Electric Company lit State Street with arc lamps. Because they were too bright, the masts were raised to 125 feet. But carbon rods exposed to moist night air made small explosions that kept everyone awake.
Warren in 1891
Earl Warren born. He became governor of California and Chief Justice of the U.S. Supreme Court, His decisions ended school segregation, strengthened the rights of the accused and ended prayers in public schools.
Transportation in 1895 
The Los Angeles Railway was established. Yellow Cars ran down the middle of city streets, connecting neighborhoods in about a six-mile radius of downtown. The system slowly changed into a bus system until the last streetcar went out of service in 1963.
Burroughs in 1950 
Edgar Rice Burroughs, creator of Tarzan, died in Encino at age 74. He wrote 24 Tarzan novels and 50 other thrillers. 
Crime in 1968
Elizabeth Ernstein, age14, disappeared while walking home from school in Mentone, San Bernadino County. Her remains were found near Wrightwood but not identified through DNA testing until 2012.
Electricity in 2001
California officials declared a power alert. They ordered the first of two days of rolling blackouts.
Business in 2002
Carly Fiorina, head of Hewlett-Packard, headquartered in Palo Alto, won the battle to buy Compaq Computer.
Sports in 1972 
The Los Angeles Lakers beat the Golden State Warriors by a record 63 points; 162 – 99.
Music in 1974
The Jefferson Starship, formerly the San Francisco psychedelic band called The Jefferson Airplane, began their first tour.
Sports in 1991 
Sacramento Kings set a NBA record of 29 consecutive road losses.
Crime in 2008
Oakland police officers shot and killed Jose Luis Buenrostro, age 15, who they claimed aimed a shotgun at them.
Business in 2012
Apple Corp. announced its first dividend since 1995. It also begin a $10 billion share buyback program. Shares closed at $601.10.
March 20
Prisons in 1913
The U.S. Army announced that Alcatraz island would be abandoned as a military prison and turned over to the Department of Justice for use as a federal penitentiary.
Japanese American Internment in 1946
Tulelake Detention Camp closed. This detention camp in Siskiyou County was part of the mass incarceration of nearly 110,000 people of Japanese ancestry during World War II.
Radio in 1955
KXTV-TV channel 10 in Sacramento began broadcasting.
Labor in 1959
Harry Bridges, labor leader, spoke at the San Francisco Commonwealth Club luncheon about his trip to Russia. He shared the Soviet Union's promise that within 10 years its workers would enjoy the highest standard of living in the world, the highest wages, the shortest work week, the best free medical care, the best education and no unemployment.
Accidents in 1988
DeAndra Anrig, age 8, went airborne when the string of her kite was snagged by an airplane flying over Shoreline Park in Mountain View. She flew 10 feet off the ground for 100 feet until she let go. Anrig was not seriously hurt. 
Sports in 1990 
Los Angeles Lakers retired Kareem Abdul-Jabbar's #33 jersey. He was a 6-time NBA Most Valuable Player, 19-time NBA All-Star, 15-time All-NBA selection, and 11-time NBA All-Defensive Team member.  He lead the NBA in points scored, games played, minutes played, field goals attempted and made, blocked shots, defensive rebounds and personal fouls.
Amusement parks in 1999 
Legoland California was the first Legoland outside of Europe when it opened in Carlsbad. Legoland Florida opened in 2011.
March 21
Japanese American Internment in 1942
Manzanar Detention Camp opened. This detention camp in the Owens Valley was part of the incarceration of nearly 110,000 people of Japanese ancestry during World War II.
Sports in 1946
The Los Angeles Rams signed Kenny Washington, making him the first African American player in National Football League since 1933. He played just three years, but had an enormous impact on the NFL.

Sports in 1959
University of California Golden Bears beat West Virginia Mountaineers in the NCAA Men's Basketball Championship, 71-70.
Prisons in 1963
The federal penitentiary on Alcatraz Island in San Francisco Bay closed.
Sports in 1964
UCLA beat Duke, 98-83, to finish an undefeated NCAA basketball season, 30-0.
Environment in 1970
San Francisco mayor Joseph Alioto proclaimed the first Earth Day. It was celebrated on April 22, 1970.
March 22
Exploration in 1774
Juan Bautista De Anza reached Mission San Gabriel Arcangel. He led 3 padres, 20 soldiers, 11 servants, 35 mules, 65 cattle, and 140 horses to establish a Spanish colony in Alta California.
Government in 1852
Siskiyou County, on the Oregon border, was created from Shasta and Klamath Counties. An 1851 gold strike flooded the area with prospectors. In the early 1940s, it was home to the State of Jefferson movement and the County Board of Supervisors voted to secede from California in 2013.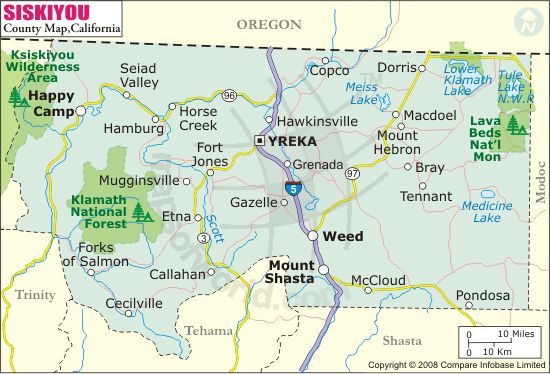 Inventions in 1864
Eliza Hall of San Francisco patented a furnace for smelting ore.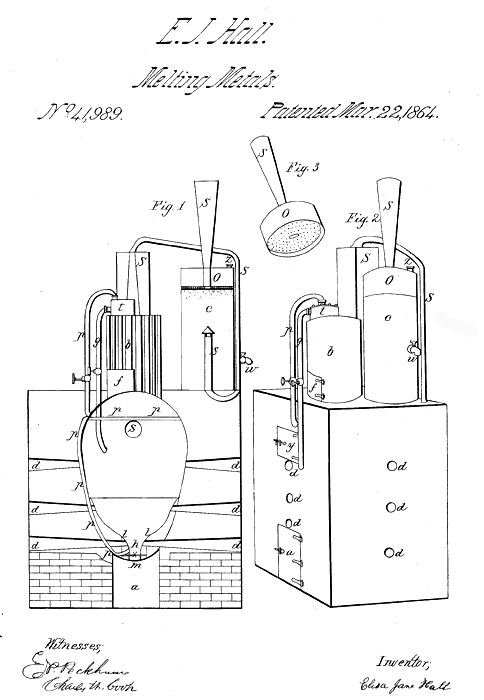 Government in 1866
Inyo County was formed from parts of Mono, Tulare, Kern and San Bernardino Counties. It includes Mount Whitney, the highest peak in the U.S., and Badwater Basin, the lowest point in North America.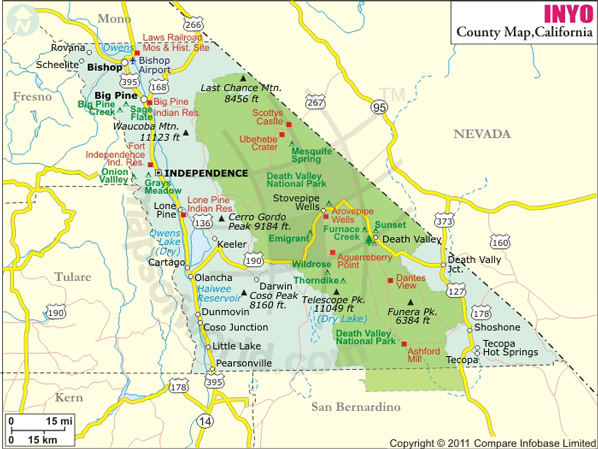 Government in 1872
Ventura County, originally part of Santa Barbara County, was established on the coast. Today is part of the greater Los Angeles region. The area is culturally rich from the time of the Chumash to today.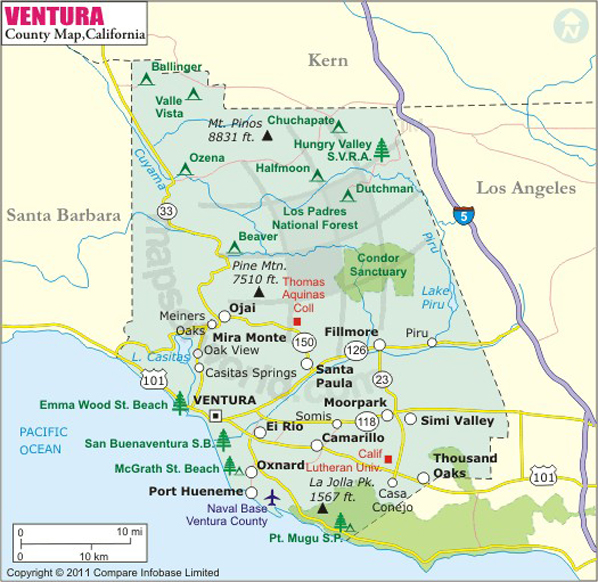 Transportation in 1875
1,500 railroad workers, mainly Chinese, began work on the San Fernando Tunnel. It was one of 18 tunnels the Southern Pacific Railroad needed to pass through the Tehachapi Mountains and link Northern and Southern California.

Inventions in 1892
Rebecca Miles of Porterville patented a milk churn. "The special object of the invention is to make a rocking churn in which the cream shall be agitated by one or more rollers moved alternately in opposite directions from one side to the other."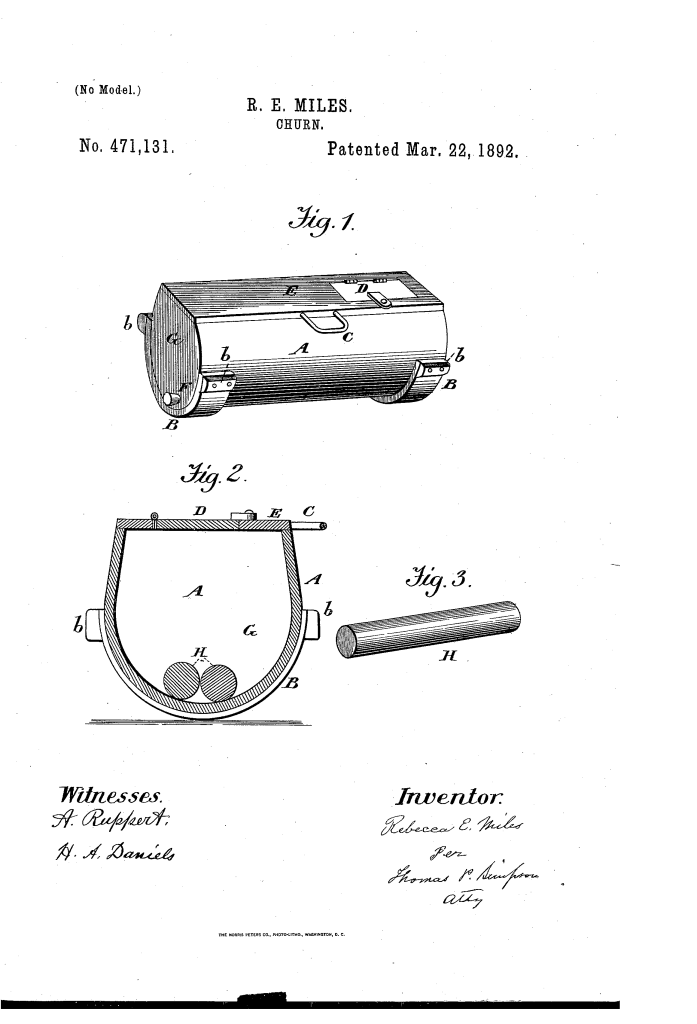 Government in 1893
Kings County was formed from Tulare County in the Central Valley. In 1928 the Kettleman North Dome Oil Field became one of the most productive oil fields in the U.S. Today it is an agricultural region.
Environment in 1957 
The San Francisco Bay area was struct by the strongest earthquake since 1906. It registered 5.3 on the Richter scale and was preceded by some six smaller quakes. A fire started in the Lowell High School chemistry lab when chemicals spilled.
Business in 1993
Intel Corporation shipped the first Pentium chips that ran at 60 and 66 MHz clock speeds, used 3.1 million transistors, had 4 GB of addressable memory, and measured 16.7 mm by 17.6 mm. It was Intel's first superscalar x86 micro architecture and, as a direct extension of the 80486 architecture, it included dual integer pipelines, a faster floating-point unit, wider data bus, separate code and data caches and features for further reduced address calculation latency.

March 23
Newspapers in 1861
The Daily Independent Journal debuted in San Rafael. It later merged with The Marin County Journal and become the Marin Independent Journal in 1948.
Education in 1868
University of California was established when the governor signed into law the Organic Act "to Create and Organize the University of California."
Radio in 1922
KMJ-AM in Fresno began radio transmissions. It is the 38th oldest licensed and continuously operated radio station in the U.S.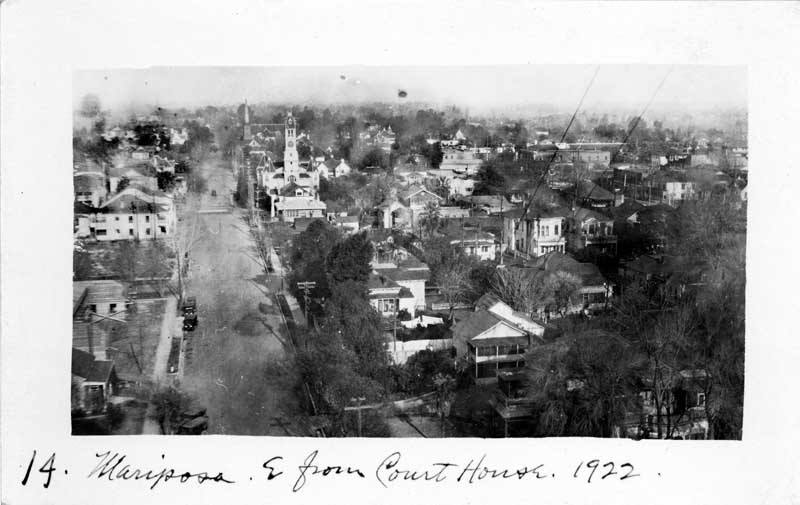 Transportation in 1937
Los Angeles Railway Co., with some 20 lines and 1,250 streetcars, started using PCC streetcars. Shirley Temple, then America's biggest child star, unveiled its first PCC car. They ran until 1963.

Prisons in 1939        
Guards beat 41 prisoners at San Quentin Prison in Marin County. William Lewis later testified that he loaded a rubber hose with BB shot to beat convicts.
President Kennedy in 1962 
President John Kennedy landed at Alameda Naval Air Station then he went to U.C. Berkeley to deliver the traditional Charter Day address.
Sports in 1968
UCLA Bruins beat the North Carolina Tar Heels in the 30th NCAA Men's Basketball Championship, 78-55.
Government in 1998        
The California State Supreme Court ruled that Boy Scouts was a private organization and not subject to the state's anti-discrimination laws.
 
Accidents in 1998       
A Los Angeles Fire Department helicopter crashed while transporting an injured 12-year-old girl to a hospital. The girl and three others were killed.
Crime in 2006        
Karen Eklund, age 31, of Antioch was shot 11-20 times and killed by police in San Francisco following a 40-mile pursuit. She had been sought on a federal warrant in an identity-theft case. 
Government in 2007        
An Alameda County judge released a report giving the state 60 days to stop killing fish or shut down pumps that send water to southern California.
Business in 2010        
Google, in Mountain View, criticized Australia's plan to filter the Internet, saying it went too far and could set a dangerous precedent.
Taylor in 2011      
Elizabeth Taylor, legendary actress, died in Los Angeles at age 79. She was famously beautiful and acted in films for more than that 50 years.
Crime in 2012        
Frederick Salyer, age 56, former owner of SK Foods, pleaded guilty in Sacramento to running the company as a racketeering enterprise. He bribed purchasers, fixed prices and altered lab tests of moldy tomato paste. 
Crime in 2012      
Sandra Jessee, age 61, was sentenced to life in prison for the 1998 murder of her third husband. She had him murdered to avoid paying his medical bills and to collect insurance money.
Crime in 2012        
California border patrol officials found 13 pounds of methamphetamine in the gas tank of a car being towed through a checkpoint in Temecula. Another 38 pounds were found in the panel of a car at the same checkpoint on March 25. 
March 24
Environment in 1806
An earthquake caused extensive damage to the Santa Barbara presidio chapel but did little other damage at the mission. 
Exploration in 1844
John Frémont named Walker Pass after Joseph Walker, mountain man and scout. The mountain pass through the Sierra Nevada connects the San Joaquin Valley with the Mojave Desert.
Transportation in 1860
The clipper ship Andrew Jackson arrived in San Francisco in record time from New York; 89 days.
Monuments in 1934        
The 103-foot Mount Davidson Cross in San Francisco was first lit. President Franklin Roosevelt lit it by an electrical impulse telegraphed from the White House.
Labor in 1998        
Oakland City Council adopted a Jobs and Living Wage Ordnance. Businesses working with the city had to pay workers at least $8 an hour with benefits or $9.25 without benefits. It was the 17th U.S. city to adopt such an ordnance.
Crime in 1999        
Robbers stole $2.3 million from a Loomis armored truck as it traveled between San Francisco and Sacramento. The theft was not reported until May 6. No arrests have been made.
Sports in 2001        
Michelle Kwan, U.S. skater born in Torrance, won her fourth World Figure Skating title. Over her career, she won two Olympic medals, five World and nine U.S. championships.
Yordan in 2003
Philip Yordan, screenwriter, died in San Diego at age 88. He won an Academy Award for "Broken Lance" (1954).
Business in 2005       
A jury ordered Toshiba Corp. to pay Lexar Media, Inc., in Fremont, $465 million. It was the largest intellectual property verdict in California history.
Business in 2006        
Google stock traded up 7%, reaching $365.80 per share after news that it would be added to the S&P 500 index.
Rogers in 2007        
Marshall Rogers, graphic artist, died in Fremont. He drew Batman comics with a mix of new detail and dark fantasy in the 1970s.
Science in 2009       
Cepheid,  gene-based test developer in Sunnyvale, announced a rapid, diagnostic test for tuberculosis that would be available at reduced cost in developing countries. 
Culp in 2010       
Robert Culp, television actor, died in Los Angeles at age 70. Culp shot to fame thanks to his role in "I Spy" (1965-1968).
Government in 2011        
Governor Jerry Brown signed into law billions of dollars in cuts to state programs and services to help resolve the state's $26.6 billion deficit.