January 1
Overland Journeys in 1846
Patrick Breen, traveling with the Donner Party, wrote in his diary: "We pray the God of mercy to deliver us from our present Calamity if it be his Holy will. Amen. Commenced snowing last night. Does not snow fast. Wind S.E. Sun peeps out at times. Provisions getting scant. Dug up a hide from under the snow yesterday for Milt. Did not take it yet."
Stage coaches in 1854
James Birch began the California Stage Company. He started hauling with a ranch wagon around Sacramento in 1849. He dominated the stage coach business in California with routes across the Sierras and  a southern route from San Antonio, Texas to San Diego.
Railroads in 1857
Theodore  Judah published A Practical Plan for Building the Pacific Railroad, his guide to building the Transcontinental Railroad, which was completed in 1869.
Newspapers in 1867
California China Mail and Flying Dragon, printed in San Francisco in Chinese and English, advertised for Chinese emigrants to build the Western railroad. It also proposed an air transport system from New York to California. Frederick Marriott, the publisher, formed the Aerial Steam Navigation Company in 1866 and invented the term "aeroplane."
Newspapers in 1867
There have been several newspapers called The Los Angeles Daily News, including one that debuted on New Year's Day, 1867.
Parades in 1886
The first Tournament of Roses parade was a promotional event for the Valley Hunt Club in Pasadena. Today millions of viewers around the world enjoy the Rose Parade on New Year's morning.
Cycling in 1900
The California Cycleway opened. The elevated wooden bicycle tollway from Pasadena to Los Angeles ran through the Arroyo Seco. It was lit at night with electric lights.
Sports in 1902
The Tournament of Roses, which once advertised a race between a camel and an elephant, became the first "bowl" game. Today it is known as the Rose Parade and Rose Bowl Game.
Accidents in 1909
Drilling began on Lakeview No. 1 oil well in Kern County. It struck oil on March 15, 1910 but the pressure in the oil pocket shot oil over a hundred feet into the air in an out-of-control gusher. It flowed for 18 months, peaking at 90,000 barrels a day.
Sports in 1912
The first Bay to Breakers race was held in San Francisco. It began as a way to lift the city's spirits after the 1906 San Francisco Earthquake and Fire. It has become a legendary moving party. 
Environment in 1914
A Pacific coast storm swept away the entire Ocean Beach of San Francisco from the Cliff House to the life saving station.
Religion in 1923
Aimee Semple McPherson, charismatic founder of the International Church of the Foursquare Gospel, dedicated the Angelus Temple, a spiritual palace in Los Angeles.
Sports in 1929
Roy Riegels, playing for University of California, Berkeley, ran 60 yards toward the wrong end zone after recovering a fumble in the Rose Bowl.
Newsreels in 1948
The first color newsreel was filmed at the Tournament of Roses and the Rose Bowl Game in Pasadena. 
Television in 1949 
KTTV-TV channel 11 in Los Angeles began broadcasting. The station's first telecast was the Tournament of Roses Parade, which it aired every New Year's Day until 1995.
Sports in 1961
The Houston Oilers beat the Los Angeles Chargers in the AFL championship game, 24-16.
Sports in 1969
Jack Kent Cooke, owner of the Los Angeeles Kings, fined players $100 for "NOT" arguing with the referee.
Crime in 1970
Eric Zelms, San Francisco police officer, was fatally shot when burglars surprised him and took control of his gun.
Romero in 1994
Cesar Romero, actor, singer, dancer, voice artist, and comedian who was active in film, radio and television for almost 60 years, died in Santa Monica at age 86. He played the Joker in the "Batman" television series. 
Government in 1998
A law went into effect banning smoking from all California bars, clubs and card rooms.
Walston in 2001 
Ray Walston, film and television actor died in Beverly Hills at age 86. He was best known in the television show "My Favorite Martian".
Sports in 2004 
The University of Southern California defeated the University of Michigan in the Rose Bowl, 28-14.
Environment in 2004
A California ban on the gasoline additive MTBE went into effect. Ethanol became the new additive of choice, even though it could increase air pollution.
LGBT in 2005 
A law took effect giving gay couples who register as domestic partners in California nearly the same responsibilities and benefits as married spouses.
Matsui in 2005
Robert Matsui, 13-term California Democratic congressman, died at age 63. He and his family were taken from Sacramento and interned by the U.S. government at Tule Lake War Relocation Center. The Sacramento federal courthouse is named in his honor.
Crime in 2006
San Francisco police reported a decline in homicides to 85, down from 96 in 2005.
Business in 2007 
Minimum wage in San Francisco rose 3.6% to $9.14/hour following a 2003 requirement for annual cost of living adjustments.
Olsen in 2007
Tillie Olsen, San Francisco labor activist, writer and pioneer feminist, died at age 94. She won the O. Henry Award for best short story for "Tell me a Riddle" (1961).
Business in 2008 
Minimum wage in California rose .50 to $8.00/hour. 
Crime in 2009
A BART police officer shot and killed Oscar Grant during a brawl between young men at a BART Station. Witnesses said Grant was lying face down with his hands behind him when Officer Johannes Mehserle fired.

Business in 2012
The minimum wage in San Francisco rose 32 cents to $10.24 an hour.
Environment in 2013   
California began a cap-and-trade program for companies that emit greenhouse gases. It was the result of laws reducing greenhouse-gas pollution to 1990 levels by 2020.
Cronan in 2013  
Michael Cronan, graphic designer, died in Berkeley at age 62. He was best know for work on TiVo, the digital TV recorder, and Kindle, Amazon's portable reading device.
Page in 2013  
Patti Page, a top singer of the 1950s, died in Encinitas at age 85. Her hits included "Tennessee Waltz" (1950) and "How Much Is That Doggie in the Window" (1953).
Accidents in 2007 
A Siberian tiger escaped its enclosure at the San Francisco Zoo, killed Carlos Sousa and mauled two others. One victim was drunk and admitted to yelling and waving at the tiger while standing on the railing of the big cat enclosure.
January 2
War in 1847
The Battle of Santa Clara, called the "Battle of the Mustard Stalks," was fought near Mission Santa Clara de Asís. People stood on their housetops to watch the fighting. Four Mexicans and two Americans were injured and four Mexicans killed in two hours of fighting. Then a ceasefire was called.
Temperance in 1859
The Dashaway Association formed in San Francisco. The members who were sober volunteer San Francisco firemen encouraged others to "dash away from the intoxicating bowl."
Accidents in 1863
The clipper ship "Noonday" struck a reef beyond the Farallone Islands and sank. The spot was later named Noonday Rock.
Museums in 1921 
The De Young Museum opened. It is part of a complex of cultural institutions in San Francisco's Golden Gate Park, including the Academy of Sciences and Japanese Tea Garden.
Sports in 1961
The Houston Oilers beat the Los Angeles Chargers in the first AFL championship game, 24 – 16.
Accidents in 1963      
A gas pipeline leak in Bernal Heights in San Francisco caused a blast that injured nine firefighters and led to the heart attack death of Battalion Chief Frank Lamey.
Powell in 1963   
Dick Powell, singer, actor, film producer, director and studio head, died in Brentwood at age 59.  Powell is best remembered as private detective Philip Marlowe in a series of films.
Television in 1968 
KBHK-TV channel 44 in San Francisco began broadcasting.
Sports in 1972 
The Dallas Cowboys beat the San Francisco '49ers for the NFC championship, 14-3.
Music in 1978
Rhino Records, of Los Angeles, released their first album "Wildmania." It was produced for $500 and recorded partially at Dodger Stadium. 
Sports in 1982 
The San Diego Chargers beat the Miami Dolphins, 41-38 in 13:52 of overtime.
Omarr in 2003 
Sydney Omarr, astrologer to the stars, whose horoscopes appeared in more than 200 newspapers, died in Santa Monica at age 76. His "Sun Sign Horoscope" daily column appeared in some 200 newspapers. His annual forecast books for each sign of the zodiac sold over 50 million copies.
Environment in 2008     
California joined environmental groups and other states to legally challenge the Bush administration refusal to let states limit vehicle emissions of gases that contribute to global warming.
Newspapers in 2009   
AsianWeek, the San Francisco newspaper founded in 1979, published its final print edition. It planned to continue a digital presence at www.asianweek.com.
Francis in 2011   
Anne Francis, film and television star, died in Santa Barbara at age 80. She was best known for her role in "Forbidden Planet" (1956), a science fiction classic.
Fromer in 2013    
Jon Fromer, musician, activist and television producer, died in Mill Valley at age 67. He founded  Freedom Song Network, a coalition of musicians dedicated to promoting human rights.
January 3
Cabrillo  in 1543
Juan Rodriguez Cabrillo, Portuguese explorer for Spain, died on San Miguel Island from complications of breaking a leg during a skirmish with Indians. He was the first European to navigate the California coast. He might have been searching for a trade route to China, the mythical Strait of Anián or Northwest Passage.
Exploration in 1603
Sebastian Vizcaino named Ano Nuevo. The conquistador was searching for safe ports for Spanish galleons returning from the Philippines. He had explored New Spain, the Philippines, Baja and Alta California and Japan.
Overland Journeys in 1847
Patrick Breen, traveling with the Donner Party, wrote in his diary: "Mrs. Reid talks of crossing the mountains with her children. Provisions scarce."
Rancherias in 1916
Stewarts Point Indian Rancheria was established. It is home to the Kashia Band of Pomo Indians, near Fort Ross on the Sonoma coast.
Sports in 1971 
The Baltimore Colts beat the Oakland Raiders in the AFC championship game, 27-17.
Business in 1977
Apple Computer, Inc. incorporated. It later became the first U.S. company to be valued at over $700 billion.
Environment in 1982
Heavy rainfall from January 3 to January 5, produced storm-related losses around $280 million.
Accidents in 1982  
A small plane crashed into White Mountain. Donnie Priest, age 10, the only survivor, was rescued 5 days later but lost both legs due to frostbite. His parents died in the crash.
Sports in 1991 
Wayne Gretzky, of the Los Angeles Kings and arguably the greatest hockey player, scored his 700th goal against the New York Islanders.
Literature in 2000   
The last new Peanuts comic strip by Charles Schulz ran in 26,000 newspapers.
January 4
Exploration in 1776
Juan Bautista de Anza, leading the first colonists to Alta California, reached Mission San Gabriel. They began in Mexico on October 1775. Spain's goal was to block Russian territorial expansion from the north.  
Newspapers in 1849
The first newspaper in Yerba Buena, The California Star, became The Alta California. It started publishing weekly and became the first daily newspaper in California. Mark Twain wrote for it. The paper folded on June 2, 1891.


Restaurants in 1850
Jon-Ling reportedly opened a Chinese restaurant in San Francisco. 
Flight in 1914
Lincoln Beachey, early aviation superstar, flew a record seven loop-the-loops in his biplane at an aerial show before a crowd of some 25,000 people in San Francisco. The event was filmed from a tethered balloon.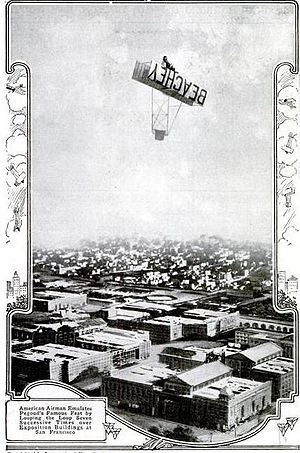 Crime in 1998 
Four residents of Vallejo were injured by a bomb disguised as a batch of holiday packages left on a front porch.
Business in 2001 
California state regulators approved raising electricity rates by an average 10% as state utilities stood near bankruptcy.
Business in 2006 
Intel, headquartered in Santa Clara, asked the Vietnamese government permission to build a chip plant worth $605 million in southern Ho Chi Minh City. Regulators approved the plans in February.
Garson in 2008 
Mort Garson, composer, arranger and electronic music pioneer, died in San Francisco at age 84. According to Allmusic, "Mort Garson boasts one of the most unique and outright bizarre resumés in popular music, spanning from easy listening to occult-influenced space-age electronic pop." 
Crime in 2012 
Benjamín Arellano Félix, Mexican drug kingpin, pleaded guilty in San Diego to racketeering and conspiracy to launder money in exchange for a sentence of no more than 25 years. 
January 5
Business in 1850
The California Exchange opened. It served a marketplace where raw gold and coins from around the world were in use.  
Bridges in 1933
San Francisco's Golden Gate bridge construction began from the Marin shore. The bridge cost $1.3 million less than the $35 million budgeted and completed ahead of schedule in April 1937.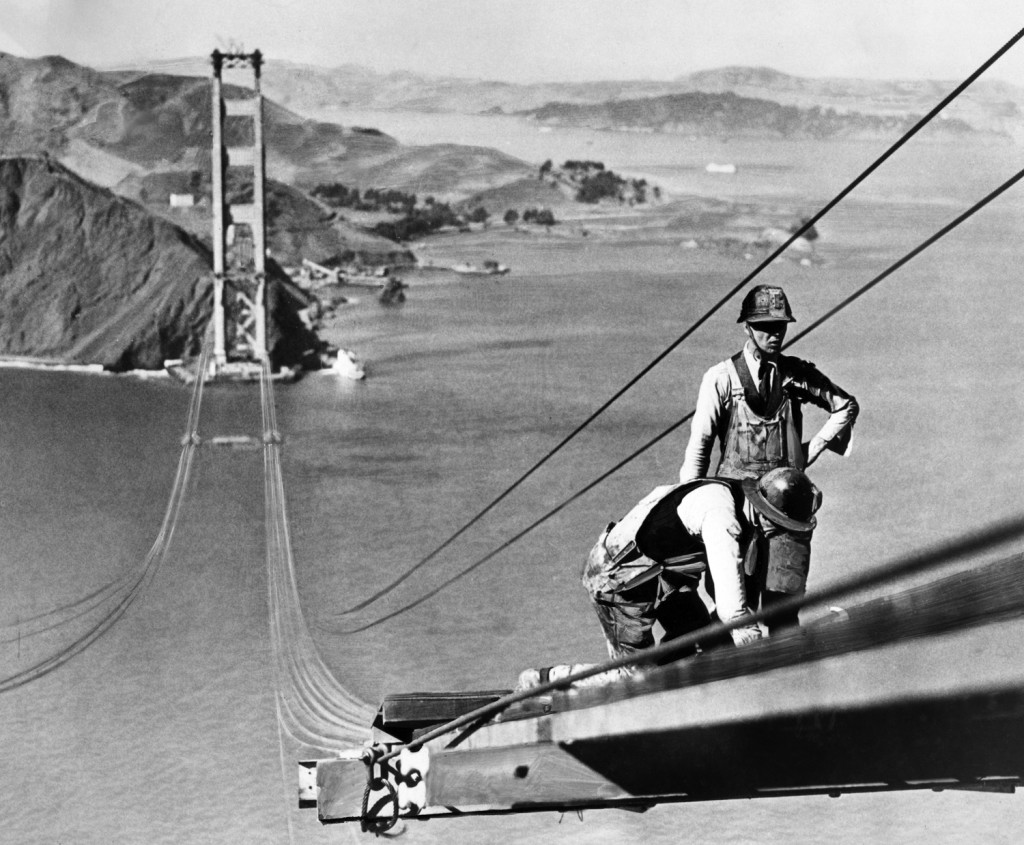 Government in 1933
Federal judge Harold Lauderback ordered the auction in San Francisco of 2,245 gallons of moonshine that had been seized in raids.
Scott in 1954
Walter Scott, Death Valley prospector, showman and con artist, died at age 82. Also known as Death Valley Scotty, he was made famous by scams involving gold mining and his Death Valley mansion, known as Scotty's Castle. 
Crime in 1982 
William Bonin, truck driver, was convicted in Los Angeles of being the "freeway killer" who murdered 14 young men and boys.
January 6
Exploration in 1603
Sebastian Vizcaíno, Spanish conquistador, reached Point Reyes. He was searching for safe harbors for galleons returning to Mexico from the Philippines. Point Reyes National Seashore in Marin County, today, is part of the National Parks Service.
Missions in 1831
José María de Echeandía, Mexican governor of Alta California, began to secularize the missions. He granted mission lands and herds to individuals, which began the rancho era.
Accidents in 1860
The SS Northerner, a paddle steamer, hit a rock and wrecked on Centerville Beach, south of Humboldt Bay. Thirty-eight people died. The ship carried gold dust and passengers from New York to San Francisco, 1851 to 1853, before being assigned the Oregon route. 
Movies in 1945
Pepe Le Pew, the cartoon skunk created by Chuck Jones and voiced by Mel Blanc, debuted in Odor-Able Kitty, for Warner Bros.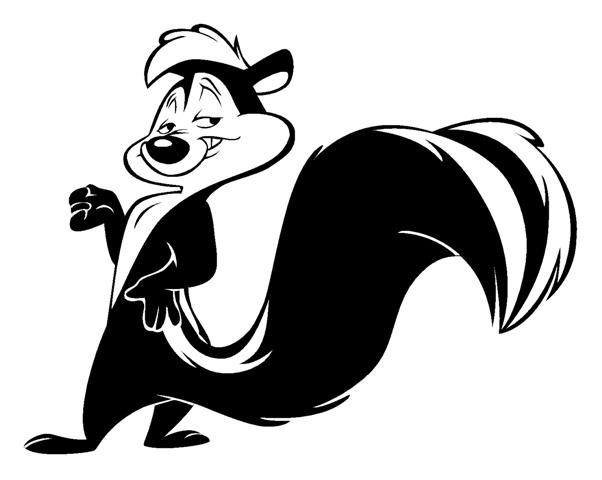 Accidents in 1961 
Fire swept through the buck-a-night Thomas Hotel in San Francisco, killing 19 people and injuring 38.
Science in 1968 
Dr. Norman Shumway, Stanford University, performed the first U.S. adult heart transplant. The patient lived for two weeks before he died of massive bleeding from other organs.
Rawls in 2006
Lou Rawls, recording artist, voice actor, songwriter-producer, died in Los Angeles at age 72. His smooth vocal style won him three Grammy Awards over a nearly 50-year career.
Kleinow in 2007 
"Sneaky Pete" Kleinow, country-rock musician, songwriter and film special effects artist, died in Petaluma at age 73. He was best known as the guitarist for the Flying Burrito Brothers. 
https://www.youtube.com/watch?v=JXtAjqcr_PQ
Leonard in 2010 
George Leonard, writer and pioneer in the human potential movement, died in Mill Valley at age 86. His best-selling books included Education and Ecstasy (1968).
Public Health in 2011 
San Francisco's Haight Ashbury Clinic, operating since 1967, and Walden House, a substance abuse center started in 1969, agreed to merge.
Business in 2012 
Salesforce.com signed an 18-year, 400,000-square-foot lease in San Francisco for nearly $340 million. The software company was founded by Marc Benioff in a Telegraph Hill apartment in 1999.
Howser in 2013 
Huell Howser, public TV figure, died in Palm Springs at age 67. His "California's Gold" TV series ran for 19 seasons and spawned 6 spin-off series.
January 7
Overland Journeys in 1847
Around this date, William Eddy, of the Forlorn Hope party trying to cross the mountain pass on snowshoes made from oxbows and hide, killed a deer. It was too late to save Jay Fosdick, who died in the night.
Crime in 1939
Tom Mooney, political activist and labor leader, was pardoned. He had been convicted of bombing the San Francisco Preparedness Day parade in 1916, honoring the approaching U.S. entry into World War I. Ten people were killed and 40 wounded. He was released after 22 years in prison.
Cage in 1964 
Nicolas Cage, film actor, was born in Long Beach. Because film director, Francis Ford Coppola is his uncle, Nicolas Kim Coppola changed his professional name to Nicolas Cage.
Schreiber in 2002 
Avery Schreiber, comedian and actor on the stage, television and film, died in Los Angeles at age 66.
Crime in 2006 
Richard May, East Palo Alto Police Officer, was gunned down after responding to a report of a fight at a taqueria.
Belew in 2008
Bill Belew, costume king, died in Palm Springs at age 77. He created the outfits worn by Elvis Presley and other pop stars.
Pao in 2011 
Vang Pao, former Major General in the Royal Lao Army and leader in the Hmong American community, died in Clovis at age 81. He commanded Hmong guerrillas during the Vietnam War and help settle tens of thousands of fellow Hmong in the U.S.
Accidents in 2013 
Overseas Reymar, a 752-foot oil tanker heading out to sea, rammed a San Francisco Bay Bridge tower. The bridge sustained minor damage but remained opened after the accident.
Crime in 2013 
Oakland Museum of California was robbed of a gold-and-quartz jewelry box that dated to 1869-1878 and was valued at $805,000.
January 8
Exploration in 1774
Juan Bautista de Anza began his first expedition from Mexico to explore Alta California. He traveled with 3 padres, 20 soldiers, 11 servants, 35 mules, 65 cattle and 140 horses.
Overland Journeys in 1847
Patrick Breen, traveling with the Donner Party, wrote in his diary: "Mrs. Reid & company came back this morning; could not find their way on the other side of the Mountain. They have nothing but hides to live on. Martha is to stay here. Milt. & Eliza going to Donners'. Mrs. Reid & the 2 boys going to their own shanty & Virginia. Prospects Dull. May God relieve us all from this difficulty if it is his Holy will. Amen."
War in 1847
The Battle of Rio San Gabriel was fought about ten miles from downtown Los Angeles. U.S. forces recaptured the town after a 90-minute battle.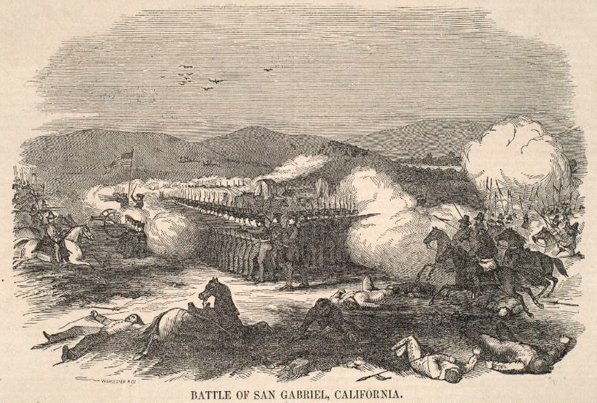 Business in 1849
A land auction at Sutter's Fort sold lots near the fort. Land near the Sacramento River was most valuable although it flooded, destroying most of what had been built.
Environment in 1849
Rain from January 8th to 18th flooded the American and Sacramento Rivers, damaged buildings and merchandize valued at hundreds of thousands of dollars.
Borax in 1856 
Dr. John A. Veatch discovered borax, which has many uses, in Tuscan Springs. It was popularized by the 20 Mule Team Borax trademark, named for the way it was hauled out of the California and Nevada deserts.
Education in 1858
Lowell High School in San Francisco, the oldest public high school west of the Mississippi River, began as Union Grammar School in 1856 before it became San Francisco High School in 1858. Girls were sent to another school in 1864 and the name changed to Boys' High.
Transportation in 1858
The Camel Corps reached Los Angeles. The U.S. Army purchased 14 camels to carry supplies across the desert. A special barn was built for them in Benicia. Today you can visit Benicia Historical Museum at the Camel Barns.
Transportation in 1863
The Central Pacific Railroad broke ground in Sacramento. That was the first step in the 1,907-mile long Transcontinental Railroad, completed on May 10, 1869.
Norton in 1880
Eccentric self-proclaimed, Norton I, Emperor of North America and Protector of Mexico, died in San Francisco at age 63. Some 20,000 people attended his funeral.
Flight in 2010 
SpaceX, headquarterd in Hawthorne, became the first private company to successfully launch, orbit and recover a spacecraft with SpaceX Dragon and SpaceX Falcon 9.
Protests in 1937 
Demonstrations protesting the bombing of Madrid took place in front of the German Consulate in San Francisco.
Music in 1966
The first Grateful Dead concert recorded by fans was a show at the Fillmore Auditorium in San Francisco. 
Environment in 1971 
Twenty-nine pilot whales beached themselves and died at San Clemente Island, off the California.
Patchen in 1972 
Kenneth Patchen, poet and visual artist, died in Palo Alto at age 61. He was best known for "Before the Brave" (1936) and incorporating painting, drawing and music into his works, influencing the Beatnicks.
Business in 2001 
Advanced Micro Devices, in Sunnyvale, announced a 850 MHz Duron chip.
Government in 2007 
Governor Arnold Schwarzenegger proposed extending medical insurance to all Californians, including illegal immigrants. He said the $12 billion cost would be spread among employers, individuals, insurers, government, and health care providers.
Fires in 2007 
A wildfire destroyed multimillion dollar homes in Malibu.
Takamoto in 2007 
Iwao Takamoto, creator of the Scooby-Doo cartoon character, died in Los Angeles at age 81.
Business in 2008 
Google, in Mountain View, unveiled a strategy for Google.org, its philanthropic arm. It's goal was to fight climate change, promote economic development and build an early warning system for pandemics and natural disasters.
Clokey in 2010 
Art Clokey, pioneer in clay animation best known as Gumby's co-creator, died in Los Osos at age 88. 
Protests in 2012 
Animal rights arsonists destroyed 14 cattle trucks at the Harris Ranch off I-5.