December 25
Overland Journeys in 1846
Patrick Breen, traveling with the Donner Party, wrote in his diary: "Began to snow yesterday about 12 o'clock. Snowed all night & snows yet rapidly. Wind about E. by N. Great difficulty in getting wood. John & Edwd. has to get: I am not able. Offered our prayers to God this Cherimass morning. The prospect is appalling; but hope in God. Amen."
Ripley in 1893 
Robert Ripley was born in Santa Rosa. He created "Ripley's Believe It or Not!" newspaper panel series, radio show and television show featuring unbelievable facts from around the world.
Sports in 1894
University of Chicago, the first midwestern football team to play on the west coast defeated Stanford at Palo Alto, 24-4.
Fields in 1946
W.C. Fields, comic film actor, died in Pasadena at age 66 or 67. His acting career spanned from vaudeville shows to the silent movie era then becoming a talkies movie star.
Movies in 1963
Walt Disney's "The Sword in the Stone" premiered. It was the 18th film in the Walt Disney Animated Classics series.
Crime in 1978 
Four Renaissance paintings were stolen from the De Young Museum in San Francisco. Three works, including Rembrandt's "Portrait of a Rabbi," were recovered in New York City in 1999. One is still missing.
Martin in 1995
Dean Martin, one of the most popular entertainers of the mid-20th century, died in Beverly Hills at age 78. 
Spies in 1997 
Richard Bliss, accused of being a U.S. spy in Russia, arrived in San Diego after Russian authorities let him return home. He worked as a field technician for Qualcomm Inc.
Accidents in 2003
Sixteen people were killed at a youth camp near San Bernardino after mudslides, triggered by heavy rain, swept down the San Gabriel Mountains that had been recently burned by wildfire.
December 26
Gold Rush in 1848
The first gold seekers arrived in Panama on their way to San Francisco.
Overland Journeys in 1846 
Trapped in snow in the Sierra Nevada and without food, starving members of the Donner Party resorted to cannibalism.
Kwanzaa in 1966 
Kwanzaa was first celebrated by Maulana Karenga, chair of Black Studies at California State University, Long Beach.
Business in 1978 
Nolan Bushnell, inventor of the Pong video game, opened the 20,000-sq.-foot Pizza Time Theater in San Jose. It was then the world's largest pizza parlor.
Business in 2007 
eBay, in San Jose, announced a micro-lending website for investing in entrepreneurs in poor communities around the world.
December 27
Literature in 1835
Richard Henry Dana collected hides from the San Jose and Santa Clara missions. He described his Alta California adventure in Two Years before the Mast (1840).
War in 1846
John Fremont and the California Battalion captured Santa Barbara. Mexican soldiers at the presidio planned to ambush the Americans but Fremont and his men surprised them by crossing the Santa Ynez Mountains at San Marcos Pass in a rainstorm. They lost horses, mules and a cannon but regrouped and captured Santa Barbara without a fight. 
Overland Journeys in 1846
Patrick Breen, traveling with the Donner Party, wrote in his diary: "Continues clear. Froze hard last night. Snow very deep: say 9 feet (2.7 m) [2.74 meters]. Thawing a little in the sun. Scarce of wood. To day chopt a tree down. It sinks in the snow & is hard to be got."
Indians in 1875
President Ulysses Grant created the Pala Indian Reservation by Executive Order. When Cupeños were forced from their homeland in the "Cupeño Trail of Tears" (1903), Luiseños at Pala offered them safety. Today together they own Pala Casino Resort and Spa near Fallbrook.
Crime in 1881
Charles Earl Bowles, English born gentleman bandit known as Black Bart who left poems at the scenes of his crime, held up Wells Fargo Stagecoaches 28 times. His 20th was outside of Bridgeport in Nevada County.
Music in 1913 
Thousands of people gathered at Lotta's Fountain in San Francisco for the Christmas Eve festival of singing, postponed due to rain.
Music in 1961 
Tony Bennett, at the Fairmont Hotel Venetian Room in San Francisco, sang his first public solo performance of "I Left My Heart in San Francisco." 
Science in 1998 
VaxGen Inc. of South San Francisco reported an AIDS vaccine in clinical trials. It was derived from a genetically engineered protein copied from a protein found in the HIV virus.
Business in 2002 
Bridgeville in Humboldt County was sold on Ebay for $1.77 million. After the deal failed, a Southern California investor bought the 82-acre town for $700,000 in 2004.
Crime in 2002 
Keith Mackie-Harris and Jerry Duckworth were shot to death at a party in Oakland by members of a gang called the Nut Cases. 
Crime in 2006 
San Francisco Department of Parking and Traffic began a test using cameras to scan license plates to search for cars with unpaid citations. Metal boots were placed on cars with at least five outstanding tickets.
Environment in 2006
A 2-day storm with 60 mph winds hit the San Francisco Bay Area. Manka's Lodge, built in Inverness (1917), burned when wind knocked a tree into a water heater. A woman in Lagunitas died when a tree crashed through her cottage.
December 28
Communication in 1902 
The Trans-Pacific cable that linked Hawaii to the U.S. landed at Ocean Beach in San Francisco near the Cliff House. It was met by a large crowd, dignitaries and a brass band.
Transportation in 1912
The first municipally owned streetcars in the U.S. began operation in San Francisco. That was the start of Muni.
Environment in 1973
The California Endangered Species Act passed. It broadened and strengthened protection for plants and animals listed by the U.S. as threatened or endangered.
Wilson in 1983
Dennis Wilson, drummer, singer and songwriter, died in Marina Del Rey at age 39. He founded the Beach Boys with his brothers, Brian and Carl, cousin, Mike Love and Al Jardine.
Environment in 1998 
Fog closed all San Francisco Bay Area airports, stranding thousands of travelers.
Crime in 1998 
Tyisha Miller, 19-years-old, was shot and killed by Riverside police officers as she sat with a gun in her car. The coroner reported that she was legally drunk with traces of marijuana present. The police officers were cleared of criminal charges in the killing.
Moore in 1999
Clayton Moore, star of "The Lone Ranger" television series in the 1950s, died in Calabasas at age 85.
December 29
Ranchos in 1843
Rancheria del Rio Estanislao, a Mexican land grant, was deeded. The approximately 11 square mile ranch in Stanislaus County is near the site of the fortress Estanislao built during revolt of 1829.
Environment in 1856
Snow fell in San Francisco and accumulated to 2-3 inches.
Music in 1911 
San Francisco Symphony debuted, celebrating the city's return to cultural life after the 1906 Earthquake and Fire. Today it is known for winning many awards and educational and community programs.
Flight in 1937 
Pan American Airways began flying from San Francisco to Auckland, New Zealand.
Pelzer in 1960
Dave Pelzer, author of A Child Called It (1995), was born in San Francisco.
Hubbard in 2008 
Freddie Hubbard, Grammy-winning jazz trumpeter, died in Los Angeles at age 70. He was known for playing bebop, hard bop and post-bop styles starting in the early 1960s. National Endowment for the Arts recognized him with a Jazz Masters Award.
December 30
Transportation in 1940
A section of Arroyo Seco Parkway, California's first freeway, opened in Los Angeles in time for the Tournament of Roses Parade and Rose Bowl. It ran from Avenue 40 to the Figueroa Street Viaduct at Avenue 22. 
Arenas in 1967
Great Western Forum, also known as the Fabulous Forum, opened in Inglewood. It was home to the Los Angeles Lakers, Kings and Sparks until all three teams moved to the Staples Center.
Lazar in 1993
Swifty Lazar, legendary Hollywood agent and dealmaker for movie stars and authors, died in Beverly Hills at age 86.
Epstein in 2000
Julius Epstein, Hollywood screenwriter, died in Los Angeles at age 91. He was best known for his work on the film "Casablanca" (1942), for which the writers won an Academy Award.
Barty in 2000 
Billy Barty, film and television actor, died in Glendale at age 76. He stood three feet, nine inches tall. His career spanned 50 years.
December 31
Overland Journeys in 1846
Patrick Breen, traveling with the Donner Party, wrote in his diary: "Last of the year. May we, with God's help, spend the coming year better than the past, which we purpose to do if Almighty God will deliver us from our present dreadful situation, which is our prayer if the will of God sees it fitting for us. Amen."
San Francisco in 1849
Some 80,000 people lived in San Francisco. Roughly 42,000 arrived overland, 35,000 came by sea and another 3,000 were sailors who abandoned their ships.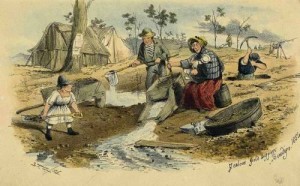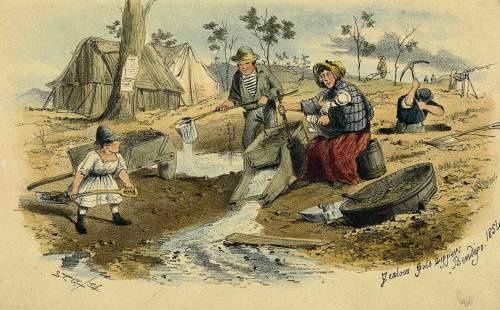 Gold Rush in 1852
The richest year of the Gold Rush ended, yielding some $81.3 million in gold.
Power in 1892
Electric power first lit Pomona and San Bernardino. Power from the hydroelectric plant in San Antonio Canyon traveled over 14 miles to Pomona and 29 miles to San Bernardino.
San Francisco in 1921
The last San Francisco fire horses were retired.
Prisons in 1934
Alcatraz Island, in San Francisco Bay, became a U.S. federal penitentiary.
Music in 1961 
Brothers Brian, Carl and Dennis Wilson, cousin Mike Love and their friend Al Jardine performed for the first time as The Beach Boys. Their hit "Surfin" came out the same year.
Music in 1963 
Jerry Garcia and Bob Weir played music together for the first time. They later formed the nucleus of The Grateful Dead.
Population in 1965
California became the most populous state in the U.S.
Sports in 1967 
In the first NBA game at the Great Western Forum, the Los Angeles Lakers beat the Houston Rockets, 147-118.
Sports in 1967 
The Oakland Raiders beat the Houston Oilers in the AFL championship game, 40-7.
Government in 1978
John McFall, 11-term California Democrat, resigned from the U.S. House of Representatives. He and two colleagues were reprimanded for questionable handling of money donated by South Korean businessman Tongsun Park.
Business in 1978
Peter Seeburg, UC San Francisco scientist who identified the DNA for human growth hormone, removed genetic material from the university. He had left UCSF to join Genentech and gave up rights to his materials, which UCSF patented. UCSF sued Genentech to protect their patent.
Ferries in 1981
The Blue and Gold Fleet ended ferry service between Berkeley and San Francisco due to low usage. Over five months, it averaged 169 passengers a day.
Steward in 1993
Samuel Steward, professor, novelist, sex historian and tattoo artist, died in Berkeley at age 83. He became the official tattoo artist of the Hells Angels motorcycle gang.
Environment in 1996
The Merced River overflowed in a series of storms from December 31,1996 to January 5, 1997 that flooded Yosemite National Park. The weather pattern was called a Pineapple Express.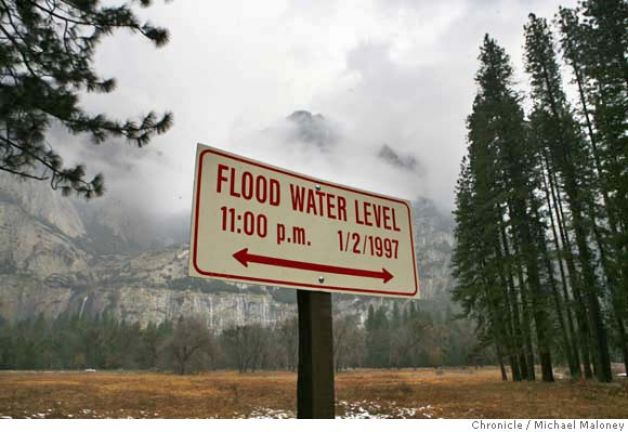 Business in 1997
Intel, in Santa Clara, reduced the price of a Pentium II-233 MHz chip from $401 to $268.
Environment in 2005
A powerful storm in Northern California caused mudslides and widespread flooding, snarling holiday traffic from Sonoma to Monterey.
Crime in 2006
Members of the Baker's Dozen, an all-male choral group from Yale, were assaulted in San Francisco. Police were criticized for making no arrests.
Crime in 2007
Albert Collins died shielding his young daughter from gunfire in the San Francisco Sunnydale public housing project. He was the city's 98th homicide victim that year.
Crime in 2007
Oakland police officers shot and killed Andrew Moppin-Buckskin after he ran from his car following a traffic stop. A federal judge tossed out a lawsuit filed by his family.
Crime in 2007
Murders in the Los Angeles Florence-Firestone neighborhood remained at 19, the same as in 2006 but down from 43 in 2005.
Crime in 2008
San Francisco ended the year with 98 homicides. There were 376 murders in Los Angeles in 2008, down from 400 in 2007.
Sports in 2010
San Francisco was chosen to host the next America's Cup in 2013.
January 1
Overland Journeys in 1846
Patrick Breen, traveling with the Donner Party, wrote in his diary: "We pray the God of mercy to deliver us from our present Calamity if it be his Holy will. Amen. Commenced snowing last night. Does not snow fast. Wind S.E. Sun peeps out at times. Provisions getting scant. Dug up a hide from under the snow yesterday for Milt. Did not take it yet."
Stage coaches in 1854
James Birch began the California Stage Company. He started hauling with a ranch wagon around Sacramento in 1849. He dominated the stage coach business in California with routes across the Sierras and  a southern route from San Antonio, Texas to San Diego.
Railroads in 1857
Theodore  Judah published A Practical Plan for Building the Pacific Railroad, his guide to building the Transcontinental Railroad, which was completed in 1869.
Newspapers in 1867
California China Mail and Flying Dragon, printed in San Francisco in Chinese and English, advertised for Chinese emigrants to build the Western railroad. It also proposed an air transport system from New York to California. Frederick Marriott, the publisher, formed the Aerial Steam Navigation Company in 1866 and invented the term "aeroplane."
Newspapers in 1867
There have been several newspapers called The Los Angeles Daily News, including one that debuted on New Year's Day, 1867.
Parades in 1886
The first Tournament of Roses parade was a promotional event for the Valley Hunt Club in Pasadena. Today millions of viewers around the world enjoy the Rose Parade on New Year's morning.
Cycling in 1900
The California Cycleway opened. The elevated wooden bicycle tollway from Pasadena to Los Angeles ran through the Arroyo Seco. It was lit at night with electric lights.
Sports in 1902
The Tournament of Roses, which once advertised a race between a camel and an elephant, became the first "bowl" game. Today it is known as the Rose Parade and Rose Bowl Game.
Accidents in 1909
Drilling began on Lakeview No. 1 oil well in Kern County. It struck oil on March 15, 1910 but the pressure in the oil pocket shot oil over a hundred feet into the air in an out-of-control gusher. It flowed for 18 months, peaking at 90,000 barrels a day.
Sports in 1912
The first Bay to Breakers race was held in San Francisco. It began as a way to lift the city's spirits after the 1906 San Francisco Earthquake and Fire. It has become a legendary moving party. 
Environment in 1914
A Pacific coast storm swept away the entire Ocean Beach of San Francisco from the Cliff House to the life saving station.
Religion in 1923
Aimee Semple McPherson, charismatic founder of the International Church of the Foursquare Gospel, dedicated the Angelus Temple, a spiritual palace in Los Angeles.
Sports in 1929
Roy Riegels, playing for University of California, Berkeley, ran 60 yards toward the wrong end zone after recovering a fumble in the Rose Bowl.
Newsreels in 1948
The first color newsreel was filmed at the Tournament of Roses and the Rose Bowl Game in Pasadena. 
Television in 1949 
KTTV-TV channel 11 in Los Angeles began broadcasting. The station's first telecast was the Tournament of Roses Parade, which it aired every New Year's Day until 1995.
Sports in 1961
The Houston Oilers beat the Los Angeles Chargers in the AFL championship game, 24-16.
Sports in 1969
Jack Kent Cooke, owner of the Los Angeeles Kings, fined players $100 for "NOT" arguing with the referee.
Crime in 1970
Eric Zelms, San Francisco police officer, was fatally shot when burglars surprised him and took control of his gun.
Romero in 1994
Cesar Romero, actor, singer, dancer, voice artist, and comedian who was active in film, radio and television for almost 60 years, died in Santa Monica at age 86. He played the Joker in the "Batman" television series. 
Government in 1998
A law went into effect banning smoking from all California bars, clubs and card rooms.
Walston in 2001 
Ray Walston, film and television actor died in Beverly Hills at age 86. He was best known in the television show "My Favorite Martian".
Sports in 2004 
The University of Southern California defeated the University of Michigan in the Rose Bowl, 28-14.
Environment in 2004
A California ban on the gasoline additive MTBE went into effect. Ethanol became the new additive of choice, even though it could increase air pollution.
LGBT in 2005 
A law took effect giving gay couples who register as domestic partners in California nearly the same responsibilities and benefits as married spouses.
Matsui in 2005
Robert Matsui, 13-term California Democratic congressman, died at age 63. He and his family were taken from Sacramento and interned by the U.S. government at Tule Lake War Relocation Center. The Sacramento federal courthouse is named in his honor.
Crime in 2006
San Francisco police reported a decline in homicides to 85, down from 96 in 2005.
Business in 2007 
Minimum wage in San Francisco rose 3.6% to $9.14/hour following a 2003 requirement for annual cost of living adjustments.
Olsen in 2007
Tillie Olsen, San Francisco labor activist, writer and pioneer feminist, died at age 94. She won the O. Henry Award for best short story for "Tell me a Riddle" (1961).
Business in 2008 
Minimum wage in California rose .50 to $8.00/hour. 
Crime in 2009
A BART police officer shot and killed Oscar Grant during a brawl between young men at a BART Station. Witnesses said Grant was lying face down with his hands behind him when Officer Johannes Mehserle fired.

Business in 2012
The minimum wage in San Francisco rose 32 cents to $10.24 an hour.
Environment in 2013   
California began a cap-and-trade program for companies that emit greenhouse gases. It was the result of laws reducing greenhouse-gas pollution to 1990 levels by 2020.
Cronan in 2013  
Michael Cronan, graphic designer, died in Berkeley at age 62. He was best know for work on TiVo, the digital TV recorder, and Kindle, Amazon's portable reading device.
Page in 2013  
Patti Page, a top singer of the 1950s, died in Encinitas at age 85. Her hits included "Tennessee Waltz" (1950) and "How Much Is That Doggie in the Window" (1953).
Accidents in 2007 
A Siberian tiger escaped its enclosure at the San Francisco Zoo, killed Carlos Sousa and mauled two others. One victim was drunk and admitted to yelling and waving at the tiger while standing on the railing of the big cat enclosure.
Graham in 2008  
Robert Graham, sculptor, died in Santa Monica at age 70. His massive bronze monuments across America, including the F.D.R. Memorial in Washington D.C., celebrate the human figure.