February 19
Overland trail in 1847
Patrick Breen, traveling with the Donner Party, wrote in his diary: "Froze hard last night. 7 men arrived from California yesterday with som provisions, but left the greater part on the way. To day clear & warm for this region. Some of the men are gone to day to Donner's Camp. Will start back on Monday." 
Overland trail in 1847
Daniel Rhoads, one of the rescuers, wrote, "At sunset, we crossed Truckee Lake on the ice, and came to the spot where, we had been told, we should find the emigrants. We looked all around, but no living thing except ourselves was in sight. We raised a loud hello. And then we saw a woman emerge from a hole in the snow. As we approached her, several others made their appearance, in like manner coming out of the snow. They were gaunt with famine; and I never can forget the horrible, ghastly sight they presented. The first woman spoke in a hollow voice, very much agitated, and said, 'Are you men from California or do you come from heaven?' "
Sobriety in 1860
Edward Highton spoke at the Dashaway Association, which encouraged men to dash away from alcohol, about the treatment of habitual drunks in San Francisco.
Inventions in 1878
Emma Carter of Fosom City patented an improved bee feeding device. "My improved bee-feeding device, as will be readily seen, is simple, cleanly, and easy of access."
Japanese American Internment in 1942
President Franklin Roosevelt signed Executive Order 9066, clearing the way for the forced detention of some 110,000 Japanese Americans in internment camps during World War II.
Tan in 1952
Amy Tan was born in Oakland, the child of Chinese immigrants. Her best known book, The Joy Luck Club (1989), has been translated into 35 languages and made into a movie.
Japanese American Internment in 1976
President Gerald Ford cancelled President Roosevelt's Executive Order 9066. In 1989 President George Bush signed a bill authorizing restitution payments with a letter apologizing to surviving internees.
Crime in 1976        
Rick Stevens, lead vocalist of the Tower of Power, a R & B Oakland band, was arrested in San Jose for a triple slaying after a drug deal turned violent. Stevens spent 36 years in prison before being paroled.
Sports in 1977 
The Oakland A's sold Paul Lindblad, pitcher, to the Texas Rangers for $400,000.
Environment in 1986        
A levee on the 8,800 acre Tyler Island, in the Sacramento – San Joaquin Delta failed, flooding crops and nearly destroying farms.
Newspapers in 2004        
The San Francisco Examiner and other newspapers were bought by Philip Anschutz, founder of Qwest Communications, for $20 million.
Business in 2008        
Sharper Image, a San Francisco based retailer, filed for bankruptcy protection. The 184-store chain planned to close 96 stores nationwide. 
Government in 2009       
The California Senate approved a budget intended to wipe out a $42 billion deficit, with the goal of steering the state clear of fiscal disaster.
Crime in 2009        
A car with four young men was sprayed by gun fire near the Daly City BART station. They  had no known gang affiliations. Police later arrested two members of the MS-13 gang for the murder.
Transportation in 2011       
Bay Area Rapid Transit (BART) opened its newest station, its 44th, at West Dublin/Pleasanton.
Festivals in 2011       
The Chinese Lunar New Year Parade in San Francisco welcomed the Year of the Hare.
February 20
Education in 1873 
University of California opened its first medical school in San Francisco.
Adams in 1902
Ansel Adams, photographer, was born in San Francisco. His black-and-white landscape photographs of the West, especially Yosemite Valley, helped expand the National Park system.
Environment in 1902
Heavy surf broke over Seal Rocks and damaged Sutro Baths in San Francisco.
Festivals in 1915
The Panama–Pacific International Exposition opened in San Francisco. It celebrated the completion of the Panama Canal but truly showcased the city's recovery from the 1906 Earthquake. The Tower of Jewels was covered with over 100,000 pieces of cut glass that were lit by over 50 searchlights at night.
Fires in 1934        
A fire destroyed the recently opened Anchor Brewing Co. in San Francisco that brewed a steam beer for which the city was once famous.
Government in 1943 
American movie studio executives agreed to allow the Office of War Information to censor movies.
Accidents in 1947        
A chemical mixing error at an electroplating plant in Los Angeles caused an explosion that destroyed 42 blocks and killed at least 10 people.
Sports in 1958 
The Los Angeles Coliseum approved a two year agreement allowing the Dodgers to play there.
Sports in 1963
Willie Mays, San Francisco Giants outfielder, signed a record $100,000 per year contract. He was the first major league player to earn a 6-figure salary.
Nash in 1985        
Clarence Nash, who voiced Donald Duck, died in Glendale at age 80.
Sports in 1986
Orel Hershiser, Los Angeles Dodgers pitcher, was the first MLB player to negotiate a $1M salary.
Sports in 1988 
Brian Boitano won the Olympic gold medal in figure skating.
Crime in 1996        
Snoop Doggy Dogg, Gangsta rapper and his former bodyguard were acquitted of the 1993 shooting death in Los Angeles of an alleged gang member.
Sports in 1997
Barry Bonds, San Francisco Giants outfielder, signed a record $22.9 million 2-year contract.
Government in 2004        
Governor Arnold Schwarzenegger directed immediate legal steps to stop San Francisco from granting marriage licenses to gay couples.
Dee in 2005       
Sandra Dee, actress, died in Thousand Oaks at age 62. She was probably the biggest female teen idol of her time. Her films included "Gidget" (1959) and "Tammy and the Doctor" (1963). 
Government in 2009        
Governor Arnold Schwarzenegger made nearly $1 billion in additional cuts then signed the new budget bill. The plan included $15 billion in spending cuts, $11.4 billion in borrowing, $12.8 billion in taxes and about $2 billion in funds from the new federal stimulus package.
Crime in 2009       
Ahmadullah Sais Niazi, age 34, the brother-in-law of Osama bin Laden's former bodyguard, was arrested in Orange County. He was charged with  lying on citizenship and passport papers about ties to terrorist groups.
Business in 2013       
Tech and investment leaders in San Francisco announced the new $3 million Life Sciences Breakthrough Prize and named its first 11 winners.
February 21
Indian revolts in 1824
Chumash Indians at Santa Ynez Mission revolted against harsh living conditions and brutal treatment by soldiers. It spread to Santa Barbara and La Purisima de Concepcion, where Chumash warriors controlled the mission for about a month. Some 40 natives and several monks died in the fighting.
Street lamps in 1872
Santa Barbara gas street lamps were lit for the first time.
Newspapers in 1874 
The Oakland Daily Tribune began publication.
Peckinpah in 1925        
Sam Peckinpah, film director, was born in Fresno. His films are known for action and violence, like "The Wild Bunch" (1969) and "Pat Garrett and Billy the Kid" (1973).
Transportation in 1937
The Waterman Aerobile, an experimental automobile – airplane flew in Santa Monica. It reached 120 mph in flight and 70 mph on the highway. Few were built.
Music in 1958
Merle Haggard, singer, was sent to Bakersfield Jail then transferred to San Quentin Prison after he tried to escape. He later became a county music legend.
Sports in 1983 
The San Diego Clippers began a 29-game losing streak on the road.
Accidents in 2006       
Stefan Eriksson, age 44, crashed a million-dollar Ferrari Enzo in northern Malibu. He was later sentenced to three years in prison for embezzlement and gun possession.
Homeless in 2007        
Mayor Gavin Newsom announced San Francisco received $19.7 million in federal funds to help fight homelessness.
Police in 2007       
The San Francisco Police Commission approved a computerized system to track problem behavior by police officers.
Business in 2008        
Google Inc., in Mountain View, announced upcoming storage of medical records for a few thousand people. It was testing a service that would raise concerns about the volume of sensitive information trusted to the Internet company.
February 22
Government in 1859 
San Francisco adopted its current official seal, changing the the one adopted in 1852. The motto "Oro en paz, fierro en guerra" is Spanish for "Gold in peace, iron in war."
Sports in 1860 
Organized baseball was played in San Francisco for first time. The game was between the Eagles and the Red Rovers.
Accidents in 1901       
The steamship City of Rio de Janeiro crashed on rocks at the entrance to San Francisco Bay and sank quickly. Italian fishermen saved 82 of some 210 people. Many of the passengers were Chinese immigrants. The ship was rumored to carry $2 million in silver bars that have never been found. 
Churches in 1906 
William Seymour, African American evangelist, arrived in Los Angeles. He lead the Azusa Street Revival in April, a historic meeting that began the Pentecostal movement. 
1906 Earthquake in 1907 
Workers at the San Francisco Ingleside district refugee camp for people who lost their homes in the 1906 Earthquake agreed to work one day a week to improve the camp or miss their free tobacco allowance.
Naming in 1910 
The Sierra Club, headquartered in San Francisco, named Mount Davidson and Sutro Crest in the city's Sutro Forest. 
Education in 1913
Lowell High School moved to a new campus in San Francisco. It began in 1856 as the Union Grammar School then changed to its current name in 1896. Lowell moved to its present location in 1962.
Racing in 1920
Owen Patrick Smith introduced a mechanical or artificial hare, replacing live hares, at a dog-racing track in Emeryville.
Flight in 1921 
The first transcontinental air mail plane that flew at night left San Francisco at 4:30 a.m. and landed at Long Island, New York at 4:50 p.m. on February 23. Before that, pilots navigated by the railroad tracks during the day and landed at night. 
Business in 1923
Mathias Chapman landed in San Pedro from Chile with the first 12 chinchillas in the U.S. and began raising them commercially for their luxurious fur and later as pets. 
Sports in 1957 
Walter O'Malley announced the Brooklyn Dodgers would play 10 exhibition games in California in 1958.
Labor in 1974 
Cesar Chavez lead a United Farm Workers march from Union Square in San Francisco to Gallo's Modesto headquarters to protest labor conditions. This was part of the Salad Bowl Strike that led to the California Agricultural Labor Relations Act (1975).
Sports in 1979
Billy Martin became manager of the Oakland A's, following his success coaching the New York Yankees. Early success with the A's led him to overwork his pitchers. When they went 68 – 94 in 1982, he was fired. 
Bailey in 1995 
Bill Bailey, union activist with San Francisco dockworkers, died at age 86. He was a Spanish Civil War veteran, writer and actor in his later years. 
Business in 1999 
Levi Strauss responded to continuing sales losses by closing 11 of its 22 U.S. plants and laying off 5,900 factory workers.
Government in 2002 
The California Supreme Court struck down the "Son of Sam" law that required felons to turn over profits from books and movies to their victims.
Jones in 2002 
Chuck Jones, cartoon animator, died in Newport Beach at age 89. His created Bugs Bunny, Daffy Duck and Road Runner, among other characters.
February 23
Exploration in 1776
Juan Bautista de Anza's expedition of soldiers, padres and settlers camped along the Santa Clara River, in Chumash territory, on their way to starting a Spanish colony at Monterey.
Ranchos in 1841
Rancho Rincon de la Brea, a Mexican land grant, was deeded. The 4,452-acre rancho in present day Los Angeles was east of Rowland Heights, south of La Puente, west of Diamond Bar and north of Brea.
Business in 1855
Adams & Company, a banking and freight service since 1850, failed. It was so important that it's failure caused panic statewide.
Movies in 1940 
Walt Disney's "Pinocchio" debuted, following the success of "Snow White and the Seven Dwarfs" (1937). It set a new standard for feature animation.
Science in 1941
Plutonium, a key component of atomic bombs, was identified at U.C. Berkeley's Radiation Laboratory. It is a radioactive chemical element with the symbol Pu and atomic number 94.
World War 2 in 1942
A Japanese submarine bombed the Ellwood Oil Field near Santa Barbara. While the damage was not great,  the attack triggered fear of a West Coast invasion.
Television in 1959
KVIE Public Television, serving the Sacramento – Stockton community, began broadcasting.
Crime in 1974
The Symbionese Liberation Army, a revolutionary group in Los Angeles, raised its ransom to free the kidnapped newspaper heiress, Patty Hearst. 
Sports in 1994
Sacramento Gold Miners, a Canadian Football League team, moved to San Antonio then changed their name to the Texans.
Government in 1998        
The California State Supreme Court ruled that anybody can sue a corner store or gas station for selling cigarettes to minors.
Hollywood in 1999        
Disney's "Mulan" premiered in China. Only ten foreign films per year were allowed into China, which was protecting its own industry.
Music in 2000       
Carlos Santana won eight Grammy awards, including album of the year for "Supernatural." That tied the record set by Michael Jackson in 1983 for most trophies in one night.
Prisons in 2000       
Pelican Bay State Prison guards shot and killed one prisoner and wounded 15 others to end a prison yard riot between some 150 inmates. Prison officials, after the brawl, found 89 inmate-made knives.
Science in 2008       
Dr. Nathan Wolfe, a  UCLA virologist, pushed for creation of the Global Viral Forecasting Initiative, a planet-wide network to forecast epidemics before they happen.
Government in 2009       
Tom Ammiano, California Assemblyman from San Francisco, introduced a bill to legalize recreational use of marijuana.
Business in 2010        
Paul Otellini, CEO of Intel, in Santa Clara, announced the "Invest in America Alliance" to create jobs and boost the nation's competitiveness. Intel and 24 venture capital firms planned to invest $3.5 billion in U.S. technology startups over the next 2 years.
Willis in 2011       
Allen Willis, African American filmmaker, died in Oakland at age 95. His films included "Have You Sold Your Dozen Roses" (1955), produced with San Francisco poet Lawrence Ferlinghetti, and "Stagger Lee" (1970), a documentary interview in prison with Black Panther leader Bobby Seale.
February 24
Government in 1821
The rancho period in Alta California began when Mexico won independence from Spain.
Wine in 1857 
A German colony was organized in San Francsico. It was called the Los Angles Vineyard Society and was the beginning of Anaheim.
Flight in 1921       
A giant plane built in Los Angeles, called the "leviathan of the Skies" or "The Cloudster," was designed by Donald Douglas and was the first to fly a load greater than it own weight. It failed a transcontinental attempt, later served as an early passenger plane flying from San Diego to Los Angeles and smuggled whiskey from Mexico during Prohibition.
World War 2 in 1942
The Battle of Los Angeles was a reported Japanese attack followed by anti-aircraft artillery fire that continued the next day. Some people say the targets were not enemy aircraft but extraterrestrial spacecraft.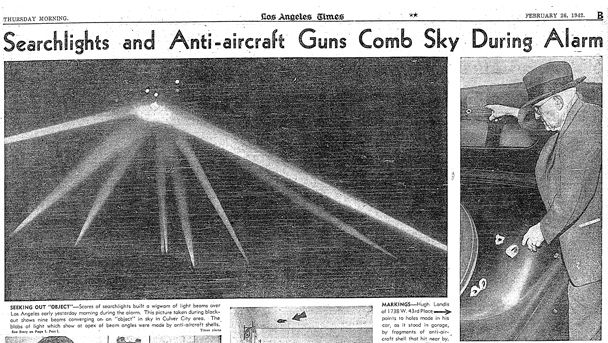 World War 2 in 1942 
Some 1,600 Italians and Italian Americans living in Pittsburg were forced from their homes, lost their businesses, labeled "enemy aliens" and interned, just like Japanese Americans and German Americans.
Bostwick in 1944 
Barry Bostwick, actor, was born in San Mateo. He is best known for roles in "Rocky Horror Show" (1975) and "Megaforce" (1982). 
Jobs in 1955 
Steven Jobs, inventor and businessman, was born in San Francisco. He co-founded Apple Computer with Steve Wozniak. 
Basketball in 1987
Kareem Abdul-Jabbar, Los Angeles Laker, scored his 36,000th NBA point.
Shore in 1994 
Dinah Shore, singer, actress, television personality, and the top female vocalist of the 1940s, died in Beverly Hills at age 76.
Randolph in 2004 
Emanuel Hirsch Cohen, better known as John Randolph, film, television and stage actor, died in Hollywood at age 88.
Government in 2006 
Governor Arnold Schwarzenegger issued an emergency declaration to speed improvements to 24 severely eroded portions of Bay Area delta levees.
Knotts in 2006 
Don Knotts, comedian and film star, died in Los Angeles at age 81. His half-century career included more than 25 films and seven television series.
Riney in 2008 
Hal Riney, a leader in the advertising world, died in San Francisco at age 76. He created the brand and image of General Motors' Saturn automobile division.
Business in 2010 
Bloom Energy, a start-up in San Jose, announced an innovative fuel cell that promised to deliver affordable, clean energy to remote corners of the world.
February 25
Government in 1854
Sacramento became the state capital (1854). It followed San Jose (1849), Vallejo (1852) and Benicia (1853) and was before San Francisco (1862) until Sacramento became the capital permanently (1869). 
Calaveras Skull in 1866
Miners found a strange skull in Calaveras that caused a sensation. Some claimed the Calaveras Skull was evidence that humans, mastodons and elephants coexisted. Others believed it is a hoax.

Environment in 1911 
A rare snowstorm hit San Francisco.
Observatories in 1932
Griffith Observatory opened in Griffith Park. Named for Griffith Jenkins Griffith, its setting, architecture, programs and cinema have made it a Los Angeles landmark.
World War 2 in 1942
After the Battle of Los Angeles, a Japanese American fishing community at Terminal Island in Los Angeles was forced to evacuate because of fears, rumors and prejudice. The forced internment of some 110,000 Japanese Americans was approaching.
Crime in 1973 
Juan Corona was sentenced to 25 life sentences for murders of 25 men he buried in fields along the Feather River north of Yuba City.
Crime in 1996 
Tracy Rene Conrad, age 11, went to play at a friend's home in Hanford but never returned home. Her body was found a month later. Duane Galik Sr. was convicted of her murder (1997).
Business in 2005 
The Walt Disney Co. agreed to sell the Anaheim Mighty Ducks hockey team to Henry and Susan Samueli for $75 million.
Science in 2006 
Researchers in San Francisco reported discovering a new virus, XMRV, inside tumors of some men with prostate cancer.
McGavin in 2006 
Darren McGavin, television and film star, died in a Los Angeles at age 83. His TV series included "Mike Hammer" (1957-1959), "The Outsider" (1967-1969) and "Kolchak: The Night Stalker" (1974-1975).
Crime in 2010 
Chelsea King, age 17, did not return from a run at a San Diego park. Her body was later found in a shallow grave near Lake Hodges. John Albert Gardner III was sentenced to life in prison for attacks on her and Amber Dubois, age 14.
Crime in 2011 
Margarita Gomez, age 56, Daly City councilwoman, pleaded guilty to insurance fraud. She was sentenced to 6 months in jail and ordered to pay $64,000 in restitution.
February 26
Strauss in 1829
Levis Strauss was born in Germany. He opened a clothing company in the Gold Rush and first made jeans in the 1870's. Today Levy's is a world famous brand.
Crime in 1860 
White settlers murdered some 60 women, children and elder Wiyot Indians on an island near Eureka. Bret Harte, then a local newspaper reporter, fed the story to San Francisco newspapers.
Libraries in 1884
Pasadena Public Library opened after starting as "Pasadena Library and Village Improvement Society," a private subscription library. The first building was on Central School grounds, south side of Colorado Street between Raymond Street and the Santa Fe tracks.
Parks in 1891 
The first buffalo, a pair named Benjamin Harrison and Sarah Bernhardt, were settled in Golden Gate Park following reports that only 1000 were left in the U.S.
Bridges in 1933
Golden Gate Bride groundbreaking celebration began at Crissy Field in San Francisco. 100,000 people attended.
Sports in 1941 
Cowboys' Amateur Association of America was organized in California as part of the rodeo business.
Business in 1965 
Spoony Singh Sundher, entrepreneur, opened the Hollywood Wax Museum close to Grauman's Chinese Theatre in Los Angeles. It cost $1.50 to enter.
Tierney in 2002 
Lawrence Tierney, Jr., actor, died in Los Angeles at age 82. He played in some 80 films, often as a  mobster or tough guy. A New York Times critic observed, "The hulking Tierney was not so much an actor as a frightening force of nature."
Raskin in 2005 
Jef Raskin, computer pioneer, died in Pacifica at age 61. He led development of a graphical interface for Apple's Macintosh.
Business in 2009 
Virgin Megastore, a music and video retailer, announced closure of its San Francisco and New York stores. This left the company with three stores, down from 23 in 2002. 
Crime in 2013 
Jeremy Goulet, who ambushed Santa Cruz police detectives Loran Baker and Elizabeth Butler, was killed at the scene.